This summer is proving to be hot and dry. One of the best ways to cool off while having fun is to find some water you can dip your toes in. Thankfully, we are in a great location for water fun. Whether you are looking for a place to launch your boat, swim or just splash around, we've got plenty of options. However, due to COVID-19 and repairs, some favorite places are not open for Sumer 2021. Before you head out, check to make sure where you are going is open. Here is what is open and what is not for playing in the water in Olympia and Throughout Thurston County
Open
Millersylvania State Park
12245 Tilley Road S, Olympia
If you are looking to launch your boat, rent some stand up paddleboards (SUPs), or kayak around, Millersylvania State Park is a great destination. They have rentals on location, making it easy to get out onto the water.
Woodruff Park
1500 Harrison Avenue NW, Olympia
Woodruff Park has a splash pad that is all kinds of fun for all ages. It's open daily through Labor Day. There is a picnic shelter with shaded seating right next to it, as well as plenty of benches surrounding the splash pad.
Yelm Splash Pad
115 Mosman Avenue SE, Yelm
The Yelm City Park Splash Pad is a new and welcomed addition to the park. It's open daily through Labor Day for kids to have fun cooling off. There are benches for parents to sit and for picnicking.
Lions Park
800 Wilson Street SE, Olympia
Lions Park has a small water feature perfect for young kids to play in. The good news is that next year, a brand-new splash pad will be installed here!
Burfoot Park
6927 Boston Harbor Road NE, Olympia
With over 1,000 feet of beach frontage on the Budd Inlet, Burfoot Park is a great place to spend the day in the water. Bring a picnic, your frisbee or a favorite book and you can spend the day at the beach without leaving Thurston County. It's good to check with the County before heading to Burfoot Park, as sometimes it's closed for swimming due to bacteria levels in the water.
Priest Point Park
2600 East Bay Drive Northeast, Olympia
Priest Point Park has two miles of saltwater shoreline trail, with access to the water to cool off after your hike. Although the hikes are a bit steeper at this park then at others, the views and sites are worth it. It's good to check the County before heading to swim at Priest Point Park, as its sometimes closed due to bacteria levels in the water.
South Sound YMCA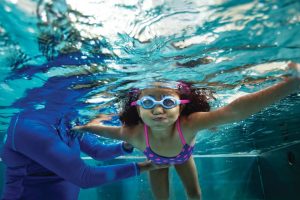 1530 Yelm Highway SE, Olympia
The Briggs Community YMCA has activities to keep you in the cool in the pool all summer long! They have lap swims, fitness swims, swim lessons as well as Rec Swim (free swim) activities. Check out all the available offerings on the South Sound YMCA website.
Discover Aquatics
110 Delphi Road NW STE 102, Olympia
Discover Aquatics is a great place to swim the summer away in a safe place with a life guard. They normally have open swim times, including open adult lap swims, children's swim class and fitness classes. Currently, there are no open swims, but they do have lessons and some classes available so your child can still learn to swim this summer! Contact them to learn more about what is currently available.
Heritage Park
330 5th Avenue SW, Olympia
The Heritage Park fountain is a summer favorite for many. It's large and open, with plenty of room for splashing and wading. While currently closed for repairs, it is due to open soon for summer use. Watch the City of Olympia website page for updates on opening.
Not Open Summer 2021
Tenino Quarry Pool
The Tenino Quarry Pool was drained and is under construction. They are working on better filtration and some water features. But check out the Tenino Young-at-Heart Theatre group's performance of "Frog and Toad" that will take place in the shallow end of the drained pool!
East Bay Public Plaza
325 Marine Drive NE, Olympia
Just outside the Hand's On Children's Museum, the East Bay Public Plaza in Olympia has a fun, shallow concrete "creek" that you can dip your toes in to cool off on a hot summer's day. There are a few benches you can sit on if you are looking for nice place to eat a picnic lunch while your kids play in the shallow water. Unfortunately, there are no plans to open the stream for summer 2021. Watch for updates on the East Bay Public Plaza website.