Submitted by North Thurston Public Schools
Summer reading is now a reality for more than 250 homeless students in North Thurston Public Schools thanks to the REACH for Literacy Program's donation of more than 760 free books and school supplies!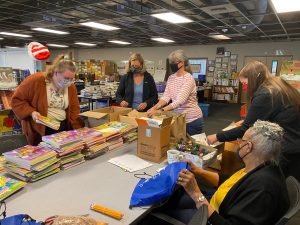 "Reading is the gateway to success for these children," said Barbara Clarkson, community activist and church member who spearheaded a $2,000 grant request from The Pacific Northwest Conference of the United Methodist Church.
Members of Clarkson's congregation at the St. Andrew's United Methodist Church also raised nearly $4,700 to supplement the grant. They then worked with the South Sound Reading Foundation to purchase a wide variety of titles that were both age and culturally appropriate.
"Through the grant, we were able to purchase more than 760 books for students from diverse backgrounds," said Jennifer Williamson Forster. "Students want to read books about people who look like them or share similar backgrounds."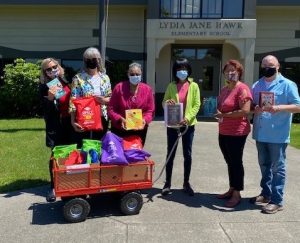 Clarkson, Williamson Forster, and St. Andrew's Pastor Denise Roberts dropped off one set of the book bags, provided by South Puget Sound Community College, at Lydia Hawk Elementary via wagon in June.  Students from 18 elementary and middle schools received at least 3 new books, in addition to summer activities and supplies. "This is truly a gift for these students," said Brenda McAferty, the Homeless Liaison for NTPS. "I wish I could be there to see their faces when they look inside!"
In addition to the book bags, St. Andrew's Church will be hosting the REACH program again this summer, offering free literacy and life skills for students, grades 1-5. The program will be held August 2-19, Monday-Thursday from 9 a.m. to 12 p.m. Classes will be held at the church: 5409 School Street in Lacey (near Lydia Hawk Elementary).
Contact 360.491.2030 for more information about the program or to volunteer!
"We can help students with math, phonics and reading comprehension, giving them an extra boost before school starts," said Clarkson. "We know reading enhances all life choices for humans, especially our youngest learners!"