Upon the entrance to Millersylvania State Park in Thurston County, an evergreen forest towers overhead, a lush canopy lining the park's eight miles of walking trail. A retreat into nature, it would be a marathon to exhaust the full list of activities available within the park's boarders. From hiking and kayaking, to a beer garden nestled between the evergreens, Millersylvania offers recreation options for visitors and pets of all ages.

Millersylvania State Park was established in 1924. Traditional territory of several Native American tribes, the park land gradually became occupied by homesteaders in the mid-19th century. The Miller family settled on the land that is now Millersylvania State Park in 1882. The land was eventually gifted by the surviving Miller family to the State of Washington in 1921, on the condition that the land perpetually be used as a public park. Many of Millersylvania's current shelters and structures were produced by the Civilian Conservation Corps throughout the 1930s.
Recreational Activities at Millersylvania
Inside of Millersylvania State Park's 903 acres, Deep Lake provides an array of water-based recreation. Equipped with a 100-foot dock and watercraft launch, Deep Lake is ideal for kayaking, paddle boarding and small-craft boating. The park's 3,300 feet of shoreline also provides an optimal environment for lakeside lounging and swimming.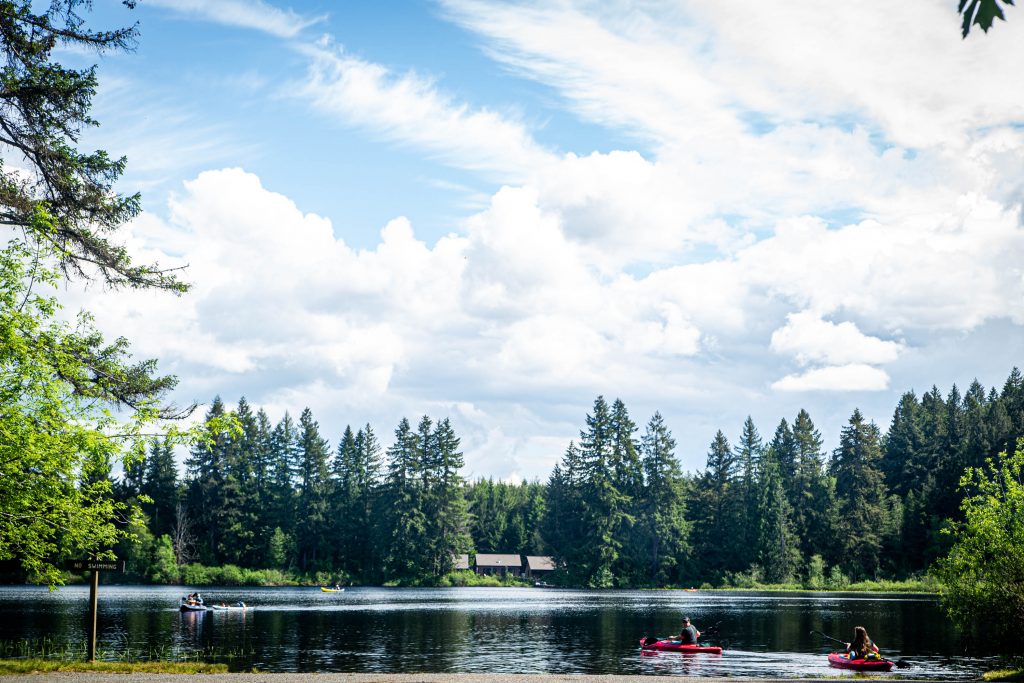 Visitors can also partake in fresh water fishing in Deep Lake. Fishing craft is limited to smaller, hand-type boats, with a speed limit of five miles per hour. At Millersylvania State Park, boaters will need either an annual launch permit (Natural Investment Permit) or a Discover Pass (annual or one-day) and a daily launch permit if they wish to place their craft in the water. Visitors fishing in Deep Lake also require a recreational license from the Washington Department of Fish and Wildlife.
For a day of aquatic recreation, certain water craft are available to rent on site. Lakeside Grill & Boats rents out canoes, peddle boats, kayaks and stand up paddle boards for day use. Reservations for watercraft can be made day of, but it is recommended to call ahead for longer reservations or multiple rentals.
Surrounded by old-growth forest, Millersylvania State Park boasts over eight miles of hiking trails and over seven and a half miles of bike trails. According to the Washington Trails Association, many hiking trails throughout Millersylvania intersect and meander throughout the park, so visitors are able to create their own looping courses up to five miles in length. A popular hiking route at the park is the Millersylvania Northwest Loop. At 4.6 miles in length, the loop is suitable for hikers of all ages and experience levels. Leashed dogs are also welcome on park trails.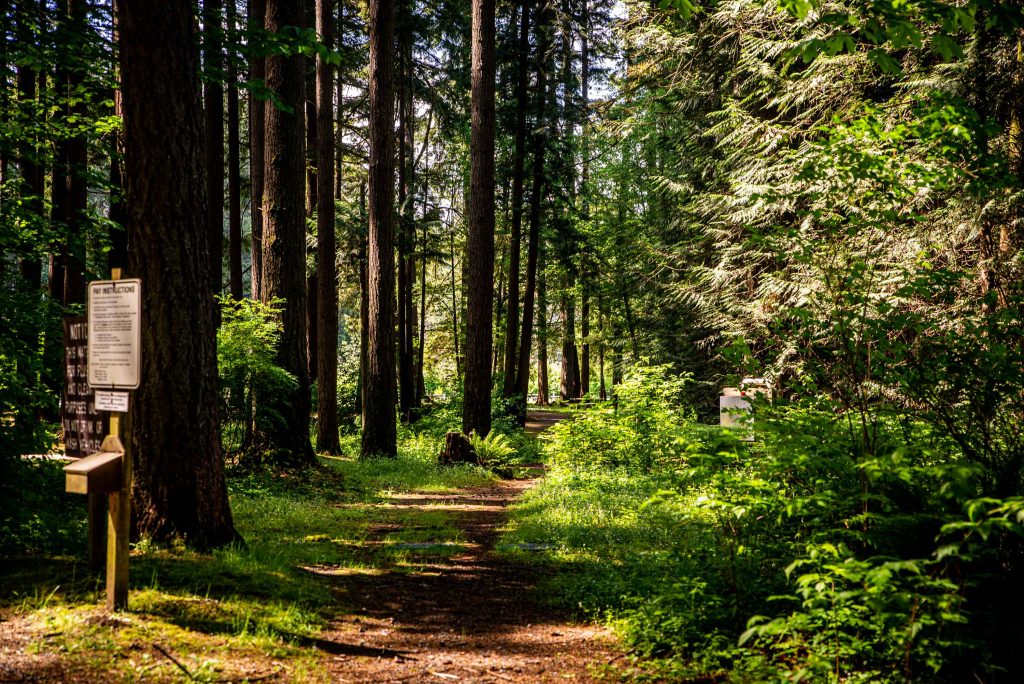 Eating at Millersylvania State Park
In the summer months, paddleboarders, kayakers and boaters looking for a rest can come back to Deep Lake's shore and order a refreshment from Lakeside Grill & Boats. The concession stand has a variety of summertime snacks available, including nachos, hot dogs, slushies and ice cream. A unique site inside of a state park, Millersylvania is also home to Lakeside Beer & Wine, a beer garden nestled between the old growth cedars. Lakeside Beer & Wine boasts several brews local to Washington State.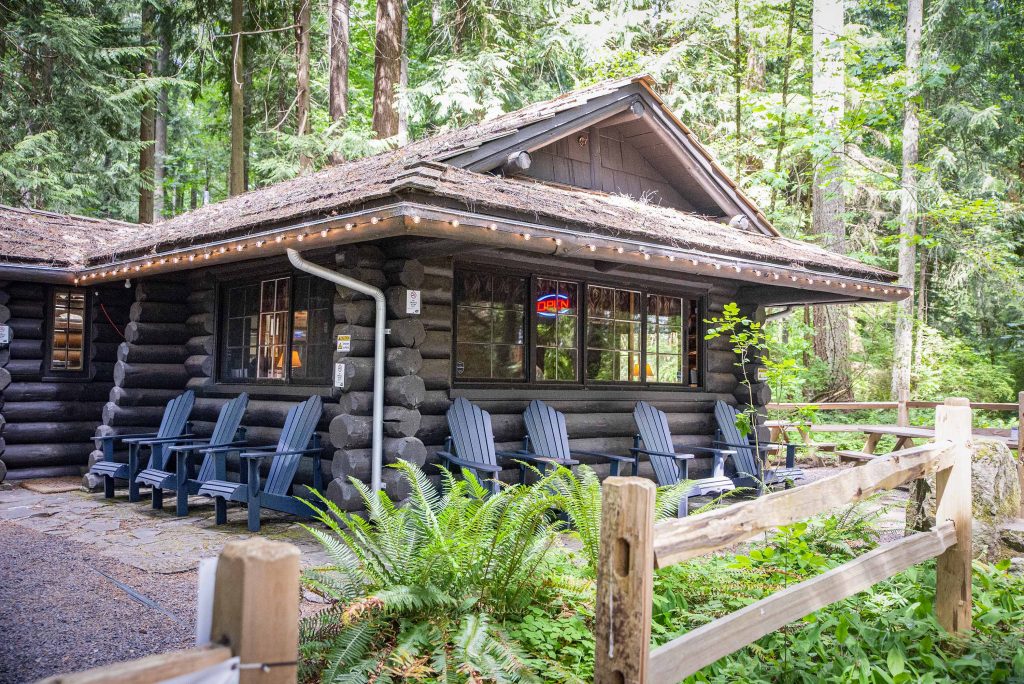 For those who wish to picnic, barbecue or host a celebration at Millersylvania, the park offers four kitchen shelters equipped with electricity, a wood stove, grill and sink. Three of the kitchen shelters can seat up to 50 people. Situated near the park's group campsite, the fourth kitchen shelter can be reserved by camping groups. Throughout the park, there are also 30 sheltered picnic tables and 125 unsheltered tables. For a more rustic experience, visitors can light a camp fire from one of the park's three fire pits.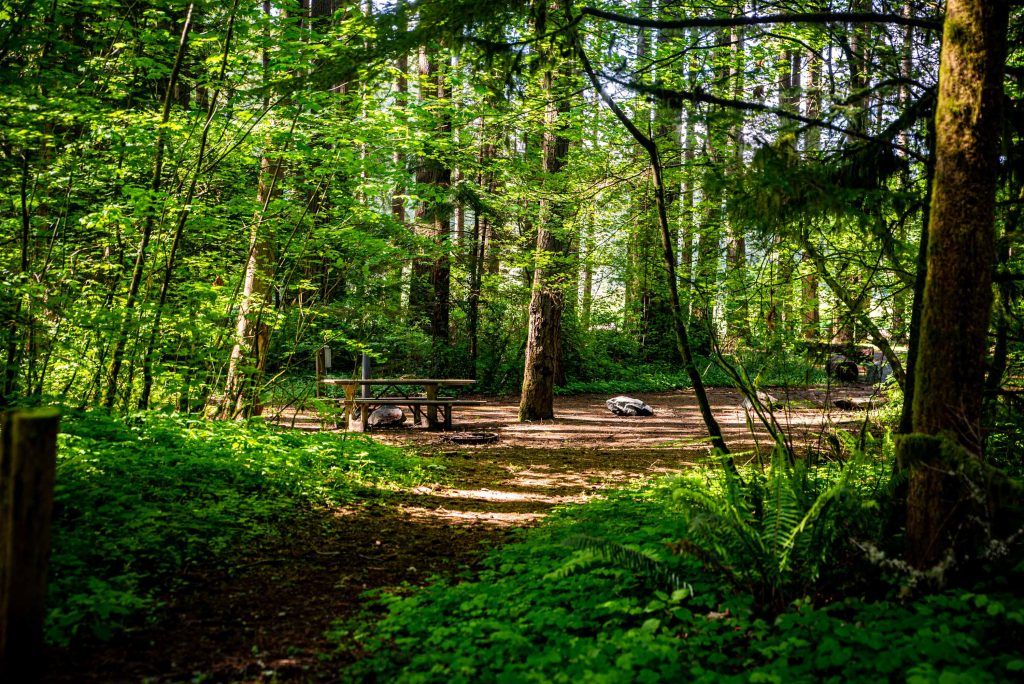 Camping at Millersylvania State Park
Visitors can make accommodations to stay overnight at Millersylvania through a reservation at the park's standard camp site, glamping site, retreat center or lake front cottage. Millersylvania offers 94 standard campsites, including 45 partial-hookup sites. There are three restrooms, including one ADA accessible restroom, eight showers and one dump station. The roadways throughout Millersylvania's campsites are compact, so trailers over 18 feet are not permitted.
The park's Group Camp accommodations can host 20-40 people. Designated for tent camping only, trailers and RV's are not allowed in the Group Camp parking area. Reservations for standard campsites and the group campsite can be made online.
For visitors who wish to experience nature in an overnight setting, but are still looking for the comfort of indoor accommodations, Millersylvania State Park offers multiple opportunities for "glamping" throughout the summer months. Pampered Wilderness offers "glamping sites" inside the park, complete with luxury canvas tents, king size beds and fire places for a rustic retreat.
Accommodating up to six visitors, the Lakeside Cottage is centrally located near Deep Lake and allows guests to bask in the park's many activities while still enjoying the comforts of indoor lodging. For groups of up to 150 guests, the Millersylvania Retreat Center offers cabin-style accommodations, a communal space with a commercial kitchen, a private lakeside entrance, an open barn and access to canoes and paddleboards.
For day use vehicle access to Millersylvania State Park, a Discover Pass is required. Discover Passes can be purchased online or at the automated pay station located within the park.
To learn more about Millersylvania State Park's amenities, hiking trails, recreational opportunities or lodging accommodations, visit the Washington State Parks website.