Submitted by WET Science Center
How many types of pollinators can you name? Bees, butterflies, birds, beetles, and even bats play an important role in pollination. One out of every three mouthfuls of food we eat require pollinators. This includes apples, strawberries, avocados, vanilla, agave, bananas and almonds. How nuts is that?! Check out the WET Science Center's Facebook or Instagram Monday through Saturday for a daily pollinator-related activity. Share with us a photo of your pollinator activity for a chance to win a hummingbird feeder!
Monday – Spot the pollinator and watch it closely with a South Sound Green activity.
Tuesday – Practice pollination with a cheese puff activity.
Wednesday – Create your own hummingbird feeder.
Thursday – Color a butterfly.
Friday – Press flowers for a sun catcher.
Saturday – Take a pollinator walk.
Find water activities in the community!
We have community WET Science Center resources spots popping up all over town. Grab yourself a Liquid Awesome activity book and color pages. If you live in Lacey, Olympia, or Tumwater and are interested in starting your own community line, send an email to info@wetsciencecenter.org.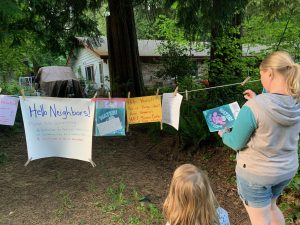 Play At-Home Bingo
Start checking off boxes in our special At-Home bingo. Visit our website for instructions and to get started. Connect with a friend or family member, research the only things you should flush, and look for signs of spring. Anyone who completes a bingo will receive a small prize and note in the mail.
Let us know if there is a way the WET Science Center can better support you and our community! Keep up the great home learning!