To incite change, it takes a committed group of people dedicated to a common goal. The Thurston Economic Development Council (EDC) is constantly seeking to bring about new and exciting ways to support our local economy. With the help of the Thurston EDC Board of Directors, the Thurston EDC has been able to turn its plans for change and development into realities. Perry Shea of SCJ Alliance is serving as past president on the executive committee for the board, and he is proud of the efforts the organization has made to help our community.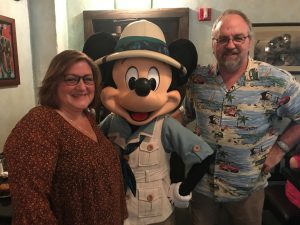 Perry was born and raised in Thurston County on a farm in Tenino. He was awarded his bachelor's degree in civil engineering from Saint Martin's University in the late 80s and moved with his wife to Phoenix, Arizona to design the loop freeway system. Despite the amazing work and opportunity in Phoenix, Perry's heart was back in Washington. "We missed home, so I found a position in Thurston County," Perry says. "I was brought in to build an engineering sector for the county for community-based improvement. It was rewarding seeing the positive outcomes and how it impacts the community and people living here."
Perry has always been very entrepreneurial and isn't afraid to take risks. "I like working in the grey because that's where all the creativity starts," he says. After building his career and working with a consulting firm in leadership, Perry decided it was time to start his own business. In 2006, he left the company and formed SCJ Alliance with three other partners. "At that point, we wanted to build something that could be special and be what we wanted to do," Perry says. Today, the engineering firm employs 130 people and boasts 8 offices that do work across the U.S. and internationally, all while still being headquartered in Lacey.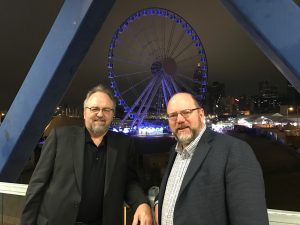 Perry got involved with the Thurston EDC as a board member in 2008. "What resonated with me is the EDC has the same value propositions," Perry explains. The Thurston EDC is focused on growing the economy, fostering sustainability, and bringing new jobs to the community, all of which spoke to Perry. Michael Cade, the executive director for the Thurston EDC, had also just been hired on as the director when Perry joined. "Our EDC is the top in the state because of the programs we do, and Cade is a leader in that sector," Perry says. "He and I partnered together to do a lot of things, and we are blessed to have him."
In 2013, Perry moved from serving as a board member to serving on the executive committee. As president, Perry loved being involved and staying active in the community. He would often participate with companies that wanted to stay in or relocate to Thurston County. "The big thing is to be giving back, so I got as involved as I needed to help support and promote our region," Perry says. He also helped deal with international exposure to promote Washington in trade and commerce and in technology, which helped our local economy attract new businesses.
Perry has found his time with the board to be important and impactful, and he has continued to be involved. He is currently serving on the executive board as a past president, and loves supporting the amazing work the Thurston EDC does in the community. "I love everything about the EDC and what they do," he shares. "A lot of the services they provide are really under the radar, so we try to promote and get the word out there."
Perry sees how truly valuable the Thurston EDC is for our community and regional businesses, and is grateful to have the opportunity to serve on the board. With such a diverse group of people, it has been an exceptional experience. The board is made up of 22 to 25 members from the public and private sector and they all have a common goal to help the Thurston EDC grow and support the community. "The Board allows the EDC to develop business objectives and plans," he explains. "We adopt programs every year to support them."
One of the biggest projects from the Thurston EDC is the Southwest Agricultural Business and Innovation Park, which has already broken ground in Tenino. Perry has been one of the leading persons involved with getting things going in this project. "It is rewarding for me because I grew up in Tenino and I understand that this could be a huge thing for the city as we move into the next decade," he says. The agricultural park will be a wonderful way for local agricultural businesses to grow and connect with each other to strengthen that sector of our economy.
It is through the dedicated efforts of people like Perry and fellow board members that the Thurston EDC can continue to positively impact our local community and economy. If you are a business and want to make a difference, contact the Thurston EDC to learn about ways to get involved.