Residents of Washington State are lucky enough to live in a place known for exquisite waterfront views, thick forests and fresh air. And while our state does not have as many natural disasters as some places (like the tornado belt!), we do get our share of wild fires, and sometimes earthquakes. Here we explore the history of a few of the more notable earthquakes in Washington State over the last several decades. And, to make sure you are ready or the next one, a guide on how to prepare for future natural disasters.
Washington Earthquakes
The Earthquake of 2001
The most recent earthquake hit Washington at 10:45 a.m. on February 28, 2001. Not only is it the most recent, but it also happens to be one of the six most intense earthquakes recorded in the State.
With a magnitude of 6.8, the 2001 earthquake was centered near Tacoma and northwest of Olympia. The natural disaster was felt throughout the entirety of Washington and was even experienced in Oregon, British Columbia, and Montana.
Buildings in Olympia suffered the most damage, including the State Capitol building. According to the Kiro 7 Earthquake article and the Significant Earthquakes in Washington PDF, about $2 to $4 billion in damages was sustained by the disaster.
The Earthquake of 1997
In 1997, another earthquake occurred. This quake, while not particularly notable for destruction nor extreme force, was still a shock to Washington and northern Oregon. The earthquake had a magnitude of 5.3 and happened at 9:04 p.m. on May 2. The epicenter was approximately 20 miles northeast of Duval. Perhaps most notably, according to the Kiro 7 Earthquake article, it took place during or around the time of a Mariners game against Cleveland.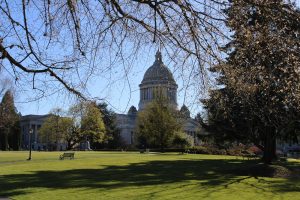 The Earthquake of 1995
In 1995, an earthquake with an epicenter about 20 miles southwest of Seattle shook residents. It was felt throughout Seattle, Yakima, and parts of Canada. The earthquake began at 7:11 p.m. on January 29 with a magnitude of 5.0.
The Earthquake of 1965
The 1965 earthquake had a whopping magnitude of 6.9 that occurred at 8:29 a.m. on April 29. Centered between Seattle, Tacoma, and the Puget Sound area, the earthquake resounded steadily through 190,000 square miles. According to the Kiro 7 Earthquake article, it is the fourth-strongest documented earthquake in the Puget Sound region since 1850. Practically every waterfront building and structure was damaged. Areas of the Duwamish River crumbled and the mouth settled. This caused great damage and flooding. It was responsible for about $2.5 million (in 1965 dollars) worth of damage.
The Earthquake of 1949
The 7.1 magnitude earthquake on April 13, 1949 at 11:55 a.m. is the largest earthquake in the Puget Sound area since colonizers settled on the land. The quake's epicenter was between Olympia and Tacoma. It was felt across 230,000 square miles. Property damage in Olympia, Seattle, and Tacoma totaled about $25 million (in 1949 dollars). Aftershocks of the quake created a tsunami along the Tacoma Narrows that deflected back to Tacoma, flooding shoreline houses.
The Earthquake of 1946
A 6.3 magnitude earthquake on February 14, 1946 at 7:18 p.m. had an epicenter near Olympia and Tacoma. It was felt over 70,000-165,000 square miles. The damage amounted to about $250,000 (in 1946 dollars).
The Earthquake of 1945
In 1945, a 5.5 magnitude earthquake occurred on April 29 at 12:46 p.m. Its epicenter was near North Bend and reverberated 128,000 square miles.
The Earthquake of 1936
On July 15, 1936, a 6.1 magnitude earthquake shoot residents. The earthquake is one of the top six strongest quakes Washington State has experiences. Its epicenter was near Walla Walla and caused about $100,000 in damage, impacting approximately 105,000 square miles.
Preparation for and Recovery from an Earthquake
According to the Washington State Department of Natural Resources page, Washington has the second-highest risk of large earthquakes in America. For this reason alone, it is important for residents to be prepared.
Following the Washington State Department of Natural Resources safety tips, the first step to weathering an earthquake is to know the risks. Remember that damage from an earthquake can extend from cracked buildings and broken roads to electricity dangers, natural gas leaks and even affect phone service. Earthquakes can also trigger landslides and tsunamis.
In the advent of an earthquake, you should expect to be on your own from three days to four weeks. Pre-planning is key. Make sure items at home and work that could cause damage in an earthquake are secure and check that your house foundations are equipped for an earthquake.
The aftermath of an earthquake can wreak real havoc. Be prepared with:
Emergency first aid supplies
Non perishable Food and water
Any medications needed
Important documents
Each family should also have an emergency response plan that will successfully keep all family and pet members safe. This includes having an escape or evacuation plan, that includes your pets, and where to meet should you be separated. Evacuating to higher ground if near a body of water is a good idea. Know ahead of time where the designated public shelters may be.
It is also important to know how to safely and properly shut off water and gas supplies. Broken gas lines are the largest source of fires after an earthquake, and broken water lines will drain a house of all usable water.
At the end of the day, even though earthquakes can be terrifying and catastrophic, there are still ways to prepare for these natural disasters. It simply takes awareness and education.