Support for diversity in the Thurston County education community – and beyond – just got a boost from two local foundations. The Thurston County Chamber Foundation in partnership with the South Puget Sound Community College Foundation established a new Diversity in Business Scholarship at SPSCC. The SPSCC Foundation accepts applications until June 30.
This new scholarship is designed to support academic success for historically underrepresented minority students in Thurston County. Three SPSCC students will each receive a $2,375 award. The Chamber Foundation funded the scholarship in conjunction with donations from the Washington State Employees Credit Union and Great Wolf Lodge.
While the Chamber Foundation considered setting up its own scholarship process, it saw that the SPSCC Foundation had an established application program. The two foundations joined forces to bring this Diversity in Business Scholarship to life, with the Chamber Foundation arranging funding and the SPSCC Foundation providing the application procedure.
Chamber President and CEO David Schaffert says the idea for the scholarship came from an internal organization discussion last year, before and during the national unrest surrounding racial disparities. "We are on a path of self-discovery and how to address racism as a people,"Schaffert says. He describes that the scholarship is a good local starting point to assist persons who may not have the same educational opportunities and paths to gain job skills. "The scholarship fit within the niche of our Foundation," he adds. The Chamber Foundation has several programs that are a community investment in education, including activities providing opportunities for job pathways and work readiness for youth.
SPSCC Foundation Development Director Evan Skytte says that this diversity scholarship will benefit more than the college and the Chamber. "Racial justice and racial equity are extremely important," he says. "It has to be addressed. It's not just a Chamber or college issue, it is a community issue. This is one small thing that we can do to address that need. It is one way to chip away at it."
This scholarship also fits squarely within the SPSCC Foundation's efforts to build achievement for all students. "SPSCC has had a commitment to diversity and equity for quite a while," Skytte says. "The SPSCC Foundation is bringing it to the forefront of our work." He says data shows that some historically underrepresented students are not being retained in school, quarter to quarter, at the same rate as other student populations. "That is not okay with us," he says. "We are trying to find targeted ways to create more opportunities for success."
The Diversity in Business Scholarship presents one such opportunity. To qualify, historically underrepresented students must live in Thurston County, attend SPSCC (as current or new students), take any course of study, and plan to contribute to the Thurston County community in the future.
Students apply for the scholarship using the SPSCC Foundation's single online application form. Applicants must also write a personal essay describing their previous, current or future community service in Thurston County. Schaffert says the essay topic is intended to prompt applicants to think about their community and their own contributions to it. He and Skytte say that community service will be considered broadly. For example, such service could include volunteering at an animal shelter, donating time at a COVID-19 vaccine site or finding other ways to help the Thurston County community.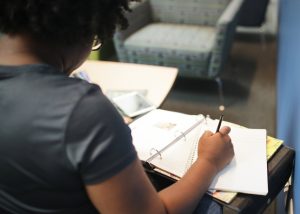 The SPSCC Foundation accepts until June 30. Applicants will hear of award decisions by August 1, before the fall term begins. Current high school students planning to attend SPSCC in fall 2021 are also encouraged to apply. Skytte anticipates that there will be quite a few applicants. "The Chamber did a good job of announcing it in the community," he says.
Skytte notes that even if applicants do not qualify for this new scholarship, they will be considered for other SPSCC Foundation scholarships. The scholarship process is detailed on the SPSCC Foundation's scholarship webpage and in this ThurstonTalk article, Scholarships from the SPSCC Foundation Help to Ensure Student Success. The SPSCC Foundation reports that last year it provided more than $618,000 in student scholarships and grants.
Going forward, Schaffert says the Chamber Foundation anticipates this diversity scholarship will be just the first of its kind for the organization. He thanks the WSECU and Great Wolf Lodge for helping with the launch and says that the Chamber Foundation is looking to expand this program with more future donors and scholarships. Schaffert describes that this effort is part of the foundation's community stewardship mission. "Our vision is that we would like this to be a long-term effort with the college and continue to work with them in partnership," he shares.
Sponsored