Who doesn't love an excuse to wear parachute pants and neon? Join Truly Motivated Transitional Living for an '80s Tastic good time at their 14th Annual Virtual Benefit Auction, which funds their extremely important work providing residential recovery homes in Yelm and throughout the Puget Sound. As a 501(c)3 nonprofit, each dollar counts, so, tease up that hair, find your neon rubber bracelets (come on, you know you have them!), and grab those leg warmers. It's going to be more fun than prom night with a young Patrick Dempsey (okay, maybe not, but it's for a better cause than buying popularity ever was!)
Due to COVID-19, this year's benefit auctions will take place online, with two ways to participate! The first is the silent auction, which will run from May 31 to June 5. Log on and bid at your leisure on amazing auction items that support the Truly Motivated Transitional Living programs. (If you haven't participated in their famous dessert auction, you are missing out!) Other items include gift certificates to restaurants, Point Defiance Zoo, and Hands On Children's Museum, themed baskets and more.
Then, on June 6, log in wearing your best '80's costume for the live auction. "There will be 80's trivia at the Live Virtual Auction with Truly Motivated swag for winners and guests can post their best pics of them wearing their best 80's gear on our Facebook page," says Carmin Long, executive director/founder of Truly Motivated Transitional Living. "The winner will get their choice of one of our famous desserts up for bid, so follow us on Facebook!"
The Live auction will have a ton of large prizes like a hot air balloon ride, two-night stay at Sun Mountain Lodge in Winthrop, Seattle Seahawk tickets, and more "Our local favorite coffee house, The Shiplap Shop, is donating a cup of coffee and a donut a day for a year, which is super cool," adds Long. You can register for both auctions on the Truly Motivated Transitional Living website.
Last year, COVID required them to either cancel the event, which is their main fundraiser, or find another way to still hold it. The Truly Motivated team banded together and pulled off a fun virtual auction. "Last year's auction was amazing!" shares Long. "We had a very steep learning curve as we pivoted very quickly to an online event, but the response was amazing and we raised $50,000 and networked with new people and added new monthly donors as well. The most difficult part was just figuring out all the technology at short notice, but we had so many amazing volunteers and talented folks to help, so that was really great."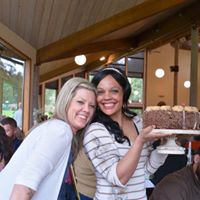 Speaking of COVID, it has of course impacted Truly Motivated Transitional Living, making the staff's jobs harder, and all the more important. "We operate as a community and have built our program around community and connection," explains Long. "COVID has people purposely isolating, which happens to be the worst thing for folks in recovery. In person 12-step meetings have been mostly moved to Zoom as has most out-patient treatment groups, so many of the supportive groups are happening on a screen. We have really pulled together as a community—even when we have had to keep all 4 of our homes separate at different times and stopped our own get togethers—and have worked to create more opportunities for folks to feel connected and not alone." Knowing meetings are an imperative part of keeping people on the sobriety path, they partnered with the Ben Cheney Foundation and received grants to build an outdoor meeting gazebo with a fire pit.
Staff have also spent more time with residents to help them navigate the added hurdles and stress that COVID caused. "Many residents lost their jobs and struggled to get unemployment, some still haven't received any funds," she adds. "So, staff spent a lot of time helping navigate the unemployment system, and helping to find alternative funds to help residents with their housing fees at Truly Motivated. I am a firm believer that what one can't do alone, can be done and accomplished in the context of community and support."
Community that includes you and I. Funds from this annual auction go towards program costs and resident support. Residents are charged just $480 a month for their services, which actually cost $1,470.
"So, we subsidize $990 per month, per resident; this is what we fundraise for," Long shares. "We do this to keep the barriers to our program low and fees affordable. The auction is our biggest fundraiser we do to cover the operating costs. We also have a grant writing team and a generous donor base."
Sign up now for the auction and get ready to Party like it's 1985! Have an item for the auction? They are taking donations through May, just contact them through the website. And, you can sign up to be a Monthly Motivators. Monthly Motivators pledge to make monthly monetary gifts. Or, you can make a one-time gift. To donate, visit Truly Motivated Transitional Living – Step In To The Story. On the road to recovery, kindness and community are two important pillars. You can be both through this auction.
One Woman's Journey at Truly Motivated Transitional Living
Hello, my name is —- and my clean date is February 08, 2017. I came to Truly Motivated Transitional Living in March 2016.  Prior to TMTL I had been using drugs for about 15 years. I lost my parental rights to my daughter when she was 3 and I have never regained that relationship. I spent years in and out of jail and treatment centers. I couldn't stay clean for longer than six months. I had basically no relationship with my family and couldn't hold a job or keep a place to live. The only thing I cared about for a very long time was using and finding ways and means to get more. I used to live and lived to use. I finally hit a breaking point in 2015 and decided I was willing to change and do whatever it took to change my life. My mom had been to TMTL's auction and she told me that is where I could stay if I moved to Washington. Somewhat reluctantly, I went to TMTL and began my journey to recovery.
I lived at TMTL for 15 months and during that time experienced two relapses. What is different about TMTL? 1. They didn't tell me to leave. 2. They took a chance on me and showed me unconditional love that I hadn't had in a long time and desperately needed. 3. They helped get me into a treatment center after a second relapse, and graciously paid some of the bill in order to get me in – that's how much they care about their residents. I honestly don't know if I would still be clean today, if I hadn't been shown the love that Carmin and Steve had given me. Being at TMTL was truly a blessing and I am forever grateful for the opportunity to have lived there.
TMTL offered a safe place to be with other addicts that were staying clean, as well as structure and accountability that I deeply needed. It gave me room to make mistakes and learn from them, and grow important friendships, in fact, the majority of my friends are from relationships built at TMTL. I have continued to participate with residents and staff since the day I moved out, including serving on TMTL's peer panel hoping to guide and help other residents that are just like me. I have a huge place in my heart for TMTL and want to give back because they gave so much to me. I will be forever grateful.
Since sharing her story, she has rebuilt her relationship with her daughter and they spend time together regularly. The miracles of recovery are amazing. She celebrated 4 years clean and sober this past February. 
Sponsored