We can grow and concoct some delicious food here in the Pacific Northwest! Farmers have come to find that this region is perfect for growing produce, raising livestock, and processing a wide range of value-added food products. The Thurston Economic Development Council (EDC) is dedicated to seeing this regional food economy continue to grow and thrive. Aslan Meade, Director of Strategic Alliance for the Thurston EDC, shares more about the amazing projects, programs & initiatives that are supporting local farmers and food manufacturers, building a more resilient regional food supply chain, and making more delicious, fresh, local food available to consumers in the region. 
The Thurston EDC is proud to support local agricultural businesses. In addition to providing coaching and training to business owners, the Thurston EDC has initiated projects in the Thurston region to build a more robust and profitable regional food economy.
In summer of 2020, the Thurston EDC partnered with the Thurston WSU Extension Office, the Northwest Agricultural Business Center, and the Pacific Mountain Workshop Development Council to launch the Southwest Washington Food Hub. The Food Hub connects food producers with buyers and consumers, individuals and businesses alike.  The Hub is part of the SW WA Growers Cooperative, and so is farmer-owned.
Many local businesses—from hospitals, to restaurants, grocery stores, to school districts–want to be able to provide locally sourced food to their customers. In order to do this, most businesses would have to coordinate with each individual farmer and food product company individually, which can be time-consuming, expensive and a logistical nightmare. The Food Hub has made it easy to purchase a wide variety of local produce and products, with one order, one payment and one delivery through their online sales platform. Once the food is ordered, it is brought from farms and food product manufacturers in Thurston, Lewis, Grays Harbor and Pierce counties and aggregated in a warehouse in Tumwater that was donated by the Port of Olympia. From there, the products are put into their orders and delivered directly to the businesses who placed the order.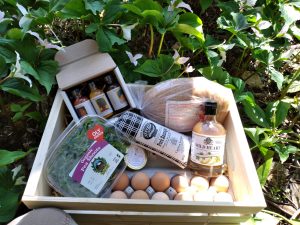 And it isn't just businesses that can benefit from this collaborative effort. The Food Hub is currently offering a new gourmet food box product as a unique and delicious way for individual families to receive a collection of locally made products. "Individual households can pick up boxes every month and sample the bounty of our region in specially curated boxes featuring different products each month," Aslan says. In addition to supporting local agriculture, 5% of the proceeds go to a local nonprofit each month.
The Food Hub also supported families in crisis at its launch when the pandemic first struck. The Pacific Mountain Workshop Development Council provided funding to offer food security boxes, which were distributed out through the Food Hub to 100 out of work families over a 5-county region. The program also featured weekly videos on food preparation and workforce training. With efforts like this, it is clear the Food Hub is serving as an excellent addition to our community.
The Thurston EDC and WSU Extension are also working together to launch a pilot project that can bring this locally sourced food together to make minimally processed foods. The Value-Added Processing Facility Pilot is being funded in part by the Port of Olympia to purchase processing equipment. "The pilot project will purchase produce from the Food Hub and minimally process it so it can be sold to regional school districts and restaurants," Aslan explains. This means if a school wanted to serve locally sourced coleslaw, they could purchase it through this processing facility and know that the carrots, cabbage and other ingredients were provided by farmers in our community. It will be an amazing way to provide delicious food using local produce and ingredients.
Southwest Washington Agricultural Business and Innovation Park
Another exciting development on the horizon with the Thurston EDC is the Southwest Washington Agricultural Business and Innovation Park. This project has currently raised $2.4 million from a mixture of state government, federal government, the Port of Olympia and the City of Tenino funding. The agricultural business park will be located in Tenino and will focused on ag-related manufacturing, processing, storage and agri-tourism.  "We want it to be a destination focused on innovative product development and a celebration of our region's agricultural heritage.  The park will fill identified gaps in regional scale processing infrastructure and help to build a more sustainable and resilient food supply chain," says Aslan. They have already broken ground on the construction in Tenino, with sewer and infrastructure completed as of summer 2020. "The plan is for the first building to be up by the end of this year," he shares.
The next step is finding the right mix of local agricultural-related businesses and food manufacturers to locate at the business park. "We already have some fantastic businesses close to signing lease agreements," says Aslan.  "The growing number of ever higher quality value-added processors interested in the Park are ensuring us that this is the right project at the right time.  We seem to be tapping into a growing movement in demand for more unique local food products."  Many local businesses in the agricultural industry outgrow their spaces as they expand. The Agricultural Business and Innovation Park is the perfect next step for an expanding business in food production, and the Thurston EDC is eager to sign up tenants to locate at the park. If you or someone you know is in agriculture and looking to grow, contact the Thurston EDC to learn more about how to lease space in this exciting new endeavor.
Our community is stronger and more resilient when we support our local businesses, and this is especially true when it comes to our farmers and food manufacturers. "The Thurston EDC is working to build a vibrant agricultural economy sustained by diverse and high-value markets," Aslan says. "We want to help build a more resilient regional food supply that can support our local farmers and help with food distribution to the people of our region and beyond." Especially during these challenging times, it is crucial for us to continue to support locally owned businesses, and the Thurston EDC has made it a priority to develop projects, programs & initiatives to do exactly that. Through their collaborative efforts, our regional agricultural development is in good hands.
Sponsored