In September 2020, "The Social Dilemma" became one of the most popular documentaries ever aired on Netflix, sparking conversations nationwide about the dangers and costs of social media use. On the South Puget Sound Community College (SPSCC) campus, those conversations led to a collaboration between the school's counseling team, librarians and its art department, resulting in a student exhibit called "Strings Attached" that will be on display as part of the school's annual art show from May 24 to June 18, and as a pop-up exhibit at Heritage Park on Capitol Lake June 1-7.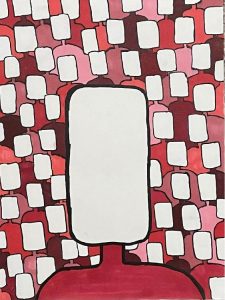 By the time the film was released, counseling faculty Ross Artwohl, LICSW and Sally Sharbaugh, LMHC had already noticed a trend. Starting around 2013, students were experiencing more anxiety and depression as well as difficulty modulating moods, coping with stress and maintaining focus. "When we would dig into their feelings of being depressed or overwhelmed, often it would connect to how they felt they were being perceived on social media," says Sharbaugh.  The counselor's concerns have since been validated by large studies showing an unprecedented surge in mental illness associated with smartphones / social media becoming commonplace for teens in 2012. An example is that 67% more college students experienced a severe depressive episode in 2017 than in 2007, according to "Trends in mood and anxiety symptoms and suicide-related outcomes among U.S. undergraduates, 2007-2018: Evidence from two national surveys," a study published in Journal of Adolescent Health.
When the counselors learned that "The Social Dilemma" producers were offering free screenings for colleges, they leapt at the opportunity.
Artwohl is an advisor for the student group Active Minds SPSCC, a local chapter of the nation's premier nonprofit organization supporting mental health awareness and education for young adults.  They are dedicated to destigmatizing mental health concerns and giving students a voice in the discussion of mental health needs. The group co-hosted two screenings of the film, which were followed by a conversation about the issues it raises, one in the fall quarter and one in the winter quarter. Another screening is planned for this spring.
Along with the film, the producers provided an educators' guide, including artwork that would capture social media's impact. That's where art professors Liza Brenner and Joe Batt came in. Brenner had already seen how much social media use was affecting her students and thought the project might be therapeutic. The educators' guide featured a slide show of artworks focused on the impact of social media, and she assigned students to imagine the slide they would create if they were part of that project.
"It was interesting to see their responses and how they interpreted the movie," says Brenner. "In some cases, their thought processes were less obvious but others were very clear and powerful. It gave me an insight into their brains and how they're dealing with social media."
In Batt's class, the assignment was different: to create app icons for apps that would allow people to authentically connect, almost like anti-app apps. Some created app icons for reading groups or people who wanted to ride bicycles together. "It was a play on the whole idea of an app that takes you away from your phone," says Batt. "The idea was to create opportunities for meaningful social engagement and to raise awareness."
Students have responded positively to both the film and the art projects. "We've had a very enthusiastic response," says Sharbaugh. "The discussions after the screenings were meaningful and included students from a variety of ages and backgrounds. They were thoughtful about their media use, how it helps them to have it or not and how it impacts society at large."
One of the film's central premises is that social media users are themselves the product being consumed, in the form of their time, energy and attention, rather than being consumers of it. Batt asked his class to reflect on that question after they'd seen the movie. "There were a lot of different answers," he says. "Some got it crystal clear, and others were still working through it, but it was fascinating to see them engaging with this idea."
Librarian and journalism professor Margaret Thomas has approached the topic from an information literacy standpoint. Her focus has been on raising awareness of how social media has affected people's ability to wisely discern the difference between accurate and inaccurate information. Thomas has used "The Social Dilemma" as a tool to promote critical analysis around information gathering.
Student Art Exhibit
For the "Strings Attached" pop-up art show, pieces will be set up on stands in Heritage Park along Capitol Lake, allowing viewers to follow the path in either direction and take in the entire show. COVID-19 has provided part of the impetus for the event. With gallery capacity currently at 50%, moving the exhibition off-campus for part of the time is a way to allow more people to see it.
Artwohl hopes the experience prompts more conversation and awareness for both students and viewers. "As therapists, our role is to make the unconscious more conscious," he says. "If you're not aware of what's motivating you, it's hard to have choice over that. Understanding how social media manipulates your social and emotional selves requires a certain amount of humility because it requires us to acknowledge that there are parts of ourselves that we can't directly control."
Moving forward, Batt would like the art department to stay involved. "My students' work was thoughtful and authentic," he says. "We need to keep this conversation going. I love the idea of creativity being part of the way we approach this. It's a really important key."
For more information visit the South Puget Sound Community College website.
Sponsored