Submitted by South Sound GREEN
In the face of COVID-19 and recent stay at home order, parents and guardians may find themselves looking for activities that not only keep students engaged, but also provide information about local environmental science and concerns. In our South Sound GREEN Home-Based Science Project series, we will introduce and demonstrate various hands-on and at-home science activities for children of all ages to do either indoors or outside!
This time, we're celebrating Earth Week with activities from us and community partners!
Earth Week Celebrations 
Grade Level: 2nd-8th
Materials
Whatever you already have! Each activity will have their own recommended materials, often with a focus on recycling or upcycling. No need to buy any new materials!
Background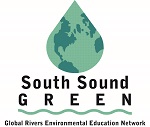 Happy Earth Week! This year, we're coming together with some of our local environmental organizations to put together activities that students can do to celebrate Earth and the environment. Earth Day (April 22nd) is an annual holiday to promote and show support for environmental protection, but why celebrate for only a day when we can celebrate for a whole week!
We have created a lot of Home Watershed Activities previously for ThurstonTalk, and all of them would be great for Earth Week. But if you're looking for new activities or new ways to try out old activities, check out some of the options below!
We encourage you to do as many of the Earth Week activities that you can between April 17 to 25. You can download digital copies of the activities from the Earth Week Google Drive Folder.
Upcycling Activities
First, we're bringing back a few home watershed activities from last year but with a new twist: we're focusing on upcycling, or transforming discarded or used products into a product of greater value or importance. Upcycling is a little different from recycling, which is transforming waste into a similar product to be used again. Both processes are important for reducing the amount of waste that ends up in landfills, but instead of putting your recyclable materials into a bin, you can upcycle to create fun new resources to learn more about your local environment!
Rainy Day Research – This is a great activity to include upcycling with, because it already focuses on turning old plastic bottles into a tool for measuring rainfall. Here are some other ideas for incorporating upcycling:
Don't want to use tape? Find a rubber band or old hair tie to keep the two halves of the bottle together for your rain gauge.
Use a broken ruler or tape measure as your scale on the side of your rain gauge – make sure you use adult help if you need to cut it!
Don't have a plastic bottle to use? Paper or wax-covered cartons can work as well, though they may not hold up for multiple rainy days. You could also use an empty aluminum can – the upside-down bottle opening helps to catch the rain but isn't necessary to get results. Just make sure you fully clean out the carton or can before using. You'll also need to pour the collected water into a separate container to measure the rainfall if your container isn't clear.
Windy Weather Watchers – There are a lot of ways to build a working anemometer at home!
Cardboard is a great material to build your "X" out of, but don't worry if you don't have any! Straws, pencils, or chopsticks can be used to build your "X" as well (attach them in the middle with a rubber band). Just make sure you still have a way to balance a pen or pencil in the middle so that the anemometer can spin. If you are using straws, one way to do this is to poke a thumb tack (careful, they're sharp!) through the straws and into a pencil eraser.
If you don't have an egg carton to create the wind "catchers", try paper cups, or you can even make small "cups" out of used aluminum foil.
We can even make our anemometer entirely out of natural materials! Try using narrow, smooth sticks for your "X" or balancing piece, and use peanut or walnut shells as your wind "catchers".
Help Our Pollinators
You probably know all about pollinators and pollination from our Spot the Pollinator and Pollen, Pollen Everywhere activities. The WET Science Center has set up a fun scavenger hunt for plants and pollinators near your home!
Trash Pickup Bingo!
Want to clean up your local environment? Use this trash pickup bingo board created by Pacific Shellfish Institute!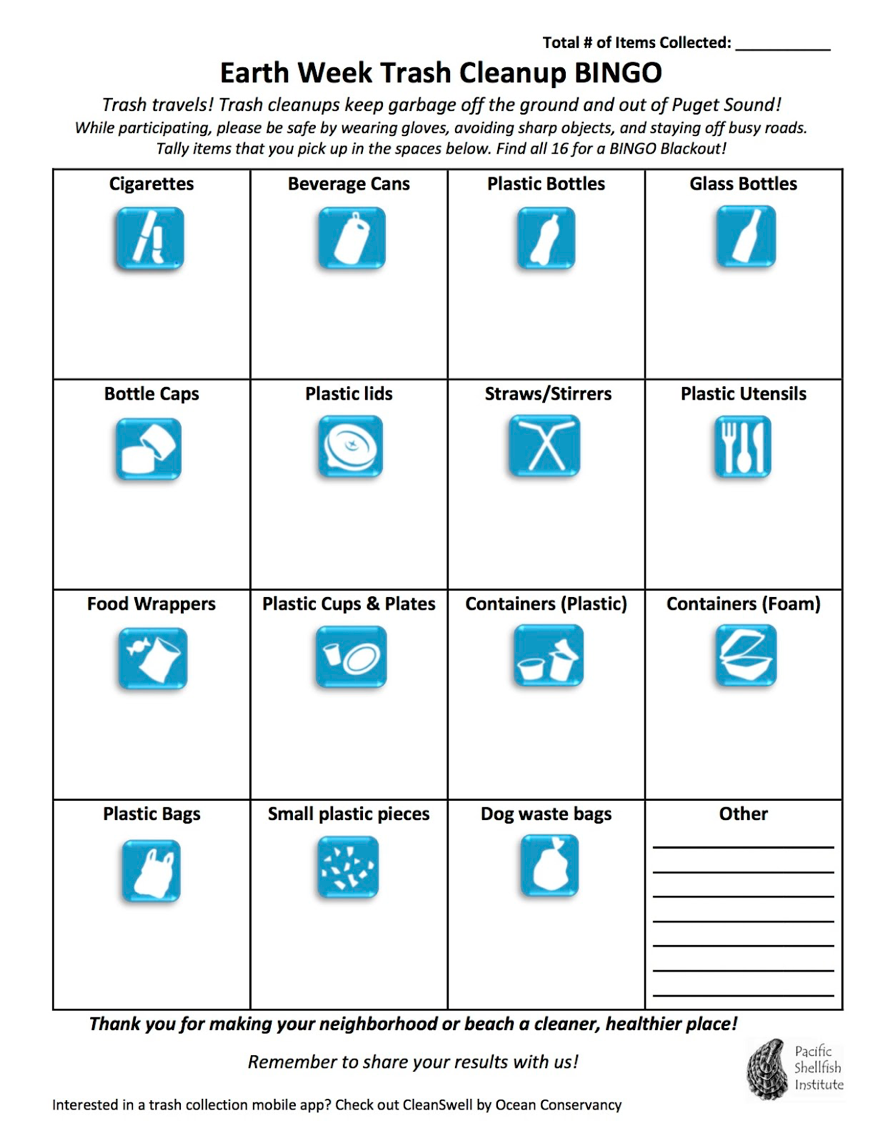 But this is just a few of the amazing activities we've put together for Earth Week! Find the rest in our activity packet, available in digital version here!
Vocabulary
Earth Day: An annual holiday that began in 1970 to promote and show support for environmental protection.
Recycling: Converting waste into reusable material.
Upcycling: Transforming discarded or used products into a product of greater value or importance.
Keep Learning!
Our activity packet has a lot more activities and information for Earth Week – check it out!
Want to share your Earth Week projects with us? Find us on Instagram at @southsoundgreen.
South Sound GREEN (Global Rivers Environmental Education Network) is a watershed education program in Thurston County that educates, empowers and connects thousands of local students in watershed studies annually. Through South Sound GREEN, participants engage in science and engineering practices related to water quality in South Sound. For more information, visit the South Sound GREEN website.