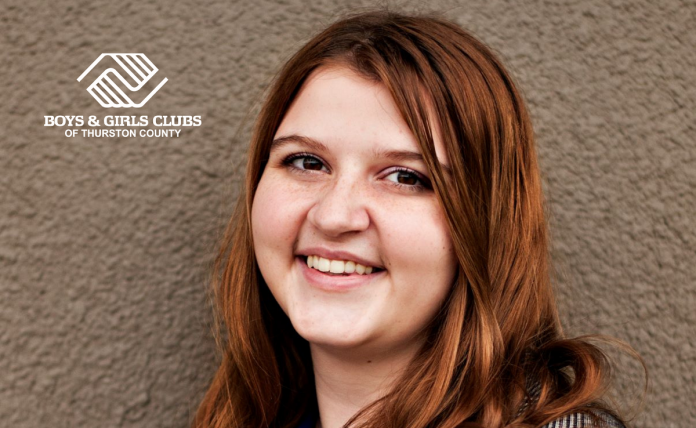 Submitted by Boys & Girls Clubs of Thurston County
Rochester High School senior and Running Start student at Centralia College, Alizabeth Ashton, representing the Rochester Boys & Girls Club, was named the 2021 Boys & Girls Clubs of Thurston County Youth of the Year at the organization's recent annual celebration. She earned the Youth of the Year honor by competing alongside nominees representing four Thurston County Club locations.
Alizabeth now advances to the Washington state Youth of the Year competition Friday March 26 at 4 p.m. and potential regional and national competitions, with scholarships awarded at various levels of advancement. Each competing Club member in the Youth of the Year program has to meet academic and community service requirements, write essays, submit letters of endorsement, and prepare and present a speech about their experiences.
Alizabeth, a senior at Rochester High School and Running Start student at Centralia College, gave an emotional and inspiring speech about the impact her Club experience had on her life especially during challenges related to her physical health and changes experiences within her family. Alizabeth has been a Club member since third grade and credits support from Club mentors as a powerful impact of her Club experience. She is the ASB student body president at Rochester High School and has been involved in cheer, band, and color guard. She has participated in numerous Club programs, most recently serving as a Jr. Staff member helping assist and mentor younger members. Her plans are to attend Eastern Washington University in the fall as a Child Studies major. Whenever possible, she will continue to serve as an ambassador for the Clubs.
"All of our Youth of the Year nominees are evidence that we have much to be hopeful for. They remind us that adversity can be overcome and that the Club experience can be a powerful asset in helping navigate whatever challenges they face," says Chris Woods, CEO of the Boys & Girls Clubs of Thurston County. "We look forward to seeing all Alizabeth will accomplish through the Youth of the Year state competition and beyond."
Financial support for the Youth of the Year program ensures a rich experience for youth in our community. BGCTC is grateful to the following 2021 Youth of the Year sponsors: Olympia Federal Savings, Team Agtarap, South Puget Sound Community College, and Olympia Orthopaedic Associates.