There is no doubt that we are all in dire of need of fun, laughter and entertainment. This last year has been a doozy when it comes to mental health. Why not spend an evening laughing and being entertained while raising money for a good cause? This year the annual Pizza Klatch Gayla is going virtual to present you with Inter-Gay-lactic, an outer space and astrology themed night of fun and frivolity on Saturday, April 10, 2021 from 7 p.m. to 8 p.m., with a pre-show starting at 6:30 p.m.
"Our annual Gayla is one of our most anticipated events of the year," says Jay Banks, executive director for Pizza Klatch. "It is a space where we can celebrate and come together with the community. Our youth get to be in a space where they can share their talents and the impact that Pizza Klatch has made on them. Adults in the community and business owners get to show their support for Pizza Klatch and the youth we serve."
El Sanchez, donations director and Gayla chair for Pizza Klatch, is excited to use their 11 years of stand-up comedian experience as host of this year's event. They will be presenting as Gayle Evans, an astrologer who happens to have been abducted by aliens and lived to tell their tale! "Not that this is true for all of us, but many LGBTQ+ folx love astrology and we thought outer space felt like a good fit as well since we've all felt so weirdly isolated this past year," they share. "Also, I love a good pun and InterGaylactic had a good ring to it. Our theme last year was under the sea and called The Coast is Queer."
Along with Gayle Evans' comedic relief, Pizza Klatch is bringing you some much needed musical therapy with guests Be Steadwell, SassyBlack and the Queen of Bounce herself, Big Freedia. Be Steadwell will impress you with her vocal layering and beat boxing jams, while SassyBlack will take you out of this world with her melodies. Having performed with Kesha on "Jimmy Kimmel LIVE!," you can be sure Big Freedia will entertain all with her larger-than-life bounce music.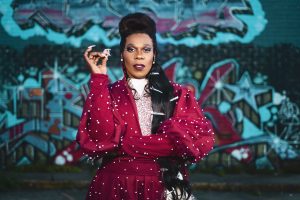 These performers have something for everyone, and are sure to raise your spirits, perhaps for the first time this year! El Sanchez mentions that the performances are mostly PG-13, though Big Freedia's performance at the end of the night does have some swearing and slightly adult themes.
Attendees of the Gayla will also get to see and hear performances and stories from Pizza Klatch students, to get an idea of the powerful impact they have on our local youth.
Support Their Important Work
The Pizza Klatch is a nonprofit organization whose mission is to, "foster resiliency in LGBTQ+ youth and create a safe and positive school experience through support, education and empowerment." They work toward ending harassment, discrimination, self-harm and suicide among LGBTQ+ youth.
Pre-COVID, the Pizza Klatch hosted support groups from LGBTQ+ youth in classrooms during lunchtime at participating schools. These lunches included, of course, free pizza for the youth attending. The Klatches are run by trained adult co-facilitators that are either members of the LGBTQ+ community or allies. In 2019, they provided support to over 400 LGBTQ+ youth.
"Usually, this fundraiser helps to support all the pizza we buy during the school year," explains Banks. "Hopefully we'll be able to do that again soon but, in the meantime, we will use that money to support our efforts in offering engaging social programs for youth to connect with their peers and with LGBTQ+ adults in the community during this isolating time."
Fundraising events during the Gayla include a live raise-the-paddle auction, virtual photo booth, astronomical prize raffle balloon pop and an online silent auction. The online silent auction begins Friday, March 26 and run until a week after the Gayla. Some of the amazing items include beautiful
hand-made items, vacation packages, safely guided hiking excursions, online tarot readings, a private night at the movies and a bunch of amazing locally sourced goodies.
"We know it's been a really tough year for everyone," shares Banks. "We are humbled by the amount of community support we've already received for the Gayla. We have lofty goals of being able to raise around $100,000, but even if it sounds cliche, literally every penny counts, so we feel extremely lucky for whatever folx have been able to donate. All of it goes directly towards helping Pizza Klatch continue to do the important work we do."
While they miss coming together in person as a community, of course, El Sanchez said the virtual space does have some pros. "This will be a unique opportunity where we can reach more folx in a way we've never been able to before, beyond our local area," they explain. "We also wanted to present a fun show that acknowledges the virtual aspect of it and doesn't attempt to run like an in-person gala you just happen to be watching on your computer or other device. We wanted it to feel like a television show, specifically a throwback public access style that is funny, entertaining and nostalgic while still being focused on the future of how we are sort of forced to communicate now."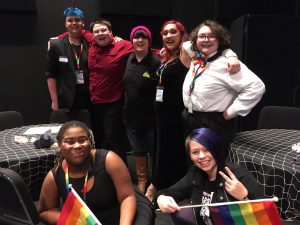 Tickets to this year's A Slice of the Good Life: The 7th Annual Pizza Klatch Gayla are available now. They have several ticket options, including ones that come with a party pack delivered to your door so you can really get into the spirit of the evening—some even have cocktail kits and a catered meal!
Put on your space pants, galactic gown or those starry pajamas (hey, it's virtual, they won't care!) and get ready for a night that will raise your spirits while raising funds to help youth in our community. It's going to be out of this world fun!
Sponsored