For the past year, holidays haven't felt quite the same. Indoors, socially distant and lacking the boisterousness of family and friends, we settled in for a pared-down Thanksgiving, Christmas and New Year's. But thanks to O'Blarney's Irish Pub in Lacey, St. Patrick's Day celebrates the slow return to normalcy with corned beef, cabbage, Guinness, Irish whiskey, live music and plenty of shenanigans.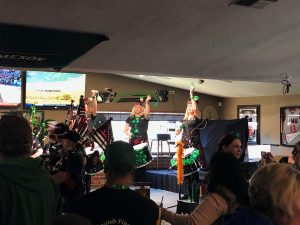 Owner Mike Heelan admits that St. Patrick's Day is the biggest day of their culinary year. Seating numbers vary depending what day of the week it falls but mid-week or weekend, they're always full. And while Coronavirus restrictions have slowed business, in many ways they consider themselves lucky.
"We are regarding this particular St. Patrick's Day as very special this year," says Heelan. "We were forced into lockdown last year the day before so there we were on the 17th, with our doors locked and 30 extra kegs of beer and 400 pounds of Prime quality corned beef in the cooler."
"Fortunately, the website and our kitchen were set up for takeout and online ordering before COVID hit," explains Heelan, "So we were able to be open during hours allowed by state mandate. We added outdoor tents with heating at the tables along with TVs to recreate as much of the indoor experience as possible. Indoor dining areas have been open at 25% and 50% capacity when allowed."
"After a year of lockdowns, and the COVID numbers looking better every day, we wanted to do something special," he admits. "We just made arrangements to rent a 3,400-square-foot tent, which will allow us to have 18 heated and socially distanced tables—we are planning on something big. We look at this as an opportunity to do something special for the community, and for our loyal customers who have been so amazing with their support for our business and our staff over the last year."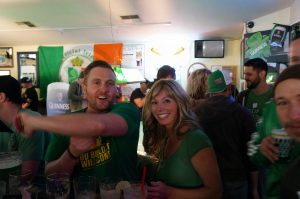 This year's celebration takes place on Wednesday, March 17, and there's plenty of midweek excitement in store. "Our hope is that we can provide a fun experience where the community can enjoy a holiday that we know a little something about," laughs Heelan. "This is all subject to permit approval which is currently in review, but I am pretty optimistic."
Traditional food delivery will not be available on St. Patrick's Day to allow staff to focus on the fun. All seating is first come, first served with spaces at the restaurant, covered and heated outdoor deck and porch areas.
Come hungry because they'll offer all the traditional Olympia menu favorites. Whether you prefer bangers and mash or Shepherd's Pie, lamb stew in a warm sourdough bread bowl or Ale fish and chips they've got you covered.
On tap will be plenty of Guinness Stout, Harp Lager, Smithwick's, O'Blarney's Celtic Ale and Irish Death. Irish whiskies like the Jameson array, Tullamore D.E.W. and Bushmills can be enjoyed neat or in an Irish Car Bomb, Dirty Irishman or Dew and a Brew.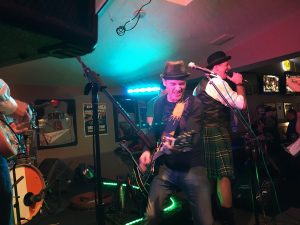 Remember when we would (wait for it) actually go out and listen to live music surrounded by family, friends and festive, fun-loving strangers? At O'Blarney's upcoming celebration that's part of the fun. From 12 p.m. until 6 p.m. be serenaded outdoors by the Puget Sound Firefighters Pipes & Drums. From 6 p.m. to 7 p.m. Lacey rockers Slainte will perform Irish, Scottish and contemporary favorites. The Ethan Tucker Band wraps things up from 8 p.m. to 9:30 p.m.
When you arrive, stop at the booth by the main entrance where you'll find a sanitizing station before being seated by staff. There will be a $5 cover charge for the outdoor entertainment area. But, says Heelan, "I hope that people will feel safe, we will have exceeded expectations, and people will leave happy remembering that they had fun."
Is your mouth watering in anticipation? O'Blarney's full, varied and delicious menu is available for lunch and dinner both indoors and out from 11 a.m. until 11 p.m. seven days a week. You can also order for curbside pick-up, Uber Eats, or delivery online or by calling 360.459.8084. Just remember no take-out on St. Patrick's Day, Wednesday, March 17. Follow them on Facebook for photos, updates and more.
Cooking and serving in a restaurant is chaotic, exciting, difficult and wonderful. Hosting an event like this even tougher. But for dedicated local restauranteurs like Heelan, nothing is more fun. Especially when celebrating the holiday of Ireland's patron saint. So swing on by and raise a glass to getting life back to normal at last.
Sponsored