The image reflected in storefront windows was nearly unrecognizable. When Kristine Goddard caught a glimpse of herself, her first thought was, "I look like an old lady." After three surgeries and several CT scans, doctors had finally realized that in the process of compensating for a fractured heel, her body had developed a broken pubic bone. It was slowly healing, but so painful that simple acts like getting out of bed and stepping out of her car were excruciating.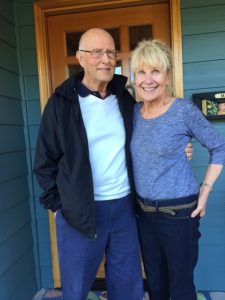 Even more painful, however, was the loss of her husband Jewel in March. Kristine had been his sole caregiver for two years, a time she cherishes. "He was magical," she says. "He cared about the right things and he made me a better person. I loved him with all my heart."
The combined effects of pain, grief, and pandemic-related isolation had worn her down to the point that walking normally again seemed impossible. "I had given up," she confirms. But then a friend recommended Dr. Jennifer Penrose, owner of Penrose & Associates Physical Therapy as a possible remedy. Her first appointment was on August 4 and over the course of 12 sessions, Kristine found the experience transformative both physically and emotionally.
"Jennifer recommended exercises that challenged me in the beginning and always inspired me to move forward," she explains. "It felt like she and her team wrapped their lives around my treatment, and I had a team cheering me on."
From barely being able to get out of bed, she progressed steadily. In earlier times, Kristine could never understand the compulsion that led her daughter to get up at 5:30 every morning and run four or five miles. Now, she is speed walking two miles daily herself. "It's like a fix," she says. "The first lap of the walk and my lungs feel great. I can walk normally. I never thought I would do that again."
She misses her husband deeply. In the last two years, the couple's only outings were daily visits to the west Olympia International House of Pancakes (IHOP) for brunch. "He loved all the waitresses, and he loved his hospice team," says Kristine. "He always said, 'You get back what you put out.' And I agree."
Her experience with Jennifer Penrose and the staff at Penrose & Associates Physical Therapy was all the more powerful because her usual support network was not available. "I have a wide network of friends, but now we just make calls," says Kristine. "I'm still grieving my husband, and that's one of the reasons I'm so grateful that part of my situation has changed. I can exercise and get out of the house."
"Jennifer has been tremendous," she continues, "and the staff are very special people. If you think you can't get better, they will do everything they can to help you."
For more information or to schedule an appointment with the Penrose Team, the Penrose & Associates Physical Therapy website or call 360-456-1444.
Sponsored