With open arms, the Family Support Center of South Sound in Olympia is ready and equipped to provide coordinated services to families experiencing or facing homelessness. Most recently, the support center has completed additional new shelter rooms that can accommodate large families or multiple families in an atmosphere that is calming and conducive to being able to plan for their next step in housing solutions. In one location, people's multi-faceted needs are assessed. From there, they can be connected with food resources, law enforcement support, shelter, and assistance for the next steps.
Founded in 1992, the Family Support Center is a nonprofit, multi service agency. The organization utilizes 36,000 square feet over three buildings with additional office space. Along with homeless family services and parent and child education, their Pear Blossom Place is a 24-hour, 7-day shelter. They assist families with children under 18 and pregnant women. Pear Blossom Place is the largest of its kind in the region with 36 beds, 7 apartments and the 6 new shelter rooms. A play area, a community living room, a laundry and 24-hour staff support are all available.
When the need arises, people are guided through a coordinated entry system in which a vulnerability assessment process helps determine their unique needs. Each person or family is assigned a case manager. People have a variety of barriers, so each situation is approached uniquely. Long term solutions are the goal, and that may mean rental assistance or working with landlords. The support center becomes the advocate that connects those in need of answers and next steps to those who may be the right provider.
"The primary goals of our organization are to reduce the negative impacts that poverty, homelessness, and domestic violence have on children and families in our community," says Trish Gregory, executive director of the Family Support Center of South Sound.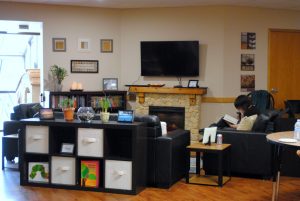 And those goals have led to new developments. The newly added shelter rooms are inside of the larger building. There are 4 bedrooms, and the total space can accommodate up to 10 people, which breaks down to about 2 or 3 people per room. This might mean that a family as large as 10 may use the space or multiple families of different sizes might occupy separate bedrooms but share common spaces. The shared space has a living area, a full kitchen and a laundry facility. Funding from a Rotary club grant, as well as donated items, helped furnish the rooms. The kitchen is stocked with basic daily use items.
"We are creating these new shelter beds in order to increase the safety net for children and families who are homeless," explained Gregory. "The new shelter will be modeled after Pear Blossom Place, providing families with a safe, warm and inviting place to live while they work towards identifying a permanent housing option."
A comfortable atmosphere is a key element after experiencing trauma, and the environment at the support center is prepared for that. Choosing calming colors, creating smooth and curved architecture or providing soothing lighting is a deliberate approach called trauma informed design. It's the cozy, calm and safe atmosphere that make a person feel at ease. Those who need support may stay as long as they need while staff at the center evaluate their needs and connect them to the appropriate community resources.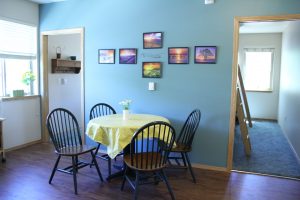 The genesis of the project was the need for more shelter space. The Pear Blossom facility has been consistently full since July of 2014. A Department of Commerce grant offered funding for renovations and operational costs. The cities of Lacey, Tumwater and Olympia, as well as Thurston county, also contributed.
"Our long-term vision, and the absolute best-case scenario for our future as an organization is that we end family homelessness and literally put our shelter out of business!" continues Gregory. "In the meantime, we are pushing forward with work to increase the amount of available affordable housing options for those that we serve. Within the next two years, we will open our first of two new apartment complexes hosting more than 60 new affordable, permanent homes within each building. Additionally, we will continue to develop and enhance services with a focus on increasing the overall health, safety, and wellness of families with children and survivors of violence in our community."
The Family Support Center of South Sound is a multi-faceted support system. Service includes a wide range from counseling and mental health support to providing daily needs such as food, hygiene supplies and transportation. They accept monetary donations as well as supplies and publish a list of their needs. They are located at 3545 Seventh Avenue Southwest, suite 200 in Olympia. If you need immediate, emergency assistance, call 1.800.628.7343.