It's easy to feel helpless right now. That's why when Simone Boe of Olympia heard about a grass-roots effort in Seattle called Community Loaves, she jumped to get involved. "This is a pretty dark time," she shares. "There is so much uncertainty and I was feeling pretty helpless. I don't know what do to, but I want to do something. I don't want to just sit here and feel sad or like I can't help. When I saw the article on Community Loaves I thought, 'This is something I can do. I am not an expert at it, but I can put my heart and soul into it and help grow it.'"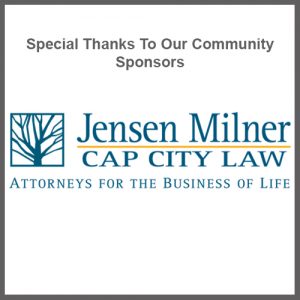 And just like the sourdough starter that she now has become very familiar with, Simone has definitely helped it grow. Started April 2020 in response to the COVID-19 pandemic by Katherine Kehrli in Seattle, Community Loaves has risen into a multi-city charity, with hubs in cities from Bellingham to Portland. At the end of 2020 there were 500 volunteers up and down I-5 who had donated 8,000 loaves. Each hub has volunteer bakers who bake loaves to donate to local food banks and pantries. Simone is a hub coordinator for the Thurston County area along with Cheryl Nugent, who brought her baking experience with her.
"When I retired from Boeing in 2018 after a 31-year career, I had two goals: Move from King county to Thurston county to create new community at Ovation at OakTree, and make all of the bread products that my husband Ed and I consume," Cheryl shares. She had been learning to make breads, including sourdough, with help from a neighbor, Lorraine Riehl, and was happy to use her new knowledge to give back. "Together we mutually supported the process of growing a starter from scratch, maturing it and putting it to good use," she adds. "It was a very natural and exciting prospect to put this knowledge to use in baking bread for a food bank."
Baked with Love and Local Ingredients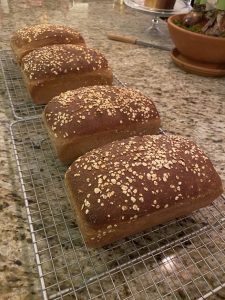 The volunteers with Community Loaves are not just baking any old bread recipe. Katherine chose to support the local economy by sourcing specific flours milled in Western Washington: Cairnspring Mills and Fairhaven Mills from Burlington. Cheryl explains that the flours were chosen for their high nutrition: "The formula uses a 50/50 mix of high protein bread flour, called Trailblazer and a whole wheat flour, called Espresso. The Trailblazer is milled through a 'high extraction' process that retains much more of the base nutrient qualities of the wheat. It is especially high in nutritive properties, much more so than your standard bag of bread flour that you can purchase at the grocery store."
Katherine purchases the flour wholesale and then each baker buys it from her to make their bread.
"In addition to the flours, we work in an oatmeal porridge for additional nutrition, taste and texture," Cheryl adds. "We add a sweet element using honey or molasses. There is also olive oil in the mix. And finally, the sourdough component which is the main leavening agent in the formula. Not only does it add a tang to the taste, but greatly enhances the keeping properties of this loaf of bread. It stays fresh and free of mold for many days."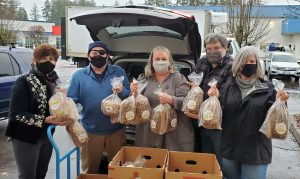 On January 4, the Thurston County hub donated their first loaves to the Thurston County Food bank. 20 bakers had baked 61 loaves. "We want to keep growing this number," says Simone. "We want more bakers and more bread to donate. We have a bit of a friendly competition going with Bellingham since they started around the same time as we did, so it would be fun to beat them, which would mean more food for local families in need."
Volunteers Needed
Simone and Cheryl both say that they complement each other when it comes to organizing the Thurston County hub and helping new volunteers learn to bake the bread. "I'd say we have complementary strengths and very similar enthusiasm and drive," says Cheryl.
Simone adds that it's a major asset to have someone with Cheryl's baking skills on the team, "She is just a good mentor baker, she is great to work with."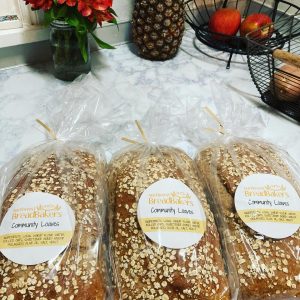 Although baking bread may seem tricky at first, Simone assures that after the first loaf, it's pretty easy. "You don't have to be a baker," she stresses. "There is a bit of a learning curve but, you know, with some humor and maybe someone to clean your kitchen, you can definitely do it. It's not unattainable if you haven't baked. Some of the women hear have baked for 50 years and I have baked for three months."
Families, teachers and students have stepped up and are volunteering to make bread to help with the growing need for food in our area. The food banks have seen such an appreciation from those receiving the freshly baked bread. "Judy Jones, the development director at the food bank, has told us that, 'It's really nice for our clients to know that someone is thinking about them.' Someone is deliberately taking their time to bake and donate. And that means a lot to us. We know someone is going to get our loaf of bread and that feels good."
To become a volunteer, visit the Community Loaves website and sign up for an orientation session through the Support Us button. Zoom orientations happen frequently and are listed on the sign-up page. If you do not want to bake, but would still like to help, you can also make a monetary donation on the same page of the website. Follow the Community Loaves Facebook page for updates.