For three teenage girls in Yelm, 2021 is off to a historical start: They will be part of a group of nine girls from the region to be recognized as Eagle Scouts by the Boy Scouts of America. The ceremony will take place February 8 at the Creighton Scouting Center in Tacoma, Washington at 6:30 p.m. They are on the heels of Chief Executive Officer Karen Meier, who made history by becoming the first female CEO of the Boy Scouts of America Pacific Harbors Council in July of 2020.

The three girls, Colleen Fanning, Tayler Thomas and Emily Turbeville, were all part of the same scout troop, led by Colleen's father, Christopher Fanning. He has been involved in Scouts since his son was a Cub, including being a den leader, assistant cub master and a committee chair. His son was also an Eagle Scout. "Having two Eagle Scouts is an amazing feeling and having one that has crossed over in the first batch is even more amazing," says Christopher.
At 16, Colleen Fanning has already earned her Girl Scout Gold Award, which she explains is equal to getting her Eagle Scout honor. She joined Boy Scouts when she was 14. For her, the merit badge paper work was the hardest part, but she liked earning the badges the most. "I enjoy doing merit badges with my friends and the tasks that come along with it," she explains. She plans on joining the military after high school. "Scouting has taught me how to be a better leader," she adds. "Also team building and a better team member."
Christopher explains that to make things easier on the Scouts, the scout troops are not co-ed. But the Scouts still get to do all the things their male counterparts get to, which is one of the main reasons many girls have wanted to join the Boy Scouts: for the fun activities they couldn't find in other organizations. For Tayler Thomas, it was the thing she liked most about the Scouts, even is she struggled sometimes. "It was hard to stay motivated," she says about the road to becoming an Eagle Scout. She was 15 when she joined, and is now getting her Eagle Scout honor at 17.
Both of her parents are proud to have another Eagle Scout in the family. "I am very proud, as an Eagle Scout myself, that we share that experience and the goals and life experiences together," says her father, Josh Thomas.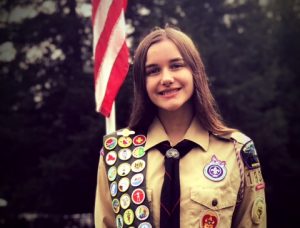 For Emily Turbeville, it was her brother who begged her to join the Scouts because he loved it so much. She was 13 when she joined the Scouts. Now, at 15, she is excited to get her Eagle Scout honor. Like Colleen, she too found the merit badges paperwork the hardest. They had to do 33 to become an Eagle Scout. But she loved all the activities. "My favorite were all the camping trips we get to do," Emily says. "Nothing like building a fire and warming your food up. The lifelong friendships I've made with my other fellow scouts. Doing lashings is one of my favorite things to do." She is planning on going into a medical field after high school. "I want to do something in the medical field, either with animals or humans," she says. "The skills I've learned in Scouts will definitely help me to achieve my career."
"My husband Jim and I couldn't be any more proud of her," says Julie Turbeville, Emily's mother. "She really did put in a lot of hard work to get to Eagle Scout."
They will be broadcasting the live event on social media. Follow the Pacific Harbors Council, BSA Facebook page for up-to-date information as the event draws near. Looking to support the Scouts? They are also having a Friends of Scouting Auction. The event, "Denim & Diamonds" is a virtual silent and live auction fundraiser coming up February 22-27. Auctioneer John Curly will be hosting and there will be live performances from country music star Kaitie Wade and her band. You can also still sponsor or donate items by contacting the Nicole Stephens, development director, at Nicole.Stephens@Scouting.org.