There's something really special about locally-owned and operated businesses. But there's something even magical about ones that have been around for decades. In this case, Acme Fuel, the South Sound region's favorite supplier of gas, propane, and heating oil, has been keeping our tanks full for nearly a century.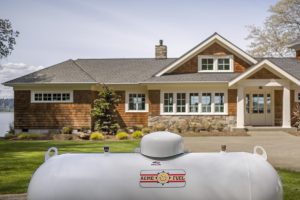 "A century?"
"Yes, a century!"
Exemplary Service
Some people like to shop around for the lowest prices. But, Todd Deck, Acme Fuel's general manager reminds us of what the old adage says, "You get what you pay for."
With Acme, in addition to their competitive pricing on propane and heating oil deliveries, and the various types of fuels they offer at their pumps, their fill-ups, top-offs, routine and emergency services come with a level of customer service not often found these days.
It must be their deep roots in the community and longevity in business. They've carried forward the values and high standards of yesteryear when it comes to doing business.
"I know the family, and they're just good people," says life-long Olympia resident, Suzie Helland.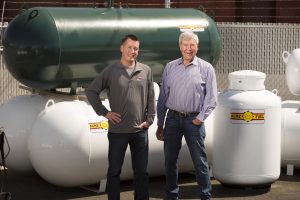 Rachael Taylor-Tuller, co-owner and operator of a local grade-A goat dairy, Lost Peacock Creamery, says she loves Acme. "I have used them for over 10 years now," she shares, "and they never complain about having to go through the goat pasture to get to our tank!"
Because Acme folks live and work in the community they serve, they can employ an ultra-rapid response when the need is emergent. "We respond to after hour emergencies in 15 minutes or less," Deck says, "usually less."
In addition to having some of the most pleasant demeanors I've ever encountered in customer service, the front desk staff is quite skilled in helping evaluate your fuel needs and finding a plan that's right for you. Whether it's an auto-fill program, new tank installations, an occasional fill, or something else – the folks at Acme Fuel are eager to help. And it's sincere, too.
Acme Gives Back
In a recent interview with Deck he mentioned that a portion of what customers pay for stays within the community. Curious about that, I did a little digging and found a whole host of places Acme had sprinkled some of their magic back into the community.
In 2018, Acme Fuel was looking to add another delivery truck to its fleet. Christophe Allen and Tom Allen, Acme Fuel co-owners, had recently lost their mother and wife, Jeannine Allen, to Alzheimer's disease. Determined to find a way to honor her, they wrapped their new truck in purple, (the signature color for Alzheimer's awareness) and partnered with the Alzheimer's Association to make an ongoing donation in her name. For every gallon the purple truck delivers, Acme Fuel donates one cent to the organization.
Cory Townsend, director of development for Alzheimer's Association Washington State Chapter reports that in addition to raising awareness about the disease, Acme has already raised over $10,000! Specifically, in Thurston County, the money is used toward staffing a 24/7 Alzheimer's helpline. "In the last year, we've received over 140 calls from people living in Thurston County," Townsend says.
The money also bolsters a support group in Olympia and two in Lacey, and over 100 people in our area received education in the last year. "They are great partners," says Townsend, "and we are grateful for their support."
Evan Skyette, another director of development, but this time for the South Puget Sound Community College Foundation says, "Our mission is to build resources to support all SPSCC students." Acme has been a huge supporter of their two largest events for over a decade.
Skyette shares that having consistent, generous partners is not only helpful in planning events, it's vital. "Due to COVID-19, the Clipper Scramble was cancelled this last summer," he says. "When I called Acme Fuel, it didn't matter that the event was canceled, they still wanted to help students. This kind of reliable community partnership allows the SPSCC Foundation to continue to award scholarships and financial support to students every year. This is more important now than ever."
In 2019, Acme donated to approximately 20-25 local organizations and programs that "benefit kids, and people in our community in a positive way," Deck says.
Can they donate to everyone? No. But if they could, they certainly would. When asked why Acme makes customer service and community support a top priority, Deck smiles and says, "Our customers pay us to take care of them, and well, we take that personally."
For more information, visit the Acme Fuel website, call the Acme Office at 360-943-1133 or stop by one of their Fast Fuel Stations. Acme Fuel is keeping the South Sound region's homes and businesses warm, and autos running, with a smile. Always.
Acme Fuel
Acme's Office
416 State Ave NE, Olympia (Call first, lobby is currently closed)
Fast Fuel Stations
303 Thurston Avenue NE, Olympia
Lilly Road – 501 Lilly Road SE, Olympia
Sponsored