For Mason Health, exceptional healthcare is not only about treating acute medical conditions, but is also about creating a cleaner environment for the entire community. From providing locally-sourced meals, to responsibly recycling medicines and medical supplies, Mason Health has taken concrete steps over the past decade to reduce their environmental impact and create a greener future for Mason County. Most recently, Mason Health has increased their commitment toward sustainability by partnering with Practice Greenhealth, an organization that supports health care facilities across the country to adopt environmentally-friendly practices.
As an integral part of Mason County's health infrastructure, Mason Health understands the potential environmental impact of a large healthcare facility. And just as first-class patient care is important to the hospital district, so is reducing waste, and responsibly mitigating adverse environmental impact.
Since 2007, Mason Health has been a participant in the Stryker Sustainability Solutions program, which helps to safely reuse and recycle single use medical devices. Through thorough sanitation, inspection and testing processes, certain types of medical equipment can be repurposed, rather than being disposed of.
Within Mason Health's Culinary and Nutrition Services department, the culinary team works to provide nutritious meals with locally-grown ingredients. Half of all produce and almost one-third of all meat products used in Mason Health's kitchen, is sourced from local farmers. Mason Health's culinary team has also partnered with local farms to provide seasonal produce through the South Sound Food System Network. In addition, all to-go containers within the culinary department are now made from biodegradable corn and sugarcane materials.
In an effort to keep unused medications out of the local water and soil supply, Mason Health is a support of  of Mason County's substance abuse prevention program, which employs drop boxes for the safe disposal of unused prescriptions. Mason Health has also recently become a member of MED-Project which is a program the specializes in education and medication disposal.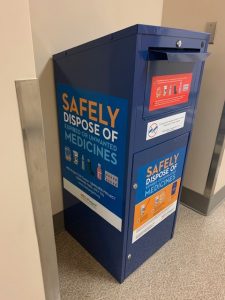 "We're always looking at opportunities for medications and pharmaceuticals be recycled responsibly," says Jennifer Capps, chief development and communications officer for Mason Health. "We have a box inside the hospital, so people can redact their information, recycle and get rid of their medicines. So that the medication is not going into the water and it's not going to get into the ground soil."
Partnering with Practice GreenHealth for a Better Tomorrow
Increasing their commitment to healthy communities and environmental causes, Mason Health is now partnering with Practice Greenhealth, an organization that aids healthcare systems in adopting environmentally-friendly practices.
"Practice Greenhealth is the nation's largest networking association for hospitals and health care regarding sustainability," says Scott Rich, Practice Greenhealth's growth & marketing director. "Practice Greenhealth was formed specifically to provide resources to hospitals and health systems and to help them specifically with sustainability and climate change."
Practice Greenhealth is a multi-faceted program that can provide resources for over a dozen aspects of sustainability within a healthcare system, including water conservation, medical waste, energy use and transportation. Practice Greenhealth works hand in hand with each participating healthcare organization, paying close attention to the organization's current operations and areas of concern.
"We come to the table with resources and experts to really be an extension of their team," explains Rich. "Every hospital is different, from the large urban hospitals, to the ones that are part of a large system, to the rural critical access hospitals like Mason Health. We really want to work with them and find out what their priorities are and what's important to them in the community and then overlay our resources for them."
By teaming up with Practice Greenhealth, Capps says the expertise and resources that are available through the organization will help Mason Health maintain environmentally sustainable practices. Working with both Mason Health and the Washington Rural Health Collaborative, Capps hopes that green practices are adopted not just by Mason Health, but also by healthcare facilities throughout the region.
"I think that our partnership will help us lead the way," says Capps. "And also work with our collaborative members to be more green-thinking going forward. And I think that Practice Greenhealth's toolkit and resources will help us learn how to be more responsible, how to be more effective. And through learning, we drive that throughout the organization and be a better partner in the community."
Through teaming up with Practice Greenhealth, Mason Health hopes to expand on current environmentally friendly practices, while also adopting additional conservation efforts in the future. Capps says that with Practice Greehealth's support, there are opportunities to expand on green practices within the Culinary and Nutrition Services Department, build on the hospital's medication recycling program and at some future point, working toward creating a more environmentally friendly operating room. "These are things that are on the horizon that we might want to take a look at," says Capps. "These are some key areas that Practice Greenhealth can help us with developing. Building a team that's going to help us keep the environment at the forefront of our agenda is something that I think will create a lot of value in the organization."
To learn more about Mason Health's commitment to the environment and green healthcare practices, visit the Mason Health website.
Sponsored