Since the outbreak of COVID-19 we've all become hyper-local…whether we want to or not. Our world feels like it shrank in the dryer, often consisting of home, the grocery store, and that's about it. But many nonprofits are faced with a very real need that is increasing by the day. This is where we can all do our part to Give Local 2020 thanks to the Community Foundation of South Puget Sound.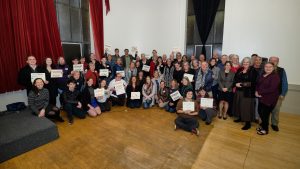 "In this year of chaos, cancellations, and loss, everyone has been called upon to make sacrifices for our community," says Community Foundation CEO and President Mindie Reule. "We've had to choose each day how much to set aside, how much to share, and what kind of people to be. We've learned new ways of doing things and hard lessons about the depth and the breadth of community needs. Together, we have responded with compassion and generosity."
And such generosity is vital. Local donations help local people and the institutions you drive by every day. Reports show that for every $100 spent at a small business, for example, approximately $68 stays within the local economy versus $43 for non-local companies. The same disparity can be seen when donating to charity. Local organizations have boots on the ground working with vulnerable populations in our very city and dollars stretch further when they stay close to home.
The Community Foundation always steps up to help nonprofits, even in the face of pandemic limitations. "Our local nonprofits adapted with incredible creativity and resilience," explains Reule. "They refused to let kids go hungry or let seniors face the crisis alone." The Community Foundation witnessed how overwhelming and fatiguing the work was, but they also watched local nonprofits learned Nonprofits changed their models, experimented, listened to the people they serve, and formed new partnerships. By trying things never done before, many even improved their reach and ability to make a positive impact. Still, the challenges aren't over and our nonprofits need support to continue.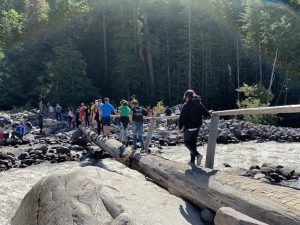 The Give Local fundraiser began in 2017. In 2019 alone, they raised $388,159 for 81 crucial local nonprofits. A total of 1,213 donors participated through 1,739 total donations. This year there is a $100,000 Bonus Fund from Dawkins Charitable Trust that will increase the value of every dollar received. The more your favorite nonprofit raises during Give Local, the greater portion of that total amount they'll receive. Your generosity could help them raise up to $7,500 more from the fund.
This year's donation period runs from November 9 through November 20. Find a list of this year's 80+ participating nonprofits online, which includes the Thurston County Food Bank, Senior Services for South Sound, Pizza Klatch, Olympia Symphony Orchestra and many more. Donate to SPSGives.org on Wednesdays for a chance to win an extra $100 for the recipient of your choice.
The Community Foundation would like to remind us all that no act of love is too small. This has been a a tough year financially for many people, butsmall gift can go a long way. When a small gift is out of reach, a kind word or note of thanks can be another way to keep people going. For local nonprofit staff, like so many of us, sometimes it just helps to be seen.
If you can't give, the Community Foundations hopes you'll consider helping groups be seen by sharing event details through your social media. That's an easy, free way to get the word out to friends, family, neighbors and co-workers who may not have heard about Give Local before today.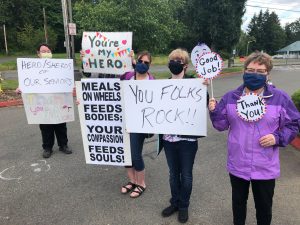 "These local nonprofits are right at the heart and soul of our communities," says Reule. "Time and again, they've been there for us. Now, I'm inviting you to show up for them. Please join me November 9 to 20, by visiting SPSGives.org, browsing the 80+ participating local nonprofits, and giving as generously as you can to the causes you care about. This place and the people who live here are so very worth it."
As an added benefit, giving to charity is also good for you. Save the Children reports that "Studies show that donating money to charity has been proven to have a positive impact on the brain. These effects are similar to activities people usually associate with joy and happiness such as eating, exercising, or affectionate gestures like giving someone a hug. Different chemical reactions can lead to an ongoing pattern of improved mental health and well-being. Keep this in mind the next time you're having a bad day and need something uplifting to draw from. There are many advantages of helping others, as donating can help better somebody else's life and lead to a healthier you."
Since the arrival of COVID-19, eating out, gyms, and giving hugs may be on hold, but you can get the same delightful, beneficial buzz any time thanks to the Community Foundation and Give Local 2020.
Sponsored