The year 2020 will go down as one filled with many trials and tribulations. While the COVID-19 pandemic continued to affect nearly everyone, forest fires hitting close to home in Thurston County added to the losses many of us have already endured this year.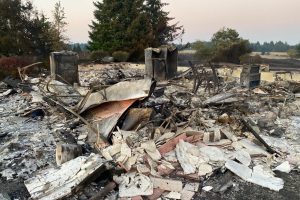 Most of the summer's horrific fires ravaged California and Oregon, but Washington was not spared the devastation. On Tuesday, September 8, a freak brush fire broke out over the Mima Mound Area of Littlerock. While luckily only two structures were lost in the blaze, one of those was home to couple, Cindy and Robert, who had painstakingly envisioned, crafted, and worked to nearly pay off their house over the last four decades. Thankfully, the couple were at work when the fire happened, but heartbreakingly, their beloved dog, Sissy was trapped inside.
Justin Bourdon, distiller at Sandstone Distillery was at work when his wife, Carissa, gave him the news that her coworker, Cindy had lost everything in the fire. After passing along the events on September 8 to his family and co-owners at the Distillery, the team knew that they needed to band together to try to help in any capacity they could.
Their first thought on how to help this family get back on their feet was to pinpoint a way to help offset some of the significant losses they experienced that insurance doesn't cover. After having wonderful success with their Rowyn's Raspberry Lemonade, a product that benefits the Raise for Rowyn Foundation, Justin had an idea as to how they might be able to engage their community to support this deserving family.
Justin quickly put his idea in place and first reached out to Johnson's Berry Farm, a locally owned, certified organic berry farm in Olympia. After asking if they would be interested in collaborating on a bottled cocktail with 100% of the sales proceeds going directly to the family, Sandstone received their approval and utilized their generous donation of frozen tayberries to develop a cocktail creation. The end result was a completely unique bottled cocktail, Tayberry Limeade.
With a goal in place to raise $5,000, Sandstone Distillery published the story of the Mima Mound fire and the family's devastating loss onto their Facebook page and announced the plan to soon release the bottled cocktail in their Tenino storefront. To their immense appreciation, the Thurston County community and beyond shared and liked the post hundreds of times reaching nearly 13,000 people, ultimately spreading the word and leading to incredible success of the bottled cocktail sales.
"We released 224 bottles on a Saturday and were totally sold out by the end of day Tuesday," shares John Bourdon, Sandstone Distillery owner. "Over 100 bottles were gone in the first hour, and 200 sold out in the first two hours. When I heard that they had lost their dog in the fire, it really tugged at my heart. We have such empathy for their losses and are so honored that the community came together to help us give back to this family."
After the official release of the Tayberry Limeade flew off their shelves, Sandstone was eager to present the money to Cindy and Robert. Justin gave them a call and while John was assisting visitors with a tasting and tour of the facility, they arrived, stunned by the news of the generous support that poured in from the community and across the country. Through many grateful tears, Cindy and Robert received the bucket full of the donations, which was graciously added to by the visitors who were at the Distillery. "These folks are known to be the ones who give their time to those in need," explains John, "so they aren't used to being on the other end. We know that at the time Cindy and Robert were living out of a suitcase and staying with family, and we sincerely hope the communities' donations will ease some of their stress."
To help aid in their current situation, Cindy and Robert's daughter started a GoFundMe page in order to get back some of the comforts of home. Their hope is to rebuild on the site of their lost home as it's their favorite place in the world and where they would love to grow old as they start their retirement years.
Noting the immense success of the Tayberry Limeade sales, Sandstone is planning to bring the delicious flavor back in time for Christmas. They also continue to give back during the pandemic by being one of the first in Washington to produce, bottle, sell, and distribute hand sanitizer at a low cost. To learn more, visit the Sandstone Distillery website or Facebook page.
Sponsored