In times of grief, it's easy to withdraw from the world. But sharing pain lightens the load and provides enduring, mutual support. Raise for Rowyn's mission is to "provide financial assistance and emotional support to families struggling with the loss of a child." To date, the organization has helped more than 260 families from 25 states with funeral expenses.To show support and solidarity for their neighbors, fellow Tenino-based Sandstone Distillery is crafting a specialty cocktail in their honor. Even before this project, the Bourdon family were long-time supporters of Raise for Rowyn.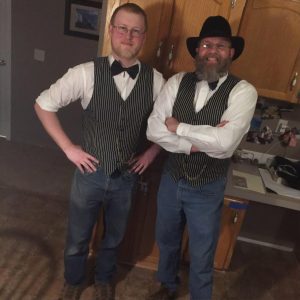 Their delicious Rowyn's Raspberry Lemonade pre-mixed cocktail will be sold from the Distillery and in various local stores with 50 percent of all retail sales going to help families through their time of loss."We started developing pre-mixed cocktails about two years ago," recalls distiller Justin Bourdon. "They're pre-made drinks to replicate what you'd get at a bar." When it came time to create a new blend, it coincided with the annual arrival of fresh Spooner Berry Farms fruit and a new favorite was born.
"Why make something you don't like to drink?" laughs Justin. Little did he know how much it would hit home with Raise for Rowyn founder—and Rowyn's mom—Brynn Johnson. She visited the Distillery and loved both the vibrant pink color and tangy, refreshing taste. Pink was Rowyn's favorite and it matches the organization's well known winged logo. And, unbeknownst to the Bourdon distillers, only days before her death, little Rowyn and her family had been out picking fresh raspberries together.
This year, Sandstone will distill up approximately 500 to 550 bottles of their annual batch. Since they use no artificial emulsifiers, quantities are limited to obtainable berries since fresh is always best. Last year's 450 bottles sold out quickly, well before summer was over.
Justin's father John Bourdon, a former UPS delivery driver throughout the Tenino area, is proud of their family's work on this product. "It's all about community," John says. This project was especially poignant as his granddaughter—Justin's daughter—was born around the same time asRowyn. While boxing the first batch of freshly bottled cocktail, Justin tenderly placed each into their storage crate with a slight, almost unconscious, hug.
Known for delicious handcrafted spirits, sipping vinegars and cocktails, this is the first time Sandstone Distillery has created a unique beverage for an outside organization. Distillers have brought Rowyn's blend to events on behalf of the charity to pour and share their story across the region.
However, this is the not the first time Bourbon family hasgiven back. Sandstone Distillery often donates to auctions and charities throughout the area. Whether providing tours, tastings, pints, or parties, they give back to the community that has welcomed them with open arms.
To support Raise for Rowyn's life-changing mission, give online or sign up for one of their upcoming events. They're also a wealth of resources for grieving families with links to support groups and grief counselors for all ages. If you, or someone you know, may need help with funeral expenses for a child, reach out and request assistance directly or call 360-264-7676.
Visit the Sandstone Distillery for a Unique Experience
While you visit the Sandstone Distillery tasting room to sample their incrediblespirits like Stone Carver Bacon Whiskey or a Lemon Basil Gimlet, you stay for the community feel. Their events page lists classes like Soap Making 101 sponsored by Stone City Farm. They've also hosted jewelry making and art classes as well. Want to rent the tasting room for banquets or events? Contact the Bourdons and they'll do their best to make it happen.
Open from 12:00 p.m. to 5:00 p.m. on Thursday, Friday, Saturday, and Monday, visiting is a sensory experience not to be missed.
Experience More New Profiles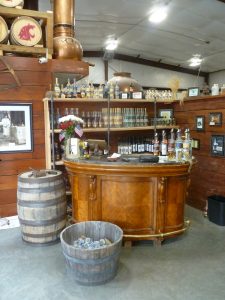 Prefer your spirits with a more savory profile? Try their new coffee liqueur using fresh-roasted, whole bean Batdorf and Bronson Italian roast. Crafted in February 2019, this 42-proof blend is coffeedominant, not overly sweet, and uses natural cane brown sugar to soften the coffee's underlying bitterness. It's currently only available at the Distillery, but should hit store shelves soon.
With all these and a possible brandy release this fall, Justin Bourdon estimates that "we've now branched out into most of the different types of liquors." But that doesn't mean they're resting on their laurels, new products and special offerings pop up whenever inspiration hits.
Take a virtual tour of the Distillery before shopping online or driving out for a visit. (GPS is recommended for navigating twisty country roads.) Follow them on Facebook for the most recent event listings, specials, activities, and appearances around town. Call 360-264-1901 with questions.
Look for Sandstone Distillery products at both Olympia Thriftway locations, Hedden's Pharmacy in Tenino, Total Wine & More, and at their rustic, welcoming tasting room.
More than 2,000 years ago, Greek physician Hippocrates said "Healing is a matter of time, but it is sometimes also a matter of opportunity." Partnerships like Sandstone Distillery and Raise for Rowyn may seem unlikely, but they are a tremendous opportunity and outreach. Raise a glass and support them both with a cold raspberry lemonade.
Sponsored