You could make a White Russian or any standard cocktail from the Sandstone Distillery Coffee Liqueur. However, the extra effort may not be necessary. "The comment I get the most is 'I could drink that all on its own,'" says Distiller John Bourdon. It's also good on ice cream, you could add a splash to coffee, or go all out and make an Espresso Martini.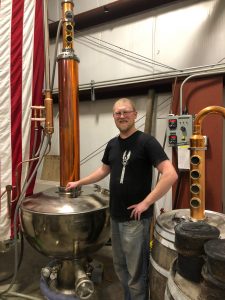 John, Jenni (John's wife) and Justin (their son), owners of Sandstone Distillery, have a deep commitment to sustainability and developing local collaborations. In the case of their Coffee Liqueur, that commitment stems all the way from the grain to the coffee. The grain, which is fermented and distilled into the vodka base, is grown at a farm south of Chehalis. The dark rich Italian Roast coffee beans come fresh from expert roasters Batdorf & Bronson in downtown Olympia. "The beans are roasted and we pick up them the very next day," says John.
"We grind the coffee here, do a cold soak, add sugar and then mix that with the alcohol," Justin explains. To perfect the recipe, Justin mixed several tiny batches to get the sweetness just right. They wanted to make the coffee flavor really come through. "We use minimal amounts of sugar, so it still has that sweetness on the tongue as your ending profile flavor along with the coffee," he shares.
"Our vodka has just a hint of sweetness from the grain itself," John adds, and compared to other coffee liqueurs you might find, Sandstone's has "a more delicate sugar and more pronounced coffee flavor. It turned out absolutely fabulous."
Sandstone Distillery has a built-in test market with the enthusiastic subscribers of their infused vodka Speakeasy 375 Club. A small batch of the coffee liqueur was released to the club members to see what people thought of it. "They lost their minds on it," shares Justin, "which was good because it's always fun to get positive feedback." The enthusiastic response from club members led to putting the coffee liqueur into full scale production.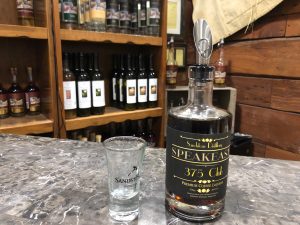 "We make rocket fuel," laughs John, "but you've got to make rocket fuel taste good. So then there is the biology, chemistry, and microbiology. All those sciences that you have to learn and employ. There is an art to it too. Trying new things. Creativity. Seeing what works and what doesn't."
One often hears of terroir, how the environment affects flavor, in terms of wine making. Both John and Justin are certain the grain they use, grown so close by, is what gives Sandstone spirits their special flavor. "The location, the soil, atmosphere, barometric pressure, all play into the flavor of the grain," says John. "We've noticed it ourselves when we started using the grain from this side of the mountains and received gold medals. It does make a difference and it does make a better bottle."
The pair participated in the recent Cascadia Grains Conference at SPSCC where exploring the regional flavor distinctions in grain was a major topic of discussion and study.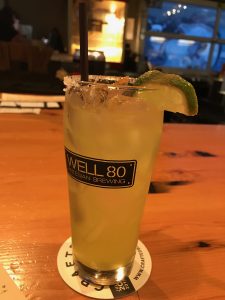 Whether people visit the distillery for a tour and tasting, or sample a specialty drink at a local bar like Well 80, the exceptional flavors of Sandstone spirits continue to win-over customers. Well 80 liked the Stone Carver White Whiskey so much they developed a special cocktail, called the Sandstone White Whiskey Margarita. "Our white whiskey has a bit of a tequila taste," shares John. This signature margarita is served in a beer glass with the traditional salted rim and lime. "It's a huge seller," he adds, "I'm delivering white whiskey to them all the time."
When they started the business John and Justin thought they'd be a manufacturer, selling mostly wholesale. As it turned out, their tasting room has really blossomed as a tourist attraction. It's not hard to see why they have won awards not just for their products, but for their hospitality too. The father-son team are full of knowledge and enthusiasm for what they do and are eager to share the process with others. Visitors may arrive at the large metal shed not knowing what to expect, but it is a sure bet they'll be treated to a friendly greeting and an entertaining tour. Visitors will leave with heads spilling with information on local history, the distilling process, and the many and varied uses for the "waste" products of the distilling process. Not to mention their taste buds buzzing with the flavors of Sandstone's ever growing selection of whiskey, gin, infused vodka, and now liqueur.
The Bourdons like to innovate and they have fun through the entire process. "We'd make a horrible reality TV show," John jokes, "because we don't have any drama. All we do is have fun and get along."
Sandstone Coffee Liqueur is only available at the tasting room for now. Tasting room hours are Monday, Thursday, Friday, and Saturday from 12:00 p.m. to 5:00 p.m., and Sunday by appointment only.
Sandstone Distillery
842 Wright Road, Tenino
360-239-7272
Sponsored