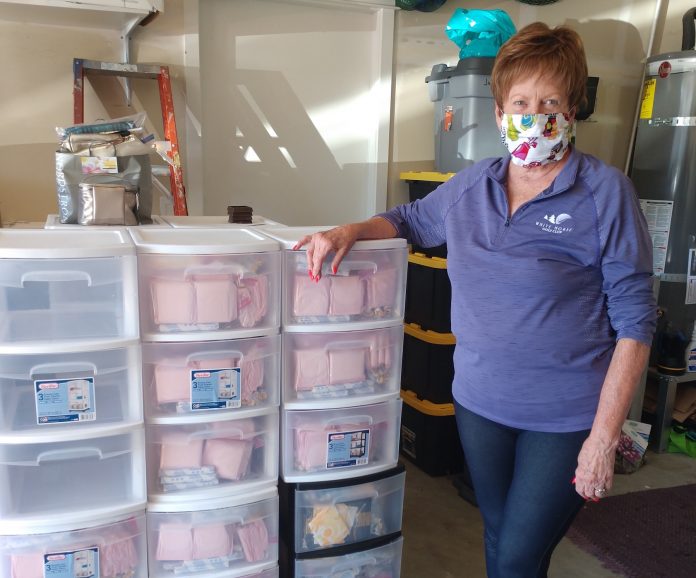 It's a sunny Wednesday morning and Jan Henry's garage door is wide open. A few of her friends are inside packing resealable plastic bags with tampons and pads for girls throughout Thurston County. Jan's been a fierce community volunteer since forever (well almost that long) and her current foray supplying hygiene products to local schoolgirls initially netted a free pallet of 11,950 menstrual pads. Jan works in cooperation with Homeless Backpacks and Period.org.  That required a lot of bagging. "Anyone who lives in Jubilee is susceptible to Jan's wiles," the cadre of packers all agree as they continue filling bags and laugh that each one of them met through Jan.
"It all started from Jan," notes Kandi Jahnke, a neighbor. A number of people connected through 8 at 5, (Jan's idea), a way for a people in their Jubilee Village to get better acquainted. Unfortunately, the virus has put a damper on those afternoon gatherings. However, these women are safely gathering to pack products destined to many regional locations including the North Thurston Public School's Youth & Family Resource Center, Tumwater TOGETHER!, Tenino Middle School, a church in Rainier, to name a few. The tampons and pads were intended to go to school counselors, but with most schools closed, new plans are being laid.
That first pallet has been distributed, and the need continues. One person uses from 5,000 to 15,000 pads/and or tampons over a lifetime. Early in the COVID-19 shut down, Jan and long-time friend Shirley Carlson started sewing masks, which were difficult to find then. "Anything she's doing, I say 'yes,'" says Shirley. "Her capacity for giving is amazing." Shirley fondly recalls impressive dinner parties that Jan donated, hosted and organized for local causes.
The duo finished 650 masks. In no time, Jan sold them all on Facebook and raised $4,500, all of which is buying more menstrual pads and tampons. Jan purchases in bulk, puts a shout out to friends, and a group shows up for an hour or so of bagging. The word is spreading, so she has been receiving donations of small cosmetic bags that are also added to the care packages. A common brand is IPSY, a monthly make-up subscription whose small totes are perfect for carrying hygiene items.
"I like helping with the project," says Jacquie Alexander, friends with Jan for over 40 years. A packing session culminates with 480 bags (more or less) that are packed into portable drawers that head off to various destinations. The empty containers are picked up for refilling.
"The ultimate goal is for the schoolgirls to form chapters," clarifies Jan, which aligns with the mission of Period.org, founded in 2014 by two 16-year-old high school students with passion. You can read about their nationwide work and find out about the upcoming virtual fundraising gala in mid-October. Of course, the need for girls to have menstrual products does not stop.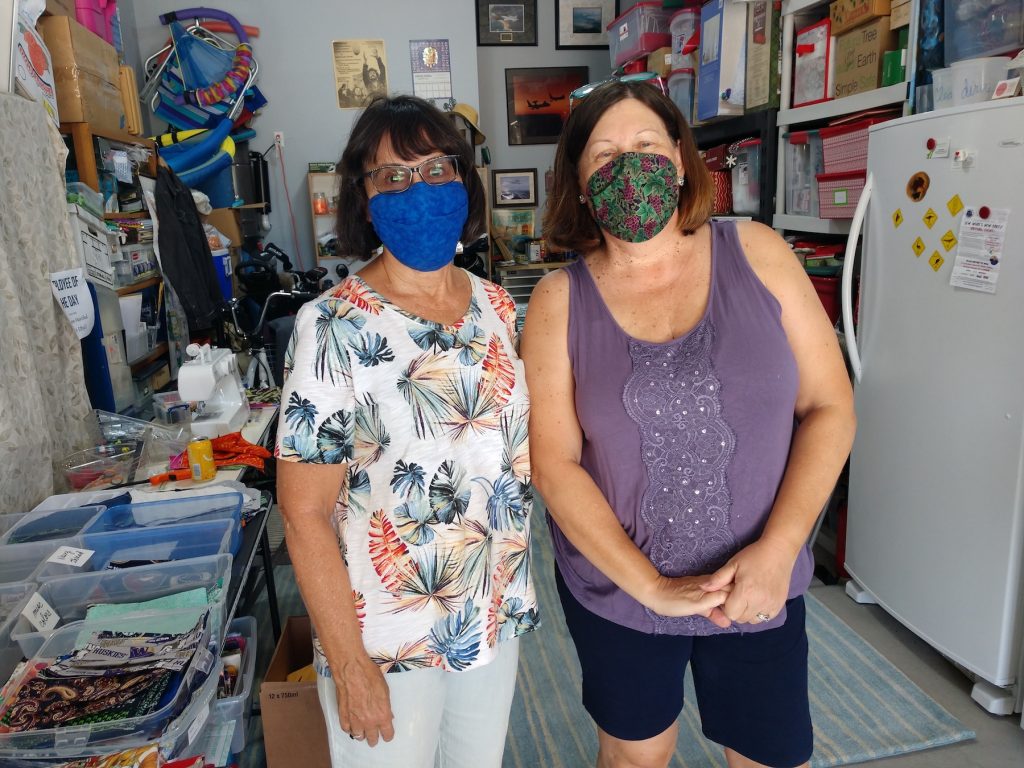 Jan's adult life is about connecting people with each other whether it involves work, a local charity or having a party. She's been in the real estate business for 46 years and runs her company, Real Estate of the South Sound, with the help of her daughter. "Even after all these years, I still love it," she muses. Jan was active with Olympia Master Builders, Chamber of Commerce and was one of the first women in the Capitalarians, the group known for creating Lakefair.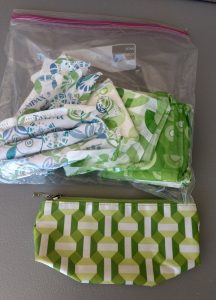 The ripples of Jan's enthusiasm spread. Friend Kandi, who takes breaks from her mask making to help pack, has her garage set up as a sewing station. Her son Peter, a chef, couldn't find a comfortable mask to wear 12 hours a day. After nine prototypes, Kandi came up with a fabulous design that includes beading elastic, a nose piece and a toggle. Masks can be adjusted to fit your face exactly and the elastic goes around your head (not stuck behind ears) so that hearing aids stay in and glasses do not get fogged. She and her friend Carmen Marchel sew most days so if the garage is open, you can buy masks. They are also there on weekends from 10:00 a.m. to 3:00 p.m. "I needed a purpose," says Carmen, a former home economics teacher who hadn't been fond of sewing. "I bought a sewing machine. I love it." The two-ply masks are made with 100% cotton. All proceeds go to Homeless Backpacks.
You can contact Jan to make product contributions through her Facebook page. You can also talk about menstruation as a normal aspect of living in contrast to pretending it's invisible or shameful. It's important to have hygiene products available to anyone that is in need. You can also buy masks from Kandi and Carmen or drop off 100% cotton material at 5047 Orcas Street NE, Olympia.