Luxury Downtown Olympia apartment living is now more attainable than ever for those 55 and over in search of a comfortable, upscale space to begin a new chapter in life, thanks to Columbia Hospitality, a Seattle-based hospitality and management company. Harbor Heights is officially open and welcoming residents into their new homes.

This modern, seven story building is located adjacent to Percival Landing Boardwalk in Olympia's vibrant Market District. With restaurants, shopping, outdoor activities, and views of the bustling West Bay Marina and snow-capped Olympic Mountains all within a short walk, the location is fantastic for energetic seniors seeking an urban, active and social lifestyle.
Harbor Heights is comprised of 116 units that are carefully designed with impressive architecture, refined modern interiors with functional living spaces with a walk-through layout. The expansive nine-foot ceilings in all of the units enlarge the apartments that are available in studio, one, two and three bedrooms. Each unit is equipped with top-quality finishes including quartz countertops, luxury vinyl plank flooring and GE stainless steel kitchen appliances. They feature walk-in showers, large closets, private balconies and air conditioning.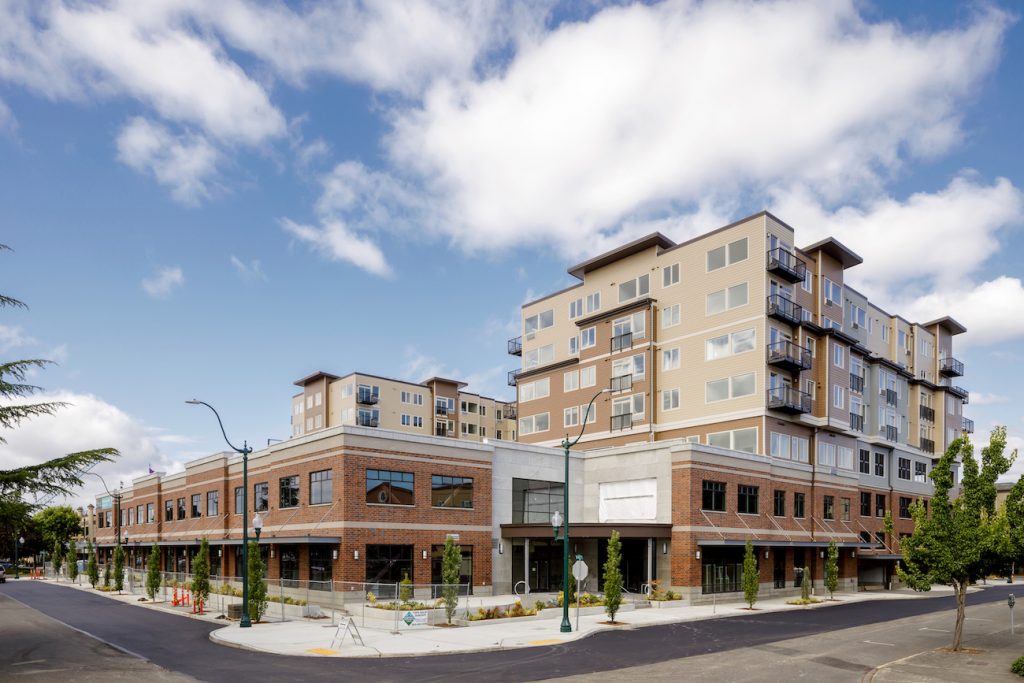 For those looking to bring their furry friend along on their move, they'll be happy to learn that Harbor Heights is pet friendly. The complex aims to be as convenient as possible by providing ample assigned resident parking and second floor office space.
With over 20,000-square-feet of amenity space, Harbor Heights Apartments boost a large rooftop patio with 180-degree water views and a private outdoor space that contains a lounge, grilling areas, fire bowls and tranquil gardens. The complex also features a conference room, activity room, movie theater, craft room, fitness room, maritime bar and tech center. "Harbor Heights is really establishing a new standard of residential options here in the South Sound," says Claire Richmond, general manager of Harbor Heights. "The sky-terrace overlooking the marina and harbor with cabanas and fire pits is a sight to see, one you will not soon forget. Unusual amenities in our residential building span from a relaxing lounge café with on-demand coffee service, a charming wine bar, high technology systems such as touchless delivery lockers and secure access controls."
Along with these amenities, organized outings and excursions such as happy hour walks and local wine tastings are a major part of Columbia Wellness's vision of building a close-knit community for a new generation of retirees. Making gathering together as simple as possible, the Harbor Heights complex now features Cynara Restaurant & Lounge, located on the ground level, that will soon prepare sophisticated Mediterranean and Pacific Rim cuisine alongside other retail tenants that will be finalized shortly. Discounts on dining at local restaurants is also a perk of Harbor Heights living.
"We have known for quite a while that Harbor Heights is a unique project with so much to offer in the way of 55 and over luxury living," states Richmond. "It has been a challenge to watch the whole thing come to life without a large audience to share it with. We look forward to having a big reveal once things return to normal, hopefully soon. For now, we are really enjoying our time on a smaller scale, getting to know our interesting residents, and watching people acclimate into the waterfront, harbor lifestyle. My hands down favorite thing is sharing the amazing views and spectacular amenity space on our executive level."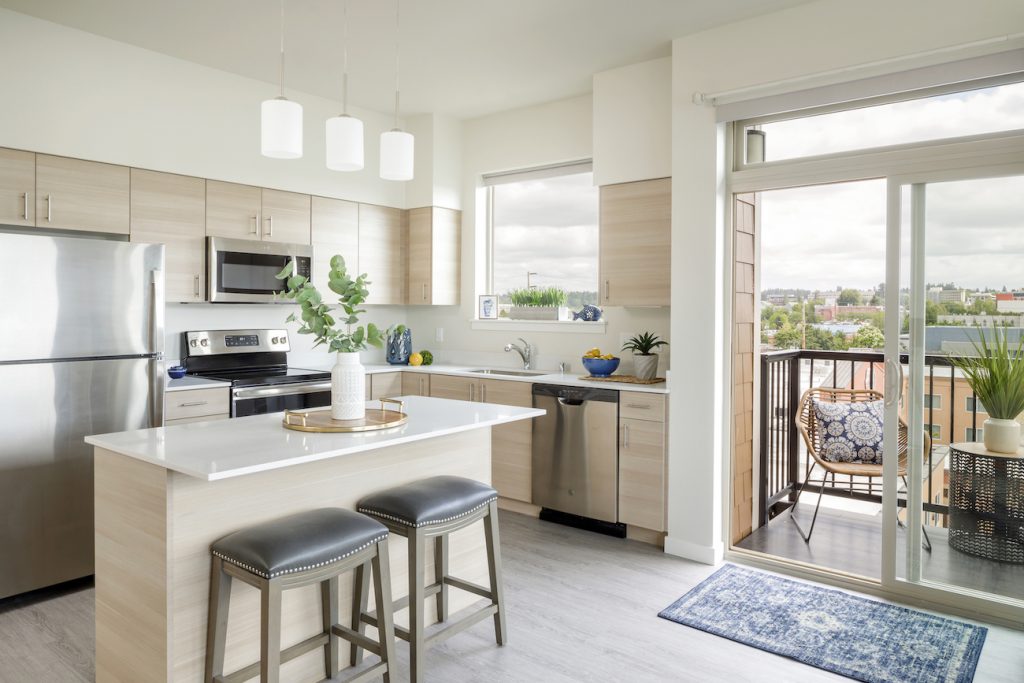 A safe living space is always on the forefront of the management's mind, resulting in extensive safety measures that include a secure, well-lit parking garage, fob and key access and elevators with programmable, restricted-floor access. As the building was slated to open its doors during the COVID-19 pandemic, Columbia Hospitality went above and beyond to ensure safety for all by developing an all-new set of health, safety, hygiene and sanitation standards for all of its properties, titled "Columbia Clean." These standards emphasize hygiene, sanitation, physical distancing and more. "We have Columbia Hospitality protocol for how we handle everything from checking employees and visitors into the building daily, to utilizing specialized cleaning procedures," says Richmond. "Keeping our residents safe and healthy is our number one priority."
As early September rounded the corner, the Certificate of Occupancy was received, and a busy weekend of move-ins ensued. As the month progresses, more move-ins are expected to take place. "We are very happy to report that we still have a fantastic selection of units of nearly every type," explains Richmond. "The phones have been very busy and it's clear that Olympians have been waiting for this opening!"
"Harbor Heights is focused on being a supportive base for our local business community," she continues. "I believe the economic ripple will be immediate and just what the Market District needs right now. We currently have partnerships with Bayview Thriftway, Armor Storage and All Ready Moving and look forward to establishing more."
Tours are currently being scheduled by appointment. Lease rates start at $1,500 per month for studio units. For more information, visit the Harbor Heights website or call 360-227-6800.