For over 170 years, local YMCAs have been gathering places, convening forces that help to strengthen and heal communities during challenging times. Amid the current national discord and civil unrest, it is more important than ever to provide a safe place for people to come together, regardless of background, race, color, creed, national origin or gender identity. To do this work requires a diverse, engaged and thoughtful board of trustees.
Ask any of the South Sound YMCA's seven new boards members what drew them to the organization and you'll get some variation on the theme of inclusivity. While they come from diverse backgrounds and perspectives, all share a genuine love of the Y and what it provides in the community. "The key to success in the nonprofit sector is engaging strong volunteer leaders who are passionate about our mission," says President & CEO Kyle Cronk.
"Anyone who wants to join the YMCA can join, no matter what your age or where you live," shares Julie Nichols.
"They don't turn anyone away," says Anthony Brock. "It's  really powerful statement. Regardless of who you are and where you come from, if you walk through our doors we're going to guarantee you the opportunity to participate."
"No matter who you are, you have a place here," Sarah Lloyd adds. "That is really important to me."
New members include Terry Bergeson, Anthony Brock, Karen Johnson, Casey Kilborn, Sarah Lloyd, Julie Nichols and Jennifer Ziegler. Brock, Lloyd and Nichols shared what compelled them to join the organization along with their thoughts on diversity on nonprofit boards, and what they're looking forward to in the year ahead.
Julie Sund Nichols
Julie Sund Nichols is an attorney based in Shelton who has played a central role in bringing the new YMCA to that community. She's well aware of the challenges her rural town faces, including above-state-average incidences of adolescent mental health issues and obesity. "The Y is uniquely poised to meet those challenges," she says. "It's important that we provide safe spaces for kids before and after school, which is what the Y does."
The needs of a community like Shelton are different from those of downtown Olympia, she notes, and it's important to have those needs represented at the board level. "I bring the perspective of being in Mason County, running a business and working with the community to figure out what services are necessary," she says. "The South Sound Y covers a pretty diverse geographical area, so the more diversity we can get on the board, the better for all of us."
Nichols is looking forward to wrapping up construction of the Y's Shelton branch in early 2021. "If you drive by the construction site, it's buzzing with activity," she says. "I'm thrilled the community is going to have this place where everyone is welcome. It will be a true community center."
Anthony Brock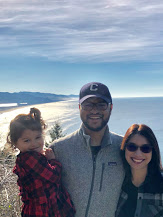 Anthony Brock is the principal of McClane Elementary School. In 2019 he did double duty as the Olympia School District's Staff & Diversity Coordinator. The Y played an important role in his childhood and he wants to ensure that youth today have access to the same opportunities. "It wasn't always easy for my family," he says. "There are students now who are in similar situations to what I had growing up. I want to increase our programming and fundraising so that we can guarantee students and their families won't be turned away."
Brock believes having a diverse board is essential to creating any type of increased access to diverse populations. "How do we reach out to communities that are different from our own?" he asks. "People want to see that it's not just a tagline, that we really want your input on how we can shift our organization to meet your needs."
Brock is looking forward to further connecting the Y with schools and focusing on programs for both kids and families. "We're going to need our community partners more than ever, and there is a way that the Y can lead an effort to provide more rigorous academic programs than we've ever done before," he says. "We can bring kids together in a responsible way, and support families who are struggling for community connections. Those are going to be really important as we move forward."
Sarah Lloyd
Sarah Lloyd is an executive consultant with Soul on Fire Consulting. She has a varied background that has spanned the U.S. and focused on issues of diversity and social justice for marginalized populations such as students of color, first-generation college students, LGBTQ, and immigrants.
"Kyle Cronk is a guy you would walk through fire for," she says. "He is such a powerful leader. When he approached me to join the board, it was a no-brainer." Lloyd is one of the few trustees to have run a nonprofit from the operations side.
She sees two important aspects of having a diverse board, one internal and one external. When leaders surround themselves with others who think the same way they do, organizations can become stagnant, she notes. "It can be tempting to recruit board members who think just like me because it makes it so much easier. You want to find that sweet spot where you're asking hard enough questions but not so oppositional that nothing gets done." Representation also serves to inspire others to imagine themselves in that role, she says. "If I see someone like me on a board, I can see myself on it."
Lloyd intends to focus on spreading a sense of belonging and inclusivity. "I think we're really going to be an organization to watch in the coming year," she says. "We've already done such amazing work, and now we're going to be even more mindful of creating stronger bonds and paying attention to what we're missing so that not a single person will be left behind or left out. When that happens, we'll be unstoppable. I think it's going to be a really exciting time for us."
Learn more by visiting the South Sound YMCA website or calling 360.753.6576.
Sponsored