Celebrating 20 years together always calls for a party. Whether it's time spent with the same business, club, spouse, partner, group, or team, two decades makes for stories, shared laughter, highs, lows and adapting to whatever life throws your way. Celebrate past, present and future with Holy Lamb Organics by exploring behind the scenes at their historic Oakville manufacturing plant, building your own travel-sized wooly down pillow or finding discounts galore in Olympia's extensive downtown showroom.
Holy Lamb makes mattresses, mattress toppers, comforters, pillows and home goods using organic materials and natural wool. Owners Jason and Mindy Schaefer explain that their products combine "heritage methods with natural and organic materials and sustainable business practices to create eco-friendly, supremely comfortable healthy bedding," they share. "Our earth-friendly approach to everything we do reflects our devotion to the planet and its inhabitants. From our supply chain to our manufacturing processes to our facilities management, nothing happens without considering the environmental impact."
They've owned the company for 2 years now and have 20 skilled employees. Keeping with the theme, they'll have plenty of special deals celebrating their anniversary and invite guests to tour their production facility in Oakville throughout 2020's festivities.
From the beginning the company has been zero-waste. "We are committed to staying local, take pride in being a 'made in America' company that invests in the local economy and provides living-wage jobs in the rural community, including a full slate of employee benefits," says Mindy. "We are dedicated to fair labor practices, secure working conditions, diversity, and inclusion."
Their story began in 2000 as a home-based, one-woman business making wool-filled travel pillows that were sold at the local co-cop. It soon expanded into other wool bedding like full-sized pillows, comforters and mattress toppers. This necessitated moving out of the home into a school bus—yes, you read that correctly—which was their first dedicated production facility.
The first employees were brought on in 2006 and Holy Lamb moved into the historic Oakville Little Bit General Store in 2008. By 2018, the growing company completed the rigorous GOTS Certification process. That stands for Global Organic Textile Standard and "is the worldwide leading textile processing standard for organic fibres, including ecological and social criteria, backed up by independent certification of the entire textile supply chain." Mindy Schaefer is proud that "Holy Lamb passes its yearly GOTS audits with flying colors."
Also in 2018 Holy Lamb added wool and latex mattresses and mattress toppers to their product line and opened their showroom in the downtown Olympia Steam Plant building. Since then, they've been an active participant in community-wide events like Arts Walk with the addition of everything from murals to chalk sheep, and have hosted artisans like textile artist Janice Arnold.
Free tours of the Little Bit factory can be scheduled Monday through Friday from 9:00 a.m. until 3:00 p.m. Just call either 360-273-9400 (Oakville) or 360-819-4293 (Olympia) to set up a time to visit. While there, let staffers know you'd like to make a travel-sized pillow for only $20. Tours can also be arranged via sales@holylamborganics.com.
And there's one frequently asked question the Schaefer's get asked…a lot. Why wool? Won't it be too warm during the warmer months? Nope! "Wool is ideal for bedding," says Mindy. "It's naturally temperature regulating—keeps you warm in winter and cool in summer—and hypo-allergenic, dust mite resistant, and, most importantly, it's a humane, sustainable fill material. It's also naturally fire retardant, so it creates a safe bedding product without the need for added chemicals."
Twenty years ago tattoo choker necklaces were the rage, "Breathe" by Faith Hill was the number one song, and Y2K didn't plunge us into a dystopian computer-less wasteland. We survived all that and we're going strong today…take a minute to celebrate with family and friends.
This year's Arts Walk takes place on Friday and Saturday, April 24 and 25. As always it's a great time to stop in to see all that Holy Lamb has on hand and their love of local art and artists. This year's artist will be Hart James.  But don't wait until then, stop by the Olympia showroom Monday through Saturday from 10:00 a.m. until 6:00 p.m. or Oakville Monday through Friday from 9:00 a.m. until 5:00 p.m.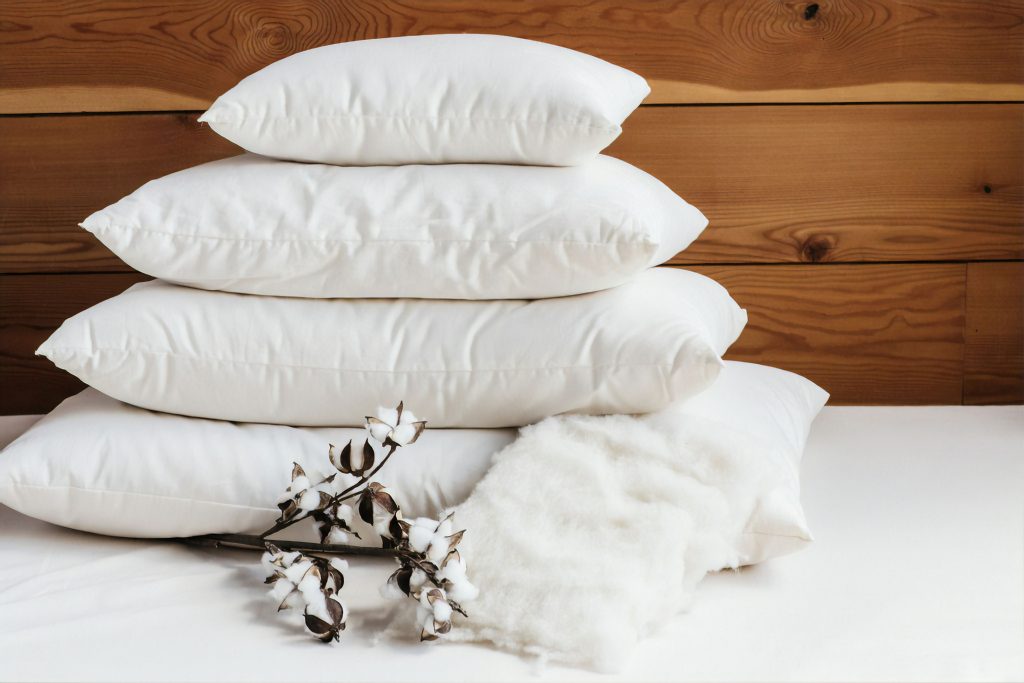 Sponsored