Felt is a funny thing. It's one of the oldest ways to make fabric yet is still vital to 21st-century daily life. This autumn, come experience felt in all its glory thanks to a partnership between Holy Lamb Organics and textile artist Janice Arnold.
Historians explain that "Felt is a type of textile that is not woven but produced by matting, condensing and pressing fibers together. It can be made of natural or synthetic fibers. Feltmaking is older than spinning and weaving…[and] has many uses, from clothing and tents to automotive industry, musical instruments and home construction."
Felting is typically done with wool, which creates an amazingly resilient final product. That is why artist Janice Arnold loves using it in her work. "I consider wool a miracle fiber," says Arnold. "It embodies incredible characteristics and qualities in one natural material. I think if wool were 'discovered' today, it would be considered a space age material!"
When producing locally, Janice turns to the best local suppliers around: Holy Lamb Organics. They provide wool bedding like mattresses, toppers, comforters, pillows, sleeping bags, and baby products. Owners Jason and Mindy Schaefer explain that wool is breathable, dust mite and fire resistant, renewable, sustainable, and benefits small businesses and ranchers alike.
Their partnership has brought some amazing art pieces to display, some of which can be viewed at the downtown Steam Plant building this fall at Arts Walk and Third Thursday events. "My work is nomadic," admits Janice, "and Mindy helps recognize my art and educate customers."
Arnold maintains a private studio near Grand Mound. But much of her work—established, ongoing, and in-process—can be found at Holy Lamb year-round. During the autumn shows, the public is invited to learn, watch, and participate "in the evolution of the pieces since the process is very tactile."
The alliance has also benefitted other local groups and charities. They'll be hosting staff members from the nearby Hands On Children's Museum for a staff teambuilding and training exercise and they've worked together on a donation for the recent GRuB Harvest Soirée.
"Since 2012, I've been doing a lot of community-wide events," says Janice. "It's critical that we educate people about this material, its sustainability, and timeless old-world ways. Lately we've not been recognizing that the earth has resources that are finite."
Mindy agrees. "The earth provides everything we need including these fibers. Why create materials with limited use, when there's such limited benefit?"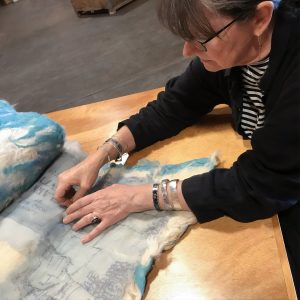 Having lived in Olympia for 40 years, Janice sees herself as a huge advocate of, and for, downtown. She grew up making braided rugs from cast-off wool clothes and wool is one of her first—and most treasured—memories. Her work has been featured in operas, Cirque du Soleil, and museums across the globe. She's even working on a new television project for Apple TV.
At Arts Walk, Holy Lamb will showcase furniture pieces that incorporate felt and wool. This focus on designing spaces with natural fibers spotlights that thoughtfully chosen furnishings should last a lifetime, says Janice. Upon seeing their functional beauty, she hopes to provide great conversation pieces about incorporating sustainable pieces into your home. "Function and art can be one," she adds.
Janices's work is educational as much as illustrative. "Wool is like protoplastic, you can almost make anything from it," she says. "Wool is such a powerhouse in the making and breaking of civilization. When people are educated, they make better choices; it's fun to see people interested."
While preparing for the show, Mindy had a personal eureka moment. "As far back as college, I wanted a space where people interacted with the art installations," she shares. But over the years, this wish was set aside. Now, however, she uses the store itself as a giant canvas to display art made from fabric, sidewalk chalk, mural paint and more.
To experience Janice's amazing cloth, stop by the shop during events or any time. "We need beauty in our lives and my work is immersive, an experience where people can be enveloped in something. Textiles and the structure of weaving have been used as a metaphor for the web of life."
During your visit, guests can even help create art alongside the artist. One project may include letting individuals remove threads, one at a time, from a piece of fabric. Once extracted, these would be felted into a new material that's entirely unique and one-of-a-kind.
Find details on the Holy Lamb Facebook page, by visiting the Steam Plant at 113 Thurston Avenue NE, or calling 360-819-4293. See samples of Janice's work on her Facebook page or online gallery. Art is all around us, thanks to dedicated crafters like these.
Sponsored