We live in a time that celebrates blending old and new. Shoppers seek out products, food, drinks, and clothing made with artisanal, hands-on skill. Ideas like farm-to-table and shopping locally are 21st century buzzwords with rich, historical background. Olympia-based Holy Lamb Organics fully embraces old-world craftsmanship coupled with sustainability.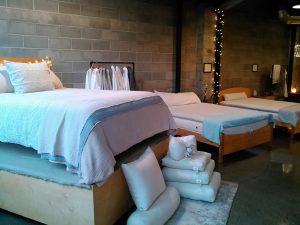 Mattresses, toppers, comforters, sheets, pillows, bedding, and bath products are local, green, and made in a zero-waste facility. They source wool from sheep farmers across the region and firmly believe in their mission to "To promote health and well-being, and to strengthen an economy based on ecology through manufacturing a line of high quality, all-natural, made in the USA organic bedding products produced using sustainable and ecological practices."
They also believe in recycling buildings, as it were. All three branches are in historical locations celebrated for their long, storied past. You never know, that new mattress you're enjoying could have been assembled at the site of a steam plant, general store or bank heist.
Constructible explains that "Besides the value of the economic investment in the existing building stock, there is the obvious historical and cultural value that buildings have in their neighborhoods and communities. Think about the lost building arts and craftsmanship, the materials that we can't get any more, and the history that an old building represents: some of those things cannot be measured."
Oakville's Little Bit General Store was built in 1902. It currently houses both a retail storefront as well as primary manufacturing center for Holy Lamb Organics. "We're committed to expanding in a green fashion," explains Jason Schaefer, co-owner of Holy Lamb Organics. "It's actually greener to work with a building that's already here."
Researchers like those at Constructible agree. "There is much greater value in reusing existing and historic buildings than what can be measured…[reports] found that reusing buildings produced greater environmental savings than demolishing them and building new."
Currently 15 employees work at the Little Bit, HLO's production location since 2008, crafting products in what has been a store, music venue and leather repair shop. Come for a tour of the process Monday through Friday from 9:00 a.m. until 5:00 p.m.
Jason's co-owner and wife, Mindy Schaefer, loves that there's "a good symbiotic relationship between preserving old-world craft and old buildings. It's a unique contrast: an old industrial building with our warm natural product."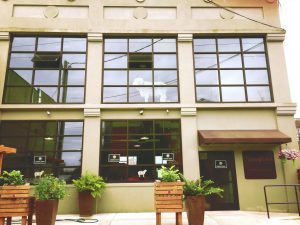 The second showroom is in Olympia's historic downtown Steam Plant building. The Olympia Historical Society explains that "In the heyday of industrial activity in the Port area, the Olympia Steam Heating Company took steam generated at the Washington Veneer Plant and transported it via underground pipes to downtown businesses for heating purposes. The Steam Plant building, built in 1946, was the central distribution point."
Decommissioned in 1963, the building has been a vintage antique mall, private offices, and staging ground for local textile artist and fellow wool-aficionado Janice Arnold. Approximately five employees staff this location—which they opened in August 2018—including master chalk-art, sheep drawing, mural-painting artist Lauren Burroughs-Haines.
Visit the Steam Plant building Monday through Saturday from 10:00 a.m. until 6:00 p.m., Sunday from 12:00 p.m. to 5:00 p.m. or find them sponsoring oodles of downtown events like Third Thursday, Arts Walk and more.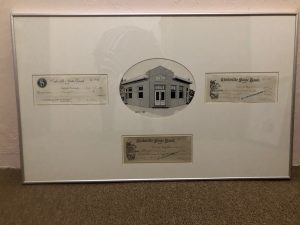 In early 2019, Holy Lamb relocated their customer service team to make room for in-house mattress crafting using natural materials, making them the only such business between Seattle and Portland. All five service representatives have now moved into the Oakville Bank and prepare to be robbed annually.
Each year on the Fourth of July, reenactors stage a bank robbery like no other. This historical recreation of the last horseback bank robbery in Washington State is a fan-favorite part of Oakville's Independence Day celebrations. Festivities in 2005, 2010, and 2012 show horses, bandits, law men and cheering crowds.
Salvaged last year by Christy Kriegsman, interested in preserving the bank's value to her community, the Schaefers intend to keep the old manager's desk and general bank set-up. Artifacts and articles about its history are proudly on display. They've worked hard preserving the other buildings as well. When the Little Bit's drafty old windows needed replacing, Olympia's Eco Woodworks was brought in to maintain the historical look.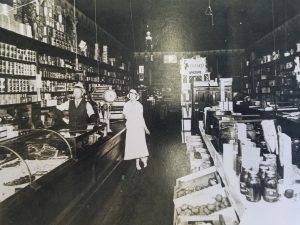 Since shuffling spaces around, Holy Lamb's new mattress manufacturing site offers everything from wool and latex hybrid toppers to the minimalist Shikibuton. Since everything is custom-crafted, these can be made in any size. To date, they've tackled beds, boats, RV's, trucks, semis, and trailers.
Insomniacs searching for the perfect sleep solution or Instagrammer hashtagging #architecture for your #photooftheday, follow them on Facebook, Pinterest, Twitter, or the Holy Lamb Organics website for open houses, maps and directions, and pictures of the cutest sheep you'll ever see. Bringing history to life has never been so comfy.
Sponsored