When a young single mother walked into the Briggs YMCA recently to explore potential services, she ended up in the office of Membership Coordinator Lelah Fields. The woman didn't ask about membership for herself or her five children; she just wanted to know about the shower pass program and see if there were a way to accommodate her autistic son who needed help with bathing.
For Fields, the encounter was a moment to reflect on how dramatically her life had changed since getting involved with the Y a little over two years ago. Back then, she was the single parent looking for ways to enrich the lives of herself and her three children. "Now I'm the one that's able to provide that support," she says. "It's so motivating on both a personal and professional level. My life has come full circle."
As one of two Membership Coordinators, Fields is responsible for managing the front desk staff, including hiring, training and support at both the Briggs and Plum Street facilities. Because those staff members are the initial point of contact for everyone who comes through the door, how they conduct that first encounter is critical. "They are the face of the Y for every program we have, whether it's after-school care, swimming lessons, or health and wellbeing," she says. "I want them to be genuine and help people feel welcome. The front desk staff really help our members [find] ways to be successful in meeting their goals and needs."
Unlike many members, Fields didn't grow up with an organization like the Y. As the child of a single mother herself, she grew up with few extracurricular activities. Instead, she discovered the organization as an adult. "I came into the Y one day because our family was having some challenges," she says. "I thought, maybe if I can get my kids into some activities, it will help them move in a more positive direction." She stopped in at the Briggs branch to explore scholarship options. A facilities tour convinced her that somehow, her family needed to get involved. The problem: even with financial aid, the membership fee wasn't within her budget.
After learning about Fields's circumstances, a staff member introduced her to (then) Senior Director Christy Parks. "I've learned that they really don't want anyone to walk out those doors because they can't afford it," says Fields. "That was the spirit and I felt it. Christy and her team wanted to make it happen for me." As a policy, the Y doesn't turn away anyone due to a lack of ability to pay. In 2018, the organization supported our community with $940,000 in financial assistance and program subsidy. In this case, the conversation ended with Parks offering Fields a free membership and a job at the front desk!
From the beginning, she was blown away by the level of support and care the staff exudes. "They are genuinely a family," she says. "They would go the extra mile for anybody who comes in, myself included." A few months after she accepted the front desk role, the Membership Coordinator position became available and she applied, a move that would profoundly impact her life.
"It was completely pivotal," says Fields. "In my career, I've gone from a part-time job where I was struggling paycheck to paycheck to now having a career path with benefits and a safe place for me and my children to go. My children have been able to learn new skills, meet new friends and really establish a sense of belonging."
As life-changing as the Y experience has been for her family, Fields knows that she is one of many. Every week she sees cancer survivors, single parents and families looking for resources. "There are so many people that tell us, 'I don't know where I'd be without the Y,'" she says. "I've heard a lot of our senior members say, 'The Y keeps me alive.' It's pretty amazing to be part of that."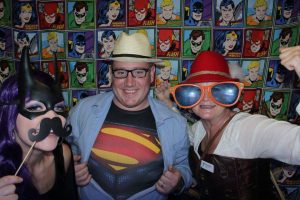 In keeping with the organization's spirit, Fields ended up giving the mother of five and her children a free membership for a month and a half to help them get started. "Hopefully they can get on their feet financially, but in the meantime, they have an opportunity to make their lives better by engaging with other people and building relationships," she says. "They can have a good time and maybe learn something new."
As for herself, Fields has found her home. "Within a few months of being here, I knew I wanted to do this for the rest of my life," she says. "I'm not going anywhere. I want to do everything I can to grow within this organization. I'm definitely a Y person for life."
There are many ways to get involved with the Y. Learn more about how you can become a member, become a volunteer or donate to support community programs.
Sponsored