After a stellar regular season, which featured the team placing second in the 2B Pacific League, and a thrilling start to the postseason, the Northwest Christian High School boys basketball team saw its season come to an end with a loss against Adna.
The season-ending defeat for the Wolverines came in a 64-53 loser-out game in the 2B Southwest District 4 tournament at Rochester High School on February 17.
Northwest Christian finishes the season with 17-6 record overall – which marks a two-win improvement over last year and a 10-win increase from 2018 – and a 14-4 record in league play. It represents the program's highest win total since they posted a 19-7 record in 2011.
The Wolverines should once again challenge for a league championship and a state playoff berth next season as they graduate just one starter – albeit one of the league's best – in senior Noah Phillips, who averaged 17 points a game.
Northwest Christian will welcome back a strong junior class next year, including standouts in 6-foot-5 post Landon Koukal, who paced the team offensively, scoring 18 points a game, 6-2 wing/guard Jude Phillips, who averaged 16 points a contest, and 6-4 forward Davis Yates, who chipped in seven points an outing this season.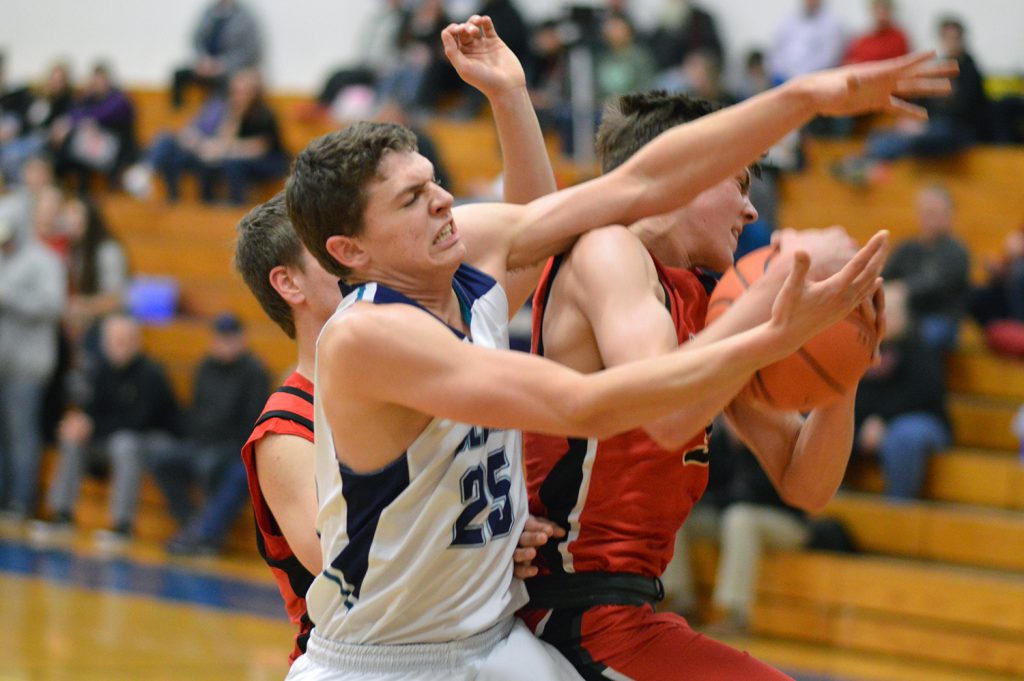 This year's squad also featured senior Zach Mandlin; juniors Daniel Dominguez and Ryan Philow; sophomores Adam Brooks, Kyle Hoffert, and Cooper Walker; and freshmen Mosie Dunning and Jayden Iverson.
The Wolverines enjoyed their best stretch this season from mid-December through the first week of February when they went 11-2 over a 13-game span. During that period, they posted victories over playoff teams Chief Leschi, Ilwaco, North Beach, Ocosta and Raymond.
Northwest Christian kickoff the 2B Southwest District 4 tournament with a dramatic 53-51 win over Wahkiakum in a third-round match-up which saw Dominguez drain a jumper at the top of the lane at the buzzer to give the Wolverines the victory.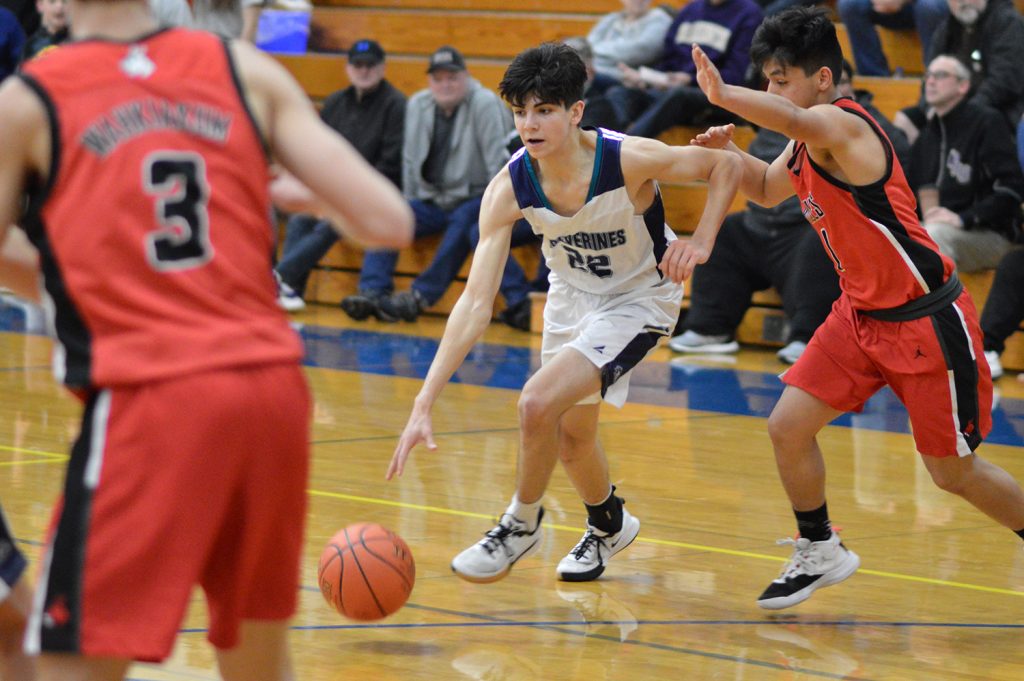 "We were all working hard," said Dominguez moments after hitting the playoff game-winning shot. "We were pretty much running the play that coach told us, but (Wahkiakum's) defense was good too. They switched it around on us. We were running the play for another guy and I ended up with the ball. I was thinking there was only a couple seconds left, I had to shoot it. I was just praying it would go it."
Northwest Christian led 21-13 at the half and 42-27 after three quarters, but the Mules (13-9) were able to get back into the game following a fourth-quarter offensive burst.
Noah Phillips led the Wolverines with 15 points, while Dominguez and Koukal scored 14 and 13 points, respectively. Yates added five points and Jude Phillips scored four.
The celebration proved to be short-lived, however, as two days later Northwest Christian was back in the Rochester High School gym facing 2B Central League runner-up Winlock in the district quarterfinals.
Behind the play of league MVP Bryce Cline, who finished with a game-high 26 points, the Cardinals jumped on the Wolverines early, leading by double digits at the intermission (36-26). Northwest Christian was able to find its groove defensively in the third quarter, holding Winlock to a modest 11 points in the frame, but struggled offensively, registering just six points as the deficit continued to grow.
Noah Phillips finished with a team-high 17 points against Winlock, while teammates Koukal and Yates scored 12 points apiece in the loss.
The Wolverines' impressive season did not go unnoticed by the rest of the 2B Pacific League with Noah Phillips being named to the all-league first team and head coach Rick Tigges selected as coach of the year.
Northwest Christian also had a second-team selection in Koukal and honorable mention pick in Jude Phillips. Noah Phillips was also joined on the All-Academic team by fellow senior Mandlin and freshman Dunning.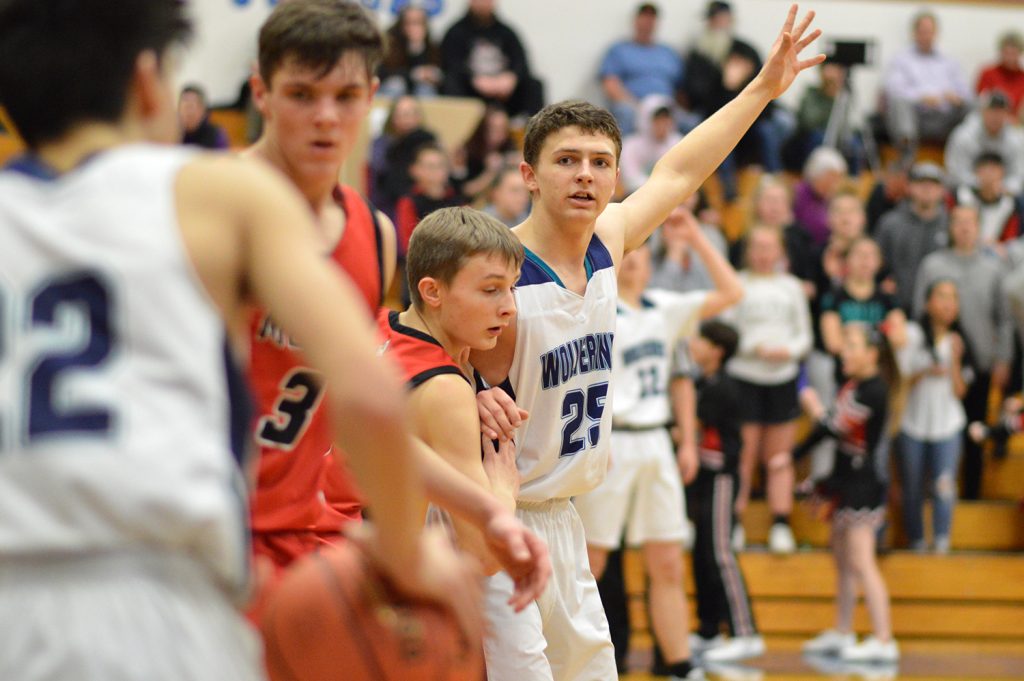 NWC's Stepp Receives All-League Honors
Northwest Christian sophomore Whitley Stepp was named to the 2B Pacific League second-team all-league and all-academic teams.
Stepp, a 5-foot-9 guard who averaged 11 points a game this season, was joined on the all-academic team by juniors Becca Sowers and Mikayla Lanham, sophomore Isabella Friedline and Gretchen Stottlemyre, who received honorable mention recognition following her junior campaign.