Submitted by The Washington Center for the Performing Arts
The Chilling 1923 classic silent film that vaulted Lon Chaney into stardom for his portrayal of Quasimodo, the hunchbacked bell ringer living in the towers of Notre Dame who falls in love with the gypsy queen while the brother of the archdeacon plots with the gypsy king to foment a peasant revolt.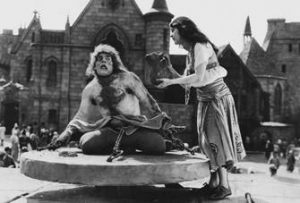 Curated by the incomparable world-class theater organist Dennis James, the Center's Silent Movie Series bring to life the golden age of cinema. A treat for the eyes and ears, each movie shines with live music played on an Olympia treasure from 1924, the Mighty Andy Crow Wurlitzer Organ.
DATE: Sunday, March 8
TIME: 2:00 p.m.
VENUE: Washington Center Main Stage: 512 Washington St. SE Olympia
COST: Tickets: $23 | General Admission
For more information about upcoming events please visit www.washingtoncenter.org or call the Box Office at 360-753-8586.