At Merle Norman Cosmetics, Wigs, & Day Spa, owner Madelin White and her team of consultants are dedicated to helping each client find a wig that helps the client look and feel their best. With an entire wall of wigs to choose from, there is a wig cut and color to suit any kind of style. Not just a blond wig with bangs, or a dark brown wig with layers, White says that wigs are categorized by the wig's materials: human or synthetic hair.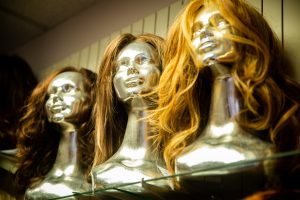 White says the greatest benefit for choosing a human hair wig is the customization. Human hair wigs can generally be permed, colored and styled using hot tools, like a blow dryer, hair straightener or curling iron. Although they have the ability to be personalized, White says human hair wigs are expensive and a wig's style does not hold if it gets wet. "If you have a human hair wig and it gets wet, you're going to have to go home and fix your hair, just as if it's your own hair," says White.
White also cautions that before a wig is colored or permed, it should be tested to ensure the strands won't break off. "When I say you can perm or color them, I always have the caveat that it depends on the procedures the wig itself has gone through prior to me getting them," explains White. "Just like your own hair, you have to test it to see if the perm will break it off or the new color will break it off. We don't know what the hair went through to become a wig."
Unlike human hair wigs, synthetic hair wigs cannot be colored or permed. White says despite the fewer options for customization, synthetic hair wigs are less expensive than human hair wigs and are also easier to maintain. "The good thing about a synthetic hair wig is that when it's wet, as long as you don't comb it, all the curl and body will come back into it when it dries," says White.
Wigs made of a newer fiber called True2Life, combine many of the benefits of both real hair and synthetic wigs with fewer styling constraints. "In my opinion, it's better than human hair and traditional synthetic because like human hair, you can use heat on it," explains White. "Not a blow dryer, but heat from a curling iron or a straightening iron up to 300 degrees. The great thing is if it gets wet, it is like synthetic and as long as you don't comb it, all that curl will come back when it dries. The same thing when you straighten it. It is the best of both worlds in my opinion."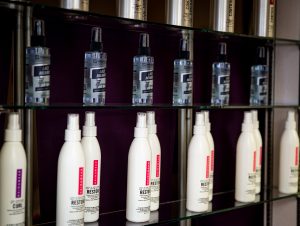 To keep wigs in their optimal condition for as long as possible, it is important to be mindful of what material the wig is made of and what products are applied to the wig. White advises against using hair spray on a synthetic wig, because an unremovable coating can form on the wig's strands. In addition, wigs are best washed under lukewarm water with specialty formulated wig shampoo. Although regular shampoo won't immediately harm a wig, it can dry out the strands and the wig may not last as long.
To learn more about wig maintenance and the styles available, visit the Merle Norman Cosmetics, Wigs, & Day Spa website.
Merle Norman Cosmetics, Wigs, & Day Spa
3925 8th Ave SE, Lacey
360-491-4911
Sponsored