Families with children throughout Thurston County are thriving through the many early learning programs provided by the Child Care Action Council (CCAC). Through their far-reaching and innovative programs, CCAC identifies and fills the early education gaps in our community. Working together with parents, child care providers, and community organizations, CCAC aims to ensure all children have access to high-quality learning opportunities.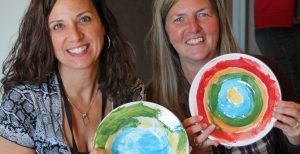 The fun and welcoming Warm Hearts Soup Bowl Fundraising Luncheon on February 27,  11:30 a.m. at Lacey Community Center helps pay for these programs. "This event is a wonderful opportunity to see the impact that CCAC has on our early learning communities," said Melanie Kincaid, development and communications manager. "We are excited to have keynote speaker, Chris Wells, executive director of the United Way of Thurston County, speak to early learning as the foundation for education."
Several different soups are served in colorful bowls that have been painted and signed by children in the programs. The take-home souvenirs, which are collected by many, are reminders of the good being done in our community.
"All of us benefit from living in a community that supports families through effective early childhood education and parenting programs," commented Ann Flannigan, vice president, public relations at WSECU, the business that stepped up to be the multi-year presenting sponsor for the event. Let's take a look at a few of the programs that support families throughout our community.
The Kaleidoscope Play and Learn Groups
Kaleidoscope Play and Learn Groups are free play group sessions that allign with CCAC's vision for all children have access to high quality early learning experiences and that parent education is provided throughout communities. Children from birth to five-years-old come with their parent or caregiver for a weekly time to play, read, sing, create art and enjoy a snack together. While their children are learning through play, parents also receive guidance on how to engage with their child through play. Positive ways to refocus a child's attention and behavior is modeled by the facilitator and coordinator, Maira Ramirez. There are groups in Thurston, Mason and Grays Harbor counties. Registration is required, but there is no cost for families to participate. Groups are bilingual.
Raising a Reader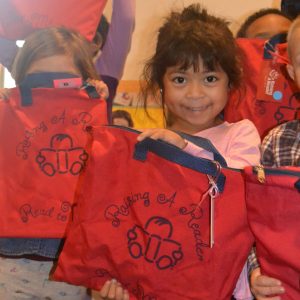 Reading aloud with your child 20 minutes a day sharpens critical thinking, memory retention, social-emotional skills and is a deep bonding experience. Last year CCAC served 1,225 children with weekly book bags containing four to five quality books on diverse topics with the Raising a Reader program. CCAC invests in their own library of books that go into circulation to area families at child care centers. Age appropriate selections are made, starting with board books for the youngest. Children whose parents read to them hear more words, increase their vocabulary and get to experience fun, close times with parents. This translates to greater success at school.
Safe Kids Thurston County
CCAC wants to prevent accidental injuries by providing families with safety equipment and education: They help do this through their Safe Kids Thurston County program. The partnerships with police, fire departments and childcare providers distributed smoke alarms, choke testers, car seats and trigger locks. Over 150 bike helmets and 78 flashing lights were put to use this past year. Car seat safety checks were completed, and portable cribs given to low income families.
BLOCK Fest
Another engaging opportunity is called BLOCK Fest that centers around STEM (science, technology, engineering and math) learning. BLOCK Fest is a hands-on learning experience that made its way to over 1,500 students in 11 schools in Thurston County this past year. It is a marvelous collection of colorful blocks that integrates learning styles and concepts. And, it's great fun. Your school, church, youth group or festival can rent this block building extravaganza.
Caring Kids
Volunteering as a family to help others is the cornerstone of Caring Kids. Kincaid volunteers to be part of this because she sees the power in connecting children and families with needs in their own communities. All ages are welcome to join but the focus is on creating projects that the youngest of volunteers can enjoy. Recently families gathered to assemble winter care kits that were then donated to the Family Support Center. The collection drive resulted in an outpouring of donations and sign-ups to help. Hygiene products, hats, gloves, and food were put in bags to provide a little comfort to those living on the edge. Kincaid noted these volunteer experiences connect people while incorporating early learning for the children. It provides a place to talk about current events, sharing, and so much more.
The Child Care Action Council teaches professional development classes for child care providers, provides and pays for emergency child care for families facing a crisis (Margie's Crisis Nursery), and much more. There are many ways to support or become involved including reserving your seat for the Warm Hearts Soup Bowl Fundraiser (click to register). "WSECU is proud to be a continued sponsor of the critical work of the Child Care Action Council," added Flannigan.
Program sponsors for the Warm Hearts Luncheon are Neil Woody McSwain & Company, Molina Healthcare, Olympia Federal Savings, and Lucky Eagle Casino. Sustaining sponsors are Commencement Bank, FORMA Construction, GHB Insurance, Kiley Juergens Wealth Management, and TwinStar Credit Union. Community Sponsors include BECU, Bron's Automotive, The Other Guys, Inc., Heritage Bank, ThurstonTalk.com, and Tammy's Ceramic Shop.
Child Care Action Council
3729 Griffin Lane SE, Olympia
360-786-9807
Sponsored