It's a common scene this season at North Thurston High School girls basketball games – several handmade signs can be found in the stands, proudly on display showing strong support for senior Janae Kalama.
"That's mostly a normal occurrence every game," Kalama said. "My little cousins make signs and bring them to the game. They've become my cheering section."
And they've had plenty to celebrate this year with the way the way the 5-foot-5 guard has been playing.
"I'm a little embarrassed by it," said Kalama, who has six cousins, a handful of aunts and uncles, both parents and a grandmother who frequently attend her games, "but I love it secretly inside."
Much has been asked out of Kalama this season after the Rams lost five key seniors to graduation last year, and she's certainly delivered. Kalama paces the squad in scoring with 13 points a game, while also leading the team in assists (3.5) and steals (2.6).
"I think there's been a lot of growth for me this year," said Kalama, who also pulls down nearly five rebounds a game, which is second best on the team. "We lost a lot of seniors and we needed someone to step up and be a leader. I've tried to do that the best I could. In my previous years here, I haven't really liked being in the spotlight. I would just pass to teammates and focus on defense, but this year I needed to score."
Kalama has filled that role nicely for North Thurston. Following a slow offensive start to her season, she has settled in as the Rams' go-to player on offense, scoring in double figures in nine out of 13 games.
It's a new role, but one she is excelling at.
"Janae is the most selfless basketball player I have ever met. She is always looking for ways to get her teammates the ball when sometimes she should be taking it to the hole herself," North Thurston coach Jackie Meyer said. "I have watched her over the past four years support other players and help them be the top scorer on the team while she was doing all the hard work of bringing the ball up the court under tough opponents, playing amazing defense, and working hard to steal the ball or get rebounds so she could assist her teammates."
Kalama has scored 20 or more points four times this season, including a career-high 25 points against Yelm and a 24-point outburst against 2A Evergreen Conference leading Black Hills.
By comparison, Kalama never surpassed 13 points in any of the 23 games she played in last year as a junior and only crack double digits seven times.
"She knows the game well and is a natural," Meyer said. "Sometimes we have to tell her to be careful with her passes because the rest of her team isn't ready for them. Her ability to read the court and play tough all the time is amazing."
"She doesn't get rattled by pressure. She will play any position you put her in. She may only be 5-6 but plays like she is 6 foot. She can grab rebounds down and wrestle the biggest people on the court."
Kalama adopted this gritty style of playing at a young age.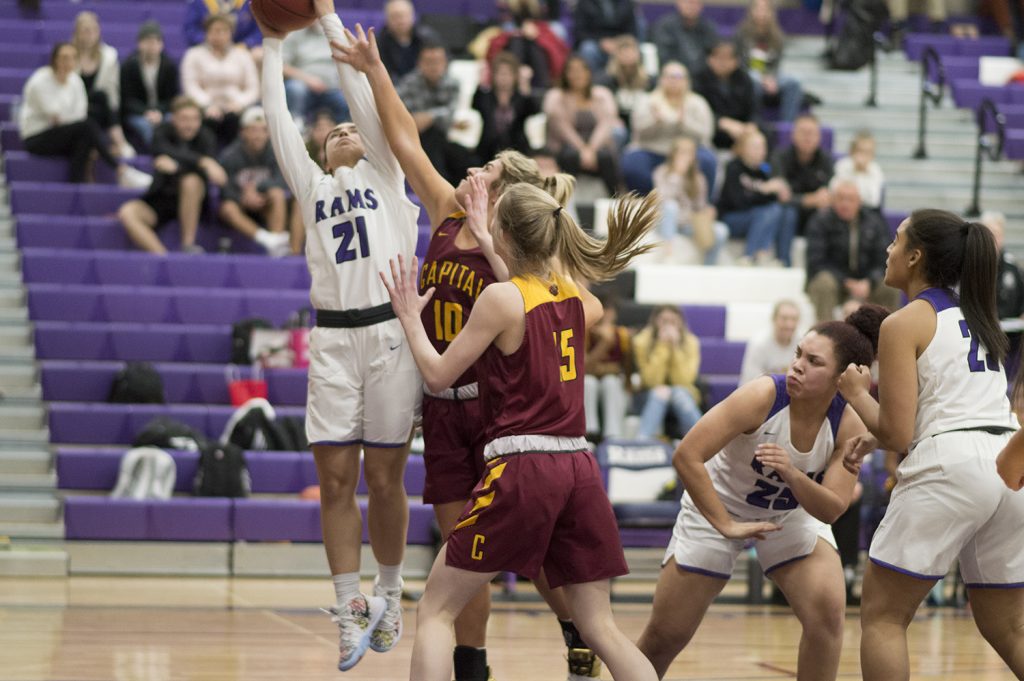 A member of both the Nisqually and Puyallup Tribes, she got her first taste playing basketball at tribal tournaments.
"It's intense. It's really physical and you end up playing a lot of basketball during the weekends," Kalama said. "One year I was at a tournament that had 14U, 16U and 18U age brackets and my team played under all three of them. We ended up playing 18 games the whole weekend. We were basically leaving one game and going right into another game."
A three-year starter, Kalama has brought that same tireless effort each time she has stepped out onto the court for the Rams the last four years, and this year is no different as she has been the team's engine. "Janae has always impressed me on the court. I have coached her for three years, but have been a fan of hers since I saw her play as a freshman," Meyer said. "She has always had a presence on the court. She is natural with the ball. Where I have seen growth is in leadership. Janae never wanted the attention of being the scorer and has always be an amazing passer and defender. This year we needed a scorer and a leader on the court. We knew she could do it, but I have to admit I am blown away by how she has stepped into that roll. She is amazing."