Few players this past high school football season were better at taking the ball away than Austin Schaler.

The Yelm senior was the definition of a ball hawk, registering 10 interceptions during his first season on the varsity level. His high number of picks not only placed him among the state leaders, it also represented a single season record tally for the Tornados.
Things have since changed during basketball season with Schaler now being asked to give the ball away as Yelm's starting point guard. Different sport, different tasks, but Schaler continues to excel no matter the situation.
"He's just an unbelievable athlete," second-year Yelm coach Sterling Carter said. "It's just great having him around because he brings so much positive energy to the team. You don't see a kid his age giving off that kind of energy very often, but he does. He's another coach on the floor for us. He always keeps the guys in check even when he's not playing very well."
Which has been on the rarest of occasions this season for the 5-foot-11 Schaler, who only knows one speed on the court.
"We teach him to play the game at his pace," Carter said. "If you're a fast-paced guy, play at that speed. Don't let the opponent change the pace you want to play at."
If anyone can appreciate this type of guard play it's Carter.
During his senior year at Franklin High School in Seattle, Carter was a starting guard for the Quakers' 2009 state championship team, which finished 28-1. He followed that up with a stellar collegiate career, playing his first three seasons at Seattle University before playing a year of Big Ten basketball at Purdue as a senior – a few facts which did not escape Schaler.
"When I heard he was hired last season, I looked him up and saw where he played and that he held some 3-point records at Seattle University. I knew he was a guard and he plays the style of play I like to play so I was excited," Schaler said. "It's definitely been fun. I love playing for him. He always makes practices fun. He will get out there on the court all the time and play with us. He'll push us. We will always get a lesson out of it, but he makes it fun at the same time."
It's a fast-paced, aggressive style of basketball that looks to get out and run whenever the opportunity allows it. It's a style embraced by Schaler, who was an honorable mention all-3A South Sound Conference selection at guard as a junior.
"It's been amazing having Austin for the last two years," Carter said. "He's very coachable. He listens to what I say. When we talk, he takes it all in, and he listens and then he goes out and excels at it. Having a kid like him leading your team is incredible."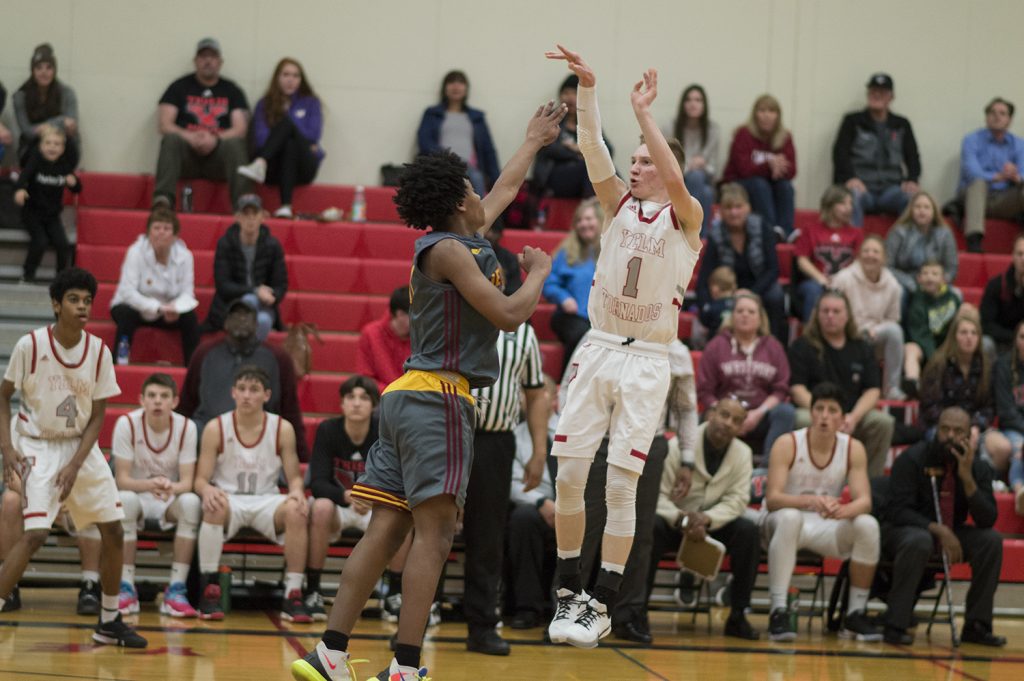 While Schaler has played basketball all four years at Yelm, he turned out for football for the first time since he was a freshman this past fall.
He elected to forgo playing the sport as a sophomore and junior to focus on baseball, a sport he plans to pursue in college, but by the time his senior year rolled around the desire to play alongside his classmates proved too overwhelming to ignore so he headed to the gridiron.
The Tornados benefited greatly from this decision as Schaler was named first-team all-league and honorable mention 3A AP all-state as a cornerback, helping Yelm make a return trip to the state playoffs for the first time in program history.
"It was a great way to start the senior year. It was so much fun and that team bond we had was like no other," Schaler said. "I felt like we brought that winning mentality over to basketball."
One thing Carter has been pushing for Schaler to also carry over from football is having a more selfish mindset.
"We've worked on him having confidence in his own shot," Carter said. "We love that he's passing to everyone else, but we feel like he can score too. At times when he's being unselfish, it can hurt us. So, we want him to look to score."
Gradually, Schaler is starting to embrace this new approach as well, becoming a little more of the greedy player he was during the football season.
"The challenge for me (in basketball) has always been getting a little more selfish. I've always looked to get my teammates the ball first," Schaler said. "Getting players involved just makes it fun for everyone, but I've been looking to score some more lately."
The Tornados, who are looking to advance to the district tournament for the first time since 2016, will play their final home game of the regular season on January 31 against Timberline.