Funding for public schools comes from a variety of sources including federal and state funds, while other funding comes directly from local voters in the form of levies and bonds. The 2020 North Thurston Public Schools (NTPS) Levy and Bond will be decided on February 11, 2020 and impacts schools district-wide. All eight local school districts have levy measures on the ballot, and several also have facility bonds or capital levies.
When it comes to school funding from local voter-approved measures, the rule of thumb is that "Levies are for learning. Bonds are for buildings." Locally funded Educational and Operations (EP&O) levies help bridge the gap between what the state funds and what it takes to maintain our current level of service. The NTPS EP&O levy funds staff like nurses, counselors, custodians, transportation. The levy also helps fund programs like special education, Science, Technology, Engineering and Math (STEM) and Career and Technical Education (CTE) programming to ensure students are both college and career ready after graduation.
In 2019, the Washington State Legislature made efforts to fully fund education and make funding across the state more equitable. But for many districts, that funding still didn't cover the full cost of educating students as was the case in North Thurston Public Schools. In order to maintain the level of service NTPS students and families have come to expect, the district still needs to renew the EP&O levy. The district is asking the community to consider renewing an existing EP&O levy in the February election. This would not be a new tax but a continuation of existing funding.
"Our schools rely on renewing these levies to provide staff, class sizes, programs and opportunities needed for students beyond basic state funding, "says Monty Sabin, NTPS's Assistant Superintendent of Operations.
The levies also fund extracurricular activities. "Without levies, we could not fund coaches for athletics or offer programs like robotics, music and theater," said Sabin.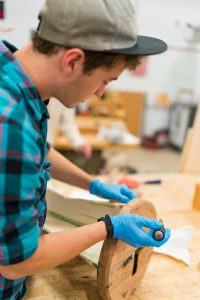 Bonds pay for major capital construction projects. While there are state government matching funds, these costs aren't fully funded by the state. Economists explain that "A bond is debt, offered to the public, which must eventually be repaid with interest. By contrast, a levy is a tax that towns and counties impose on local property owners in order to raise money for services."
Dean Martinolich, Director of NTPS Construction and Design who worked with the Facilities Advisory Committee, says that—if approved—funding from "the proposed construction bond would allow us to make significant, necessary, and equitable improvements to our sites and facilities that is not provided by the state."
"After a thorough two-year review process by our Facility Advisory Committee," says Martinolich, "it was determined the first priority should be to our older facilities, five schools total. In the case of River Ridge High School and Komachin Middle School it means a full modernization to these facilities, which are approaching 30 years in age and qualify for State Construction Assistance money."
The group also polled students to see what types of changes they'd make. "What we've heard loud and clear from students, staff and community," says Martinolich, "is the need to continue improvements to our safety and security. In this bond we have money allocated to the additions of secure interior entrances, improved exterior security lighting and fencing as well as upgrades to parking lots, making it safer for students and staff at all our neighborhood schools. Bonds are not just about building new schools, they are also about reinvesting in our existing schools so students have warm, safe and dry learning environments."
The 2020 bond and levy being voted on would cost taxpayers an estimated $4.96 per $1,000 of assessed home valuation, lower than the 2017 rate of $5.59.
"The Board takes their responsibility to be good stewards of the taxpayer dollars very seriously," says NTPS Board President Mel Hartley. "Nobody wants to pay higher taxes, but from a business perspective, we need to continue to invest in our school properties and in additional educational supports and opportunities for our students to ensure that they are empowered and future ready upon graduation." The District sought input from multiple community members, parents, and staff regarding the public's stated priorities for the district. "The goals for the Bond specifically reflect the public's input."
And the public's information was gratefully received by committee members. "As a co-chair of North Thurston Citizens for Schools (NTCFS) I am so proud of the support we have received from the community," says long-time volunteer Ruth Weigelt. "They understand the importance of a quality education and the benefits it brings to all of us. I love to remind people that Lacey was ranked the 75th best place to live in the United States by Money Magazine in communities over 50,000. One of their main criteria was public education."
Read more about the proposed 2020 NTPS Levy and Bond and find out more about the Facilities Advisory Committee through the district's website. There is a bilingual, downloadable fact sheet which explains further and you can register to vote via the same page. Specific questions are welcomed via email to bondlevy2020@nthurston.k12.wa.us.
Sponsored