With the 32nd annual Providence St. Peter Foundation Christmas in the Forest fundraiser just around the corner, the event's volunteer decorators are hard at work setting up a wonderland of winter whimsy at Hotel RL in Olympia. A troupe of decorators dedicate months to tree design and preparation, which culminates in an arrangement of garland, ornaments and lights ahead of the Christmas in the Forest public viewing on December 7 and 8. With themes ranging from Silent Night, to By the Seashore, Christmas in the Forest will be a family friendly activity to ring in the holiday season.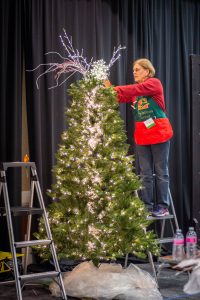 Ellen Wood has been a part of the Christmas in the Forest decorating team since the event was created 32 years ago. Wood was recruited to become a decorator by her friend and fellow volunteer, JoAnn Green. Both Wood and Green have continued to decorate for Christmas in the Forest each year.
This year, Wood and Green are joining forces to design a tree together. Over two dozen trees and three decades, Wood says she is always seeking tree inspiration. Wood even has potential tree ideas for next year's event.
According to Wood, there are as many creative processes as there are designers. In recent years, Wood's displays have incorporated themes of forests and nature. She says that inspiration can strike in a variety of ways, from a catchy title, to a certain color she would like to incorporate.
"It's a chance to do something creative and contribute to the Foundation," says Wood. "And it's still fun after 30 some years. If you think about that, it's 30 different trees. They all need to go along with a theme and we're still coming up with ideas of things to do."
Pamela Tilson is in her second year as a decorator for Christmas in the Forest. Tilson says after she retired, she was inspired to volunteer for causes she cares about. Everything tied together during her first designer workshop for Christmas in the Forest 2018, where she learned the featured program selected to benefit from the fundraiser that year would be the Providence SoundHomeCare and Hospice.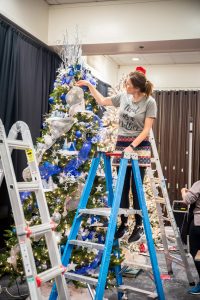 "People near and dear to my heart have needed Hospice care," explains Tilson. "I knew at that moment this would be a great place to volunteer my time, to give back, and be creative all at the same time."
This year, Tilson's tree theme is Silent Night. The tree will be adorned in shades of blue, with glitter houses, stained glass ornaments and a star topper tying everything together.
Tilson's inspiration stems from lyrical hymns, Christmas songs and children's books. Tree decorating is also a family affair for Tilson as she invites her mother, sister, two daughters and her grandchildren to work on decorations throughout the year.
"What a wonderful way to get into a festive holiday spirit," says Tilson. "The trees and wreaths and decorations are beautiful! The singers, performers and Santa are delightful. Children and people are so excited and happy. Many volunteers spend many hours to help make this event successful. This in turn helps provide care and resources for those in need."
Karinn Reister initially became involved in Christmas in the Forest both as a tree sponsor and decorator.
"It provided me an opportunity to give back to my community and do something creative as well," says Reister. "I am a sewer, crafter and my business Harmony Antiques was all about repurposing things, honoring heirlooms and being involved."
Reister's four designs this year span across vignettes, trees and wreathes. Each piece marries a vintage and rustic aesthetic, featuring old-school memorabilia.
To design and assemble each display, Reister assembles a team of eight, who begin preparations in March of each year. Reister says the role of tree decorator requires patience, resourcefulness and the ability to select themes that will entertain Christmas in the Forest attendees.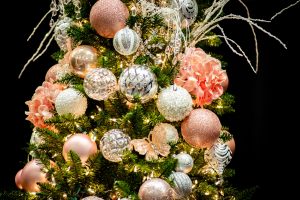 "My favorite part of Christmas in the Forest, besides the creation of ornaments and sourcing items is actual set up," says Reister. "I can't sleep the night before! The energy from the designers, the seamless leadership is just amazing, to see everything come to life is just unbelievable."
Public viewing of Christmas in the Forest will take place on Saturday, December 7 and Sunday, December 8 at Hotel RL in Olympia. Admission to public viewing is $5. Children 12-years-old and under are admitted for free. Public viewing hours are from 9:00 a.m. to 5:00 p.m. on both Saturday and Sunday. To learn more about event details and the public viewing, visit the Providence St. Peter Foundation Christmas in the Forest website.
Sponsored