Unless it's your waistline after Thanksgiving, growth is (usually!) a good thing. Benjamin Franklin once said that "Without continual growth and progress, such words as improvement, achievement, and success have no meaning." Thurston County grew by 2.4 percent in 2018 alone with families settling down to live, work and play in our bustling region. To make daily commutes, family activities, exploring downtown, and errands easier, Intercity Transit is echoing this population growth by adding a new bus route to better serve the northeast Lacey area in March 2020.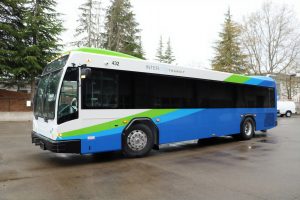 "The significant development of several large employment centers and residential housing has made Northeast Lacey the primary area for expanded transit service in recent years," says Intercity Transit Planning Manager, Rob LaFontaine. "Route 65 will operate seven days a week with buses coming about every 30 minutes".  The new route will be approximately 16 miles in length, round trip, and will be anchored from the Lacey Transit Center.
The City of Lacey reports that "Both the market area that encompasses Lacey, as well as Lacey's city limits and urban growth area boundaries, are growing rapidly. The 30-minute drive time market area population in 2018 is 429,869. That figure is expected to grow to 476,682 by 2023."
Intercity Transit wants to make sure they've got services in place to serve those potential riders. "Population forecasts for the Hawks Prairie planning area suggest there are about 12,000 residents who will have access to transit service with the implementation of Route 65," says LaFontaine. "Moreover, the major employment centers are estimated to provide over 2,500 jobs within the light industrial areas of Northeast Lacey. The new Route 65 will offer connections to other Intercity Transit bus routes at the Lacey Transit Center, as well as connections to high frequency service available on Martin Way."
The final route and schedule are under development and Intercity Transit is seeking input from riders on route options between now and mid-January. Discussion of the new route is welcomed at three open house events. These take place from 4:30 to 6:00 p.m. on December 5 and January 6 at the Community Action Council and December 11 at Lacey City Hall. These evenings are free, open to everyone, and Intercity Transit staff will be on-site to share maps of the four proposed Route 65 variations and proposed bus stops. Guests can ask questions of planning staff and submit written comments if desired. The public can also offer feedback directly by reviewing and responding to the online survey, which includes the proposed Route 65 alternatives.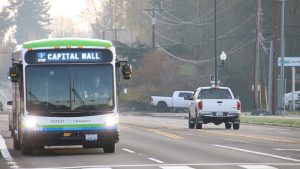 While this is the only new route Intercity Plans to deploy next year, it's definitely not the only change Intercity Transit is working on. The One, which began service November 11, 2019, is a new "express" route which reduces travel times along the busy corridor between the Martin Way Park and Ride and west-side's Capital Mall.
As Intercity Transit continues with the implementation of the elements of the Long Range Plan, following approval of Proposition 1, services such as the new Route 65 and others will likely be adjusted to improve connections to existing high frequency bus service.
Beginning January 2020, all rides on Intercity Transit buses will become fare-free for everyone. "Buses are like a library or a park," says Development Director Eric Phillips, "you should get full access every time you go." And, he continues, "the Zero-Fare plan, as proposed to the community, is one of the least expensive, highest value transit enhancements scoped as part of Proposition 1. Phillips adds, "We see Zero-Fare as a service enhancement that addresses many community requests recorded during our two year outreach effort and something the public supported with the passage of Proposition 1 last November."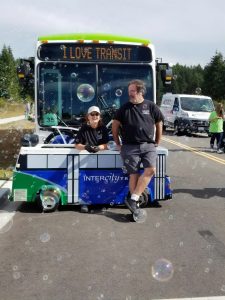 The American Public Transportation Association reports that from 1996 to 2016, Americans went from traveling 41.4 billion miles on public transportation to over 58 billion. Over that same time, our population increased by 20 percent but ridership was up by 30 percent. That saves more than 4 billion gallons of gas each year, saves money and reduces traffic fatalities.
As you enter the hustle and bustle of your week, consider trading your car for a ride on the bus. Instead of wrangling parking spots, traffic, road rage, and a gas tank on empty, you can sit back with a favorite book or podcast, and enjoy the journey. Use their interactive trip planner or download the OneBusAway app to find the nearest stop and real-time estimates of bus arrivals and departures. Follow Intercity Transit on Facebook for upcoming events, news, and information. Just get on and go!
Sponsored