A large percentage of life is dedicated to finding The One. That perfect person, job, pet, home, hobby, or object that makes life better and more complete. Thurston County's Intercity Transit (IT) started a new route on November 11, which they're calling The One. With a little luck, it'll make your daily grind a smoother, easier journey as you tackle everyday travel.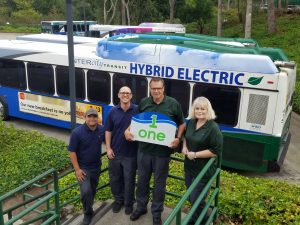 This new route "is IT's first route designed specifically to reduce travel times," explains Nicky Upson, Intercity Transit's marketing, communications and outreach coordinator, "Because of this, The One will have some distinctive features." Designed to run along the urban corridor, a ride between Capital Mall and the Martin Way Park and Ride that used to take at least an hour—and up to 33 stops—is now estimated at only 30 minutes.
Over 5,000 people live and 22,000 people work within a five minute walk of this new route. In addition to limited stops, the route features other design elements to keep buses moving including in lane stops and a transit only lane and traffic queue jump in downtown Olympia. Riders can also enter and exit buses using both front and rear doors.
The One is a four-year demonstration route funded by a $4.5 million Regional Mobility grant from the Washington State Department of Transportation. The project is designed to reduce transit travel times along one of the area's most heavily-traveled corridors during weekday peak commute hours. During peak times buses will serve the corridor at established stops every 15 minutes with nearly 30 daily trips in each direction.
Like any quest, adding a new bus route is no quick or easy task. "In 2016 we launched an extensive public outreach effort called the IT Road Trip, designed to better understand community expectations and priorities for the future of public transportation in Thurston County," says Upson. "Phase one provided over 10,000 ideas from over 3,500 people. Those ideas were grouped into categories of new and expanded transit services that the community prioritized and later identified as 'transformational public transportation' with the approval of Proposition 1, last November". One of the projects favored by riders surveyed was a proposal for a Bus Rapid Transit (BRT) type route that shares many features with The One.
"Over time the City and Intercity Transit have recognized the need to improve accessibility and mobility," agrees Andrew Beagle, transportation engineering supervisor for the City of Olympia. "Intercity Transit identified a couple of key locations where transit service experiences the most delay, and we brainstormed low-cost solutions together. As The One becomes operational, the City and Intercity Transit will continue to partner on elements to strategically reduce delay and increase travel time reliability for this route."
The One will be a fare-free, bike-free route with limited stops much like the downtown DASH shuttle. It travels between Lacey and West Olympia and runs every 15 minutes Monday through Friday from 5:30 to 9:30 a.m. and 2:30 to 6:30 p.m.
If the route's autumn roll-out goes well, Intercity Transit hopes to use it as a positive example when seeking federal grant funding for expanded high performance additions. "Intercity Transit has deep connections throughout the community," says Upson. "Representatives from the business community, education, local and state governments all participated in the Road Trip, providing input and guidance along the way."
"Intercity Transit's The One is a critical need for the city's transportation network," Beagle agrees wholeheartedly. "There are only a few roadways that connect East and West Olympia, and as the city continues to grow the vehicle demand will only increase. This city is running out of operational strategies to relieve these connectivity choke points. By creating reliable east-west rapid transit, this partnership is creating a viable and competitive transportation option that will help relieve demand for motor-vehicle capacity. Additionally, The One helps address transportation equity, and will assist the City in creating more access to opportunities for everyone."
Intercity transit offers an array of services within their 94-square-mile coverage zone. They're proud to be a vital part of the community operating "25 bus routes, a door-to-door service for people with disabilities, a vanpool program, [and] specialized van programs…In 2018, we provided roughly 4.5 million rides on fixed-route, Dial-A-Lift, and vanpool services." They offer discounted bus passes to local social service agencies and in March 2020 hope to expand services further into the developing areas of northeast Lacey.
The American Public Transportation Association reports that "34 million times each weekday, people board public transportation [and] every $1 invested in public transportation generates $4 in economic returns. A total of 87% of trips on public transit have a direct impact on the local economy." Do your part by riding to work, school, out shopping or when visiting a local festival. Plan a trip or find your route at IntercityTransit.com or download the OneBusAway app for real time info. Follow them on Facebook for upcoming events, route changes, news, and information.
Sponsored