Libraries are the ultimate gathering place. Open to everyone, they provide education and entertainment; a place to meet, play, interact, and learn…for free! Throughout five Western Washington counties the Timberland Regional Library District has more than two dozen welcoming locations with events, programs, print materials, and digital resources for residents of all ages.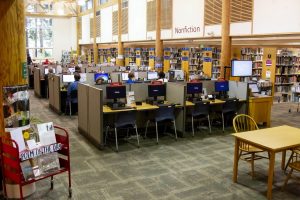 With a proposed remodel in the fall of 2020, the interior of the Lacey Timberland Library will have barrier-free service stations and improved accessibility moving forward. In conjunction with the City of Lacey, they've refined and updated key access points to make checking-out and returning items easier, and worked to provide ADA accessible restrooms and resource stations for their patrons. Staff from the library and the city will be on-hand Wednesday, December 18 from 4:30 p.m. – 6:00 p.m. at a community open house to unveil the proposed changes, talk about what the next steps are for the process, and share how you can support improvements at your local library.
One of the primary changes will make an immediate impact for patrons. "By changing the main central service desk from counter height to desk height, kids, families, and patrons using mobility assistive devices like wheelchairs, will be able to more directly engage with library staff," says Holly Paxson, library manager at Lacey Timberland Library. "The centralized returns area will make indoor returns more convenient for patrons and improve staff accuracy at checking materials. The new service desk layout will also make it possible to have staff out on the floor on each side of the library so more patrons can be helped at first point of contact."
The other proposed changes are a little more behind-the-scenes but no less vital. "The family restroom will be a huge new benefit to the community," explains Paxson. "The library has many children and adult patrons accompanied by opposite sex caregivers visiting us. A single-occupancy family restroom provides more privacy than gendered restrooms, particularly for patrons who need assistance from their caregivers. We hope the special features (like an adult-sized changing table) will allow our patrons longer and more enjoyable library visits with more ADA-friendly restroom facilities."
The work will be done in partnership with the City of Lacey who owns the library building itself. "The City is doing the project management for the remodel and is contributing over half the funding required for the project," says Paxson. "The City of Lacey is an incredibly supportive partner in this effort and we're lucky to be working with them!" But, she stresses, "Community fundraising is still ongoing! The Friends of the Lacey Timberland Library, a non-profit organization, are accepting donations through 2020. People can donate in person at the Lacey Timberland Library or through Paypal."
"The library is an important part of Lacey and a valuable resource to our community," said Lacey Mayor Andy Ryder. "The updates will provide a better experience for the people who use the library and also help library staff better serve the needs of their visitors."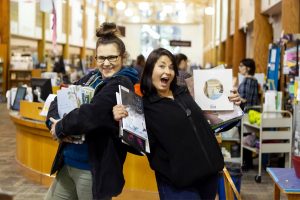 The Friends of the Lacey Timberland Library group helps year round through their book sales, volunteering, and support for much of the library's overall programming. In 2016 the group funded comfortable new lounge furniture and contributed another $30,000 towards this year's project. "These dedicated partners make it possible for the library to provide the high levels of service and programming that we do, and we couldn't do our work without them," says Paxson.
Libraries play a vital role in any community, thanks to their free access to Wi-Fi, computers, books, forms, classes, and materials. The American Library Association (ALA) reports that "Public libraries strengthen local economies: 84% of libraries offer technology training to patrons in computer software use; 77% provide online health resources; 60% offer programs to help Americans identify health insurance resources and get better informed on health topics; 73% provide programs that assist individuals to apply for jobs, create résumés, and prepare for interviews; 97% help people complete online government forms."
They're also heavily used. According to ALA statistics "In 2016, there were 1.4 billion in-person visits to public libraries across the US, the equivalent of about 4 million visits each day. That's roughly 2,664 per minute." In 2018 alone, Timberland libraries recorded more than 300,000 patron visits and signed up nearly 60,000 new cardholders.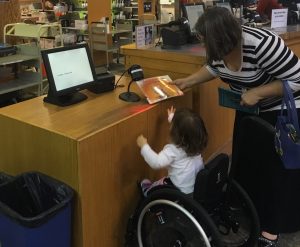 "Modern libraries tend to be community gathering places that provide a wide variety of services," says Paxson. "We provide materials for enjoyment and education, high-speed Internet access, quality free programming for all ages, resources for lifelong learning, workforce development, and a meeting place for community members to engage with each other. The Lacey Timberland library serves 1,000 visitors daily at our facility, as well as out in the community through community partnerships (like with AARP for free tax help services, Thurston County Auditors for voting registration assistance, with the Census to support online access and make sure everyone is counted, North Thurston Public Schools for Lacey Loves to Read and Head Start outreach visits, and many other programs too numerous to mention.) We are committed to being a place of connection for the people in our community."
Stop by the open house to get a sneak peek at the proposed changes on Wednesday December 18 at 4:30 p.m. Follow the Lacey library on Facebook or check out their events page for more. Or just swing by 500 College Street SE and experience all they've got to offer. Open Monday through Saturday, there's something for everyone at your local library.
Sponsored