For their 23rd Annual Holiday Native Art Fair, The Evergreen State College will be hosting artists in the college's Fiber Arts Studio and Carving Studio in addition to the beloved Longhouse. This is good news to patrons who have squeezed by each other in years past to find their favorite artists and vendors. And, for anyone who has not seen the architecture of the Fiber Art Studio, you are in for a lovely surprise.

The Longhouse will still be where most the action takes place though. Handmade crafts, jewelry, clothing, woven baskets, art, balms and lotions – native vendors come from all over the state to participate.
"I think the event is a wonderful opportunity to meet and talk with native artists who work in a huge variety of media," says Laura VerMeulen, assistant director at the Longhouse. "The artists that participate are really friendly and they're happy to answer people's questions." Camaraderie and good spirit can be felt as soon as you walk through the Longhouse doors – it is a unique gathering.
Home for the Holidays
For some artists, it is also a homecoming of sorts. "I graduated from Evergreen in '94," says Alutiiq weaver Vickie Era Pankretz. She had fulfilled her requirements for a Bachelor of Science degree and decided to take classes in the Native American program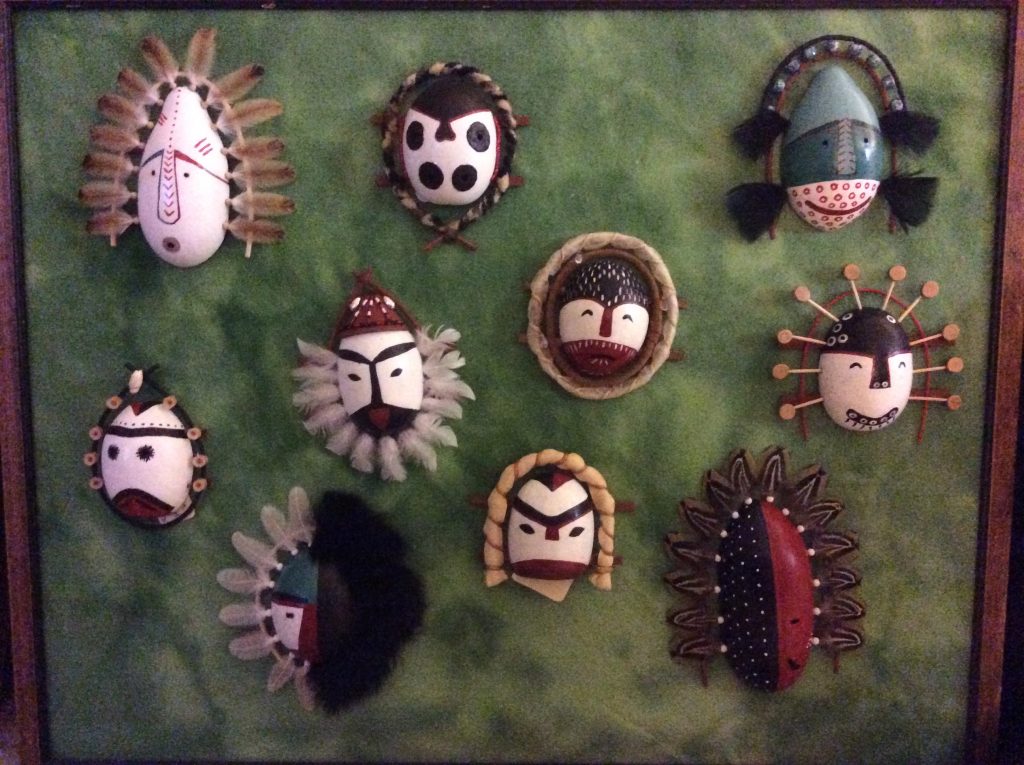 "The Longhouse was being built then and I just fell in love with it. Even if I don't have things for any other shows during the year, I always make sure that I have something I can bring to the Longhouse."
Vickie specializes in Alaskan native grass weaving, which she mixes with various Northwest elements, salmon skin, porcupine quills, maidenhead fern and strawberry runners. She also creates miniature masks from gourds, inspired by rediscovered Alutiiq mask designs.
At least 50 exhibitors are expected to attend the Holiday Native Arts Fair this year.
"Since I know so many of the people, I feel like I'm with family whenever I'm there," says Vickie smiling. "And there are so many artists, such a big variety of things, because there are all different tribes."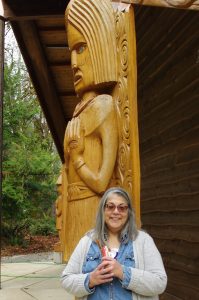 Handmade Crafts and Freshly Made Meals
Be sure to come to the Longhouse with a good appetite too. For years, part of the proceeds from the sale of traditional foods has provided art and craft training to the young.
"The food is fried bread, Indian tacos, apple bars, desserts," says Laura, "and it's part of the Hazel Pete family. They do it to support a workshop that we offer late in spring called Generations Rising, a youth art day. So, the kids come in and they visit different art making stations and make arts and crafts and take it home with them when they finish a project. They get acknowledged for it. And it's a way to keep the creativity going – that there's a reward for doing that. And," Laura pauses thoughtfully, "it makes kids comfortable with coming to a college for a day and just practice."
Cowlitz jeweler and cedar weaver, Kelly Guerra, will be bringing her crafts to the Holiday Native Crafts Fair again this year. Like many participants, her children were part of the Generation Rising workshops. "I remember it as being fabulous," Kelly recalls, "in that elders are teaching us to hold on to our culture, holding on to the high points of why we need to perpetuate our culture."
Up on the Meeting House Top: Click, Click, Click
Even though there is so much to see in the Longhouse, be sure to visit the new Fiber Arts Studio and Carving Studio.
"We get asked to do a lot of tours of the studio spaces," says Laura, "because they're new and they're unusual looking."
There is another good reason to walk to the nearby studios. This year, Salish Santa will be greeting children and having pictures taken with them in the Carving Studio. Be sure and plan ahead though, you might miss him. "Last year, Santa was here both Friday and Saturday," says Laura, "but Santa is very busy so it might just be Saturday."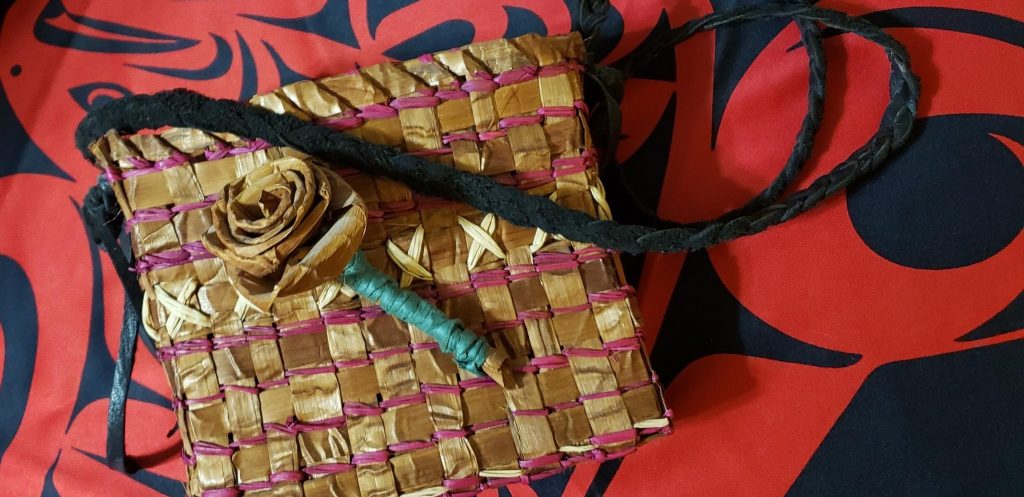 It's About the People
Whether approaching the Fiber Arts Studio from the front entrance or the back door, you will be overwhelmed at the beauty of the architecture. The entrance is traditional Native Northwest design with elements of Maori and the back side mainly Maori with traditional Northwest influences.
Across one of the large eaves a Maori proverb is written in traditional script. I asked Laura what it means: "Basically what it talks about is that you have the materials, the weaving materials you have the nature that it comes from, but really what it comes down to, it's about the people."
The 23rd Annual Holiday Native Arts Fair will take place Friday and Saturday, December 13 and 14, 2019, from 11:00 a.m. – 6:00 p.m. Evergreen State College Indigenous Arts Campus. Parking Lot B $3 Friday, free Saturday.