There are many ways to tell the stories of our ancestors, and Andrea Wilbur-Sigo does it with her hands. Through adzes and handmade tools, her blades of repurposed, antique cross saws bear handles made of yew wood from a tree her grandfather felled. Andrea brings ancestral stories of the Coast Salish people, mythology and even the story of the wood itself to life in the traditional way – through carving.

Layer upon layer, Andrea removes only what is necessary for the story to emerge. Whether the final product takes the form of a story pole, welcome figure or house post, the red and yellow cedar logs that Andrea works with shape a narrative where words never could.
Carving is in Andrea's blood. She comes from a long line of artisan storytellers – at least seven that have been documented – but she's sure there are more. Andrea is the first woman carver in her family, taking up an artform that tradition has long said is the work of men.
Through her celebrated works of art, Andrea demonstrates her mastery of the craft, proving time and again that art and storytelling know no bounds. She has been in the studio since around three years old and sold her first international work at age eight.
She gives credit to several family members for teaching her: her father Andy Peterson, her mother Ruth Peterson, her grandfathers Bert Wilbur and Dennis Allen, and her great uncle Pete Peterson. Andy is also a celebrated carver whose work can be found at The Evergreen State College. He helped carve the welcome figure at the top of the College's Red Square, along with the two figures that adorn the front of the Longhouse. Andreas's work is set in stone inside the Longhouse – a wolf figure carved into granite tiles and sandblasted.
Over the years, Andrea has been expanding her repertoire and using technology to her advantage. To create her stone carvings, she sketches an image by hand and then digitizes it on her computer. It's then outputted by laser and etched onto stones and shells of Andrea's choosing. This is a medium she and her mother, who is also a carver, enjoy working in together and they often collaborate to create some beautiful finished pieces.
Over the years, Andrea's ancestors had to fight to keep the vital art and stories of carving alive. When they were first forced onto the reservation, colonizers aimed to eliminate their Native art, craft and culture. Carving was not permitted, and even in a richly historically documented family such as Andrea's, there is a time period where the story went silent and no records were recorded.
Just like how each layer of cedar is carved away by Andrea's hands, her family began to carve away at any barriers to carving.
"Every generation has played a big role," Andrea says, "in keeping carving where it is, and making sure it continues."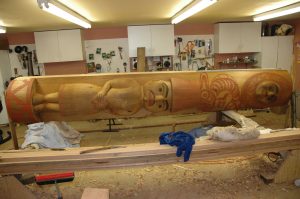 For a long time, Andrea was the youngest carver in her family, but not anymore now that her children have begun to work in the art. Andrea is a mother to seven. Her children range in age from 27 to 1, and all of them have grown up in her carving studio. Not only is that how the artform and stories are passed down, but it is also Andrea's preference to hold her children close. She is a glowing mother, and her face lights up when she talks about her children's many successes. We share a knowing nod when she talks about nursing a baby in one arm, and continuing her work in the other.
Andrea explains that she is among the handful of traditional bentwood box makers that are left. The boxes are made by heating and bending strips of cedar that are crafted into a watertight box. These boxes were, and are, very important to Andrea's tribe, and all of the Coast Salish people. The watertight feature is key in our climate and many bentwood boxes were used in cooking.
Andrea says her first carved works were small, but now her story poles, welcome figures and house posts have achieved heights up to 18 feet tall. Though she may rough out the images with a chainsaw, each piece is finished by hand in the traditional way with an adze, which also does a major part of the sealing of the piece as it crushes the fibers of the cedar.
Cedar is hard to come by these days. Andrea shares that the price has tripled since she first started carving. Her family has always been adept at not only making do with what they have, but also turning it into something beautiful. "Carving is a living culture," Andrea says, "it adapts to whatever is there at the moment."
Her husband, Steve Sigo, is especially good at adaptation, and is highly skilled in removing rot from wood and replacing it with healthier pieces. He's also mastered stitching cedar together to make one solid piece.
Stunning examples of this can be seen in the Little Creek Casino where Andrea's Strong Man, a welcome figure, and her eight-foot-wide spindle whorl, Salmon People, are on display. Salmon People is 14 pieces of yellow cedar stitched together, and it won Best of Show and People's Choice Award in the Washington State History Museum's In the Spirit show.
Additional works by Andrea Wilbur-Sigo can be found throughout the region. Look for her pieces at the Salish Cliffs golf course, and at the Squaxin Museum in the Veteran's Memorial Garden. She has done a lot of work for the Suquamish Tribe in Silverdale, including Chief Seattle's (Sealth), gravesite memorial, and has a piece at the Brightwater Treatment Facility in Woodinville. You can even spot her art in the Cruise Terminal at the Port of Seattle, her work greets visitors in a traditional way and showcases the best of the Pacific Northwest.
To reach Andrea, contact her via email at awsigo@msn.com