Submitted by Westport Winery
Ocean's Daughter Distillery will open at noon on Friday, November 29. Located at Westport Winery Garden Resort, the distillery will feature several selections for its premier release. The Roberts family, who own the winery and the award-winning Sea Glass Grill, plan to approach spirits production with the same creativity for which they have become known in the wine industry.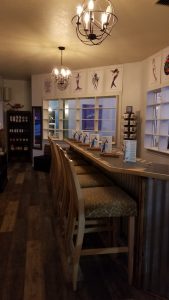 Blain Roberts said, "We learned early that our guests enjoy variety. Our goal is to offer vodka, whiskey, rum, gin, tequila, brandy and liqueurs." The grand opening will have a limited selection of flavored vodkas, gin, rum and liqueur. The whiskey and agave spirits will be released at a later date. The tasting room is in the same building as the winery tasting room and the Sea Glass Grill, however it has a separate entrance to meeting state liquor laws.
His wife, Kim, who designed the project says, "Our tasting room is tiny. We can only accommodate about six people at a time." She has created original art for each selection featuring a colorful series of mermaids. "At the winery we donate a portion of the proceeds from each wine to local charities. Our spirits will benefit the International Mermaid Museum being constructed here at the resort."
The couple's son and director of winemaking Dana Roberts has added master distiller to his business card. "This is a new craft for me to learn. I'm especially excited to use our wines to distill some of our new spirits. It is an extension of the work I already love." Dana is distilling press fractions from his winemaking to create neutral spirits. The spirits are proofed using their own water system to reduce it to the appropriate consumption level. "Drawing water from our natural aquifer gives each of our products its own local flavor." He uses the "free run" juice to make the quality of wine for which they have become famous. While the press fractions are great they are well utilized in distilling.
His sister and business partner, Carrie, appreciates that it is a further expansion of their focus on family. "It was so cool to go to my Aunt Jill and Uncle Stan's farm in Reardan to pick up a truckload of their soft white winter wheat this fall. I enjoy a great whiskey and I can't wait until we release the single malt we are making from our family's farm."
Ocean's Daughter Distillery will be open daily from 11am to 6pm. They plan monthly additions to their list throughout the next year. Guests who have tasted in the distillery will have the option of enjoying cocktails crafted from these spirits in the adjacent Sea Glass Grill.
All ages are welcome in the distillery tasting room as well as in the winery tasting room. Of course, no one under age 21 is allowed to sample wine or spirits, however, the winery does offer a non-alcohol Riesling grape juice for designated drivers, minors, expectant mothers, and those who do not wish to sample alcohol. Plus, there is abundant gourmet food sampling in the winery's gift shop.
Westport Winery Seaside received the 2019 Rising Star Award from the Seaside Chamber of Commerce. Westport Winery and the Roberts family were honored with Seattle Business Magazine's Community Involvement Business of the Year for 2018. In 2017 the Westport Winery Garden Resort was named Greater Grays Harbor Business of the Year. USA Today named the Sea Glass Grill at Westport Winery Garden Resort one of the top five winery restaurants in the nation. The business has been voted Best Winery by King 5 Evening Magazine.
In 2016 Westport Winery was honored as one of the top twenty most-admired wineries in North America by Winery & Vineyard Management Magazine. The business earned Best Winery, Best Wine Shop, and Best Boutique Winery for 2016 by South Sound Magazine. They received the Grays Harbor Environmental Stewardship Award in 2015. They are finalist to the Best Washington Family Business competition by Seattle Business Magazine. And in 2011 they garnered Washington Winery to Watch by Wine Press Northwest.
In Oregon, Westport Winery Seaside and Seaside Kites are open daily from 11am to 6pm. For more information on the Oregon operation guests can visit their website at www.westportwinery.com. Family-friendly Westport Winery Garden Resort is located on the corner of Highway 105 and South Arbor Road halfway between Aberdeen and Westport. The Sea Glass Grill at the resort is open daily or brunch, lunch, and dinner from 8 a.m. to 7 p.m. and until 8 p.m. on Friday and Saturday. Ocean's Daughter Distillery, also at the garden resort, is open daily from 11am to 6pm. For more information or reservations call 360-648-2224.