One of the best holiday traditions may be taking the time to get a photo of your growing family, altogether, in festive attire. For many of us, it might be the only time of the year we still send out physical cards to loved ones. Which also means we need to start getting those mailing lists in order and thinking about where to get our photo taken, so we can get those cards in the mail! There is nothing cuter than a holiday photo with Santa, no matter your age. If you are looking for places to get the deed done, you are in luck: there are plenty of places to take photos with Santa in Olympia, Tumwater, Lacey and throughout Thurston County.
JC Penney Portraits
November 14, December 11
JC Penney inside Capital Mall
JC Penney inside the Capital Mall will be hosting Santa inside their photo studio for priceless photos on two dates: November 14 and December 11. The best part about these is you can book your time in advanced and skip waiting in a line. They have several holiday backgrounds and props for you to choose from, or bring your own! Contact the JC Penney Portrait Studio at 360-754-8041 to book your appointment.
Cabela's
November 16-December 24
1600 Gateway Boulevard NE, Lacey
Santa is arriving with flair at Cabela's on November 16 – there will be prizes, cookies, hot cocoa and even music. Once he arrives, he will light the tree and cut the ribbon into Cabela's winter wonderland. Those with Bass Passes can then get a photo with him afterward. Get a Bass Pass from the Bass Pass Booth earlier that day. They are free in limited quantities. After that, Santa will be around until December 24. Check Cabela's website for more information.
Capital Mall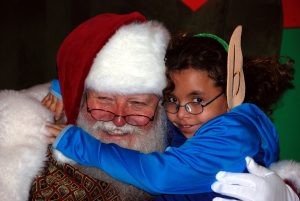 November 16-December 24
Monday – Saturday: 10:00 a.m. to 8:00 p.m.
Sunday: 11:00 a.m. to 6:00 p.m.
Closed Thanksgiving
Christmas Eve: 10:00 a.m. to 6:00 p.m.
Of course, it's not the Christmas season without Santa and his elves visiting the malls. Starting November 16, Santa will be visiting Capital Mall so children and their families can make priceless memories. Visiting is free and photo packages are available.
Everything kicks off November 16 at the Macy's court. Children can participate in Elf Training, which includes toy building, cookie decorating and even feeding live reindeer! Once they have completed their training, Santa will bestow upon them their elf ears!
On November 20 and December 8 from 8:30 a.m. – 10:30 a.m., Santa will be available to meet children in a quiet and calm environment that is sensory-friendly. Reservations are required for these appointments.
December 4, 11, 18: 6:00 p.m. – 8:00 p.m. is Santa Paws! Bring your pet to the Capital Mall and get a photo the entire family will cherish for forever.
Abe Clary Creative Portraits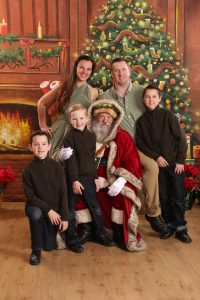 November 23, 25,27, 28, 30, December 1
10640 Mill Road SE, Yelm
For those in Yelm, you don't have to go far to get a gorgeous professional photo of your whole family with Santa. Just head to Abe Clary Creative Portraits. Santa will be there dressed in his finest red suit. Hours vary depending on the day, so contact Abe Cleary Creative Portraits at 360-458-2443 or visit the Abe Clary Creative Portraits website for more information.
Alderbrook Resort & Spa
November 30 – December 22
10 E Alderbrook Drive, Union
Santa will be relaxing at the Alderbrook Resort & Spa lobby every Saturday and Sunday from 11:00 a.m. – 12:30 p.m. from November 30 until December 22. The resort's beautiful lobby is a great backdrop for your family photos.
Sylvester Park
December 1: 1:30 p.m. – 3:30 p.m.
615 Washington St SE, Olympia
If you want a more natural backdrop and don't mind bundling up for your photos, head to Sylvester Park for your photos with Santa! There will be a professional photographer on hand to get your card-worthy shot.
Swantown Inn & Spa
December 3, 5:00 p.m. – 7:00 p.m.
1431 11th Ave SE, Olympia
Swantown Inn & Spa will have Santa on December 3 so you can tell him your wishes and get a free photo taken. Donations to the food bank are encourage, either non-perishable food items or cash.
Melanie Bakala State Farm
December 7: 10:00 a.m. – 1:00 p.m.
2521 Marvin Rd NE Ste. D, Lacey
December 14: 10:00 a.m. – 1:00 p.m.
821 W Railroad Ave, Shelton
Melanie Bakala State Farm is partnering with Glitter and Suede to offer photos with Santa on December 7 at Bakala's Lacey location and on December 14 at her Shelton location. She offers auto, home, renters, life and disability insurance. Her agency is focused on being epic with every interaction as they work to help people secure their dreams for their families' futures.
Adopt-A-Pet
December 7: 9:00 a.m. – 3:00 p.m.
940 E Jensen Rd, Shelton
If you are looking to include your four-legged family members in your Christmas photos with this year, then head to Adopt-a-Pet's photos with Santa. Watch their Facebook page for more details.