As the structure of Mason Clinic is taking shape, Mason General Hospital & Family of Clinics (MGH&FC) is working to increase patient care and provide more opportunities for community involvement. With medical practices set to move into the Mason Clinic in early 2020, MGH&FC is bringing 14 new providers on staff in a variety of clinical specialties. The Mason Clinic's opening will also provide new volunteer positions for residents interested in giving back to the Mason County community.
When completed, the Mason Clinic will be a 60,000-square-foot medical facility that will house all of MGH&FC's outpatient and clinic providers, with the exception of the Hoodsport Clinic. The clinic's construction will increase patient rooms from 71 to 110 and will provide space for possible future expansions.
Currently, construction on the Mason Clinic is above ground, with the weather barrier and the roofing set in place. The clinic's siding is expected to be completed inearly 2020.  . The building's internal framing is finished, and dry wall is now being installed. In addition, the corridor that will connect the Mason Clinic to Mason General Hospital is underway.
Mark Batty, chief operating officer at Mason General Hospital & Family of Clinics, says that construction is on schedule and that the first of nine clinics is set to move in the first week of February 2020. Batty says that to streamline the move-in process, each clinic will be moved in one at a time, with the last clinic anticipated to move in June 2020.
"We will move a clinic into the new building and then we will take a break to see what went right, what went wrong and then let people take a deep breath and then we will move onto the next clinic," explains Batty. "Then, as we feel like we get better at it, we'll condense that a little bit, so we built that into the plan."
New Providers and Volunteers
With the increased square footage of  Mason Clinic, MGH&FC has added 14 new providers to the team. Eight providers will join the team in 2019, and sixwill start in 2020. Four are primary care providers that will join the District in 2019 and four will join the team in 2020.   Additional providers in 2019 include two pediatricians in 2019, one podiatrist, and one psychiatric nurse practitioner.  In 2020, the district will add four providers in primary care and two psychiatric nurse practitioners.   By bringing on additional providers, it's exciting to increase access to medical care in the Mason County region, adds Batty. "It's a very, very good feeling not only for the organization, but certainly for the community, as well," says Batty.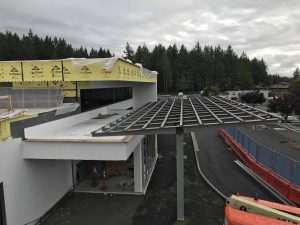 With the introduction of Mason Clinic, new volunteer opportunities are being created to help patients navigate the multi-practice building. The Volunteer Concierge position was created to be a hybrid between a way-finding tour guide, courier and an information desk volunteer in this new clinic setting.
"You're going to have ankle and foot, walk-in and family medicine all occupying the building," explains Lonnie Hatman, volunteer coordinator at MGH&FC. "When somebody walks in, they're going to have to have someone who's able to direct them and lead them back to where the clinic is that they're looking for in the building. And we're calling these people a concierge."
In addition to wayfinding, volunteer concierges will be able to answer general questions about the clinic and perform certain clerical duties like mail delivery and transporting materials between different specialties. Unlike a volunteer position at a help desk, the volunteer concierge plays more of an active role both in transportation and communication with patients and staff.
Volunteering with MGH&FC, particularly in the role of a concierge, could fit a variety of interests and skillsets, including those who want to give back to the community, retirees, or those interested in meeting new people. The minimum age to volunteer at MGH&FC is 15-years-old, so high school students are also encouraged to apply.
Hatman says the volunteer concierge position is important to him because he wants patients to feel a human connection at MGH&FC, including at the Mason Clinic. "We don't want people to feel like a number," says Hatman. "We really want to put that human face to people that are coming in, because you know a lot of people are already stressed. They're ill, or they've got a loved one that's ill. They're not here for fun. So, we want to put that human face in front of them, because sometimes it's just that friendly greeting that really makes a difference when people are coming in."
Individuals interested in volunteering can contact Hatman directly at Lhatman@masongeneral.com, call 360-427-3621, or they can fill out the volunteer interest form on the MGH&FC website. Also on the website's volunteer page, there is a list of each volunteer position, complete with job descriptions.
For updates on the Mason Clinic, information about new providers and for additional volunteer information, visit the Mason General Hospital & Family of Clinics website.
Sponsored