Friends would constantly ask Olivia Bailon to turn out for track. Her reply was always the same.  "Running? That's for them," the Tumwater High School senior said. "I'm just going to stick with basketball."
Bailon never thought of herself as a runner. In fact, the only distance she regularly sprinted was the 84 feet it takes to go endline to endline during a Thunderbirds' fast break. She had played basketball year-round for as long as she could remember.
Last season, she averaged nearly 7 points a game and helped Tumwater capture the 2A Evergreen Conference title.
Nope, unless there was a basketball involved, running was not for her.
That all changed last spring, however, and as it turns out Bailon isn't just a runner, but one of the state's best.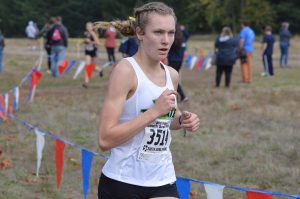 Bailon is currently in her first season of cross country and she's proven to be a natural as she ranks among the top runners in the state in the 2A classification.
"Being at Tumwater half of my top state distance runners are sitting on the sideline of a football game or playing a different sport," said T-Birds' coach Rich Brown. "So, I get it. The (cross country athletes) are out there. We just usually don't get them to come out. So, it's refreshing when you have someone who does show up who is talented."
It all started last spring for Bailon. Eventually, her friends finally wore her down and she turned out for track for the first time.
"She came in a couple weeks late, but we immediately saw she was going to be a talent," said Brown, who also coaches track at Tumwater. "During the track season I had no idea what I was working with, and she had no idea because she didn't have any running experience."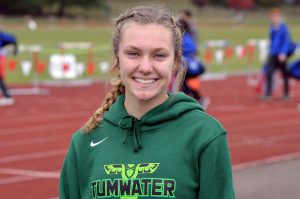 What she lacked in know-how, Bailon more than made up for in raw, untapped athletic ability as she finished third at the Class 2A state championship in the 400 meters.
"It turned out she's a phenomenal track athlete," said Brown, a former T-Bird standout himself who still holds the Tumwater school record in the 3200. "We got through a successful track season, so we encouraged her for college purposes to come out and work on her conditioning in cross country."
Sprinting around the track oval once is one thing. This would be 5,000 meters, and she wouldn't just be required to run fast and turn left. She'd have hills, uneven terrain and all the things that make cross country great to deal with.
"I was very hesitant at first," Bailon said, "but even if I wasn't very good at it, I knew I was going to benefit from it in either basketball or track."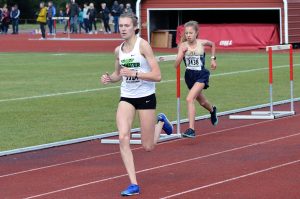 In just her second ever attempt at the 5K distance Bailon finished second at the prestigious Fort Steilacoom Invitational, with a time of 19 minutes, 4 seconds. At the time it was the third fastest mark in the state among 2A runners.
"I'm still just trying to figure out how to run. I ran in a pack and just tried to do what they were doing," Bailon said about her strategy during the race. "Once it's at the end where I know I'm good and I'm secure in the 400 that's when I go. If I can hold on for 2.5 miles, I'm just fine the rest of the way."
Despite her greenness, Bailon has finished first in all four EvCo races she competed in this year and posted a solid sixth-place finish at the Bill Kehoe South Sound Invite after stopping the clock in a speedy 19:11.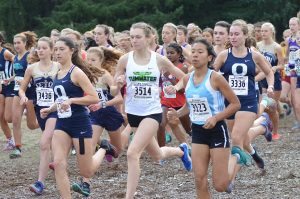 "She immediately started off with some great times. She obviously has the range. She has the potential to have that deadly kick in a distance race, but also has the endurance to hang in there," Brown said. "Yeah, it's new to her, but she's not been afraid to take on that challenge. She's very coachable, which is tremendous. She's listening. She's making the changes she needs to make to get better. She's just been a treasure for us as far as athletes go. Her performances are based solely on her talent and her drive. She's got the complete package."
And one that Brown believes could compete at the collegiate level in either track or cross country.
"This is a completely different type of thing for me, but I like it because it mentally challenges me to push through when I'm exhausted," Bailon said. "It definitely opened things up college-wise for me. There are so many different paths I can take now that I didn't even know about. So, who knows, but I just love it."