Four score and seven years ago there was a car club…
Just kidding. It wasn't that long ago. But it was just long enough for the societal culture of our town to be in a different space and time. In the early 1950s, a hot Friday night for the teenage set began at King's Drive-In and – after some friendly banter of whose car was the
fastest or meanest – usually ended up drag racing from what is Walgreen's today, out toward Ken Lake. The cars had loud pipes, were low to the ground and their drivers had a penchant for trouble.
In 1953, some fellas got together in an effort to change that. They thought the roads should be safer for all and were tired of hot rodders and teen car enthusiasts having a bad name. Phil Raymond and Rich Davenport were some of the original members of a club that formed that year, although it wasn't officially official until 1956. The club of young men ages 16- to 21-years-old called themselves the Mid-Nite Timers.
I recently had the pleasure of sitting down with Phil and Rich – now ages 80 and 79, respectively – in a workshop-turned-private-bar on Tumwater Hill. The "clubhouse," so to speak, is bursting with memorabilia, and sees car club members gather every Friday night.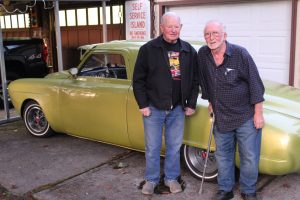 Ten years ago, Rick Mayer, his wife Nancy and their network of friends endeavored to honor and extend car culture's history by reviving the old Mid-Nite Timers club. While Rick was not an original member himself (he was too young at the time), he grew up with Mid-Nite Timers members and shared their deeply rooted love of cars. The revived club reminted themselves the Mid-Timers, and have been meeting in Mayer's private bar ever since.
"The Mid-Nite Timers met every Thursday night," Phil recollects, amongst a growing crowd of at least 20 modern-day Mid-Timers. Decked out in Mid-Timer jackets and shirts, they had all gathered around a large table that evening to hear Phil and Rich's memories on the club that no one has been able to forget.
"Phil was instrumental in a lot of ways," Rich recalls. "We had our clubhouse at his house. His father gave us a room to have for our clubhouse, and it's still…"
"Still there," Phil finishes fondly. "The garage and house are still there."
Phil chuckled when I asked him if he was the leader of the club. "No, that was Bill Hartman Sr. 'Pappy' Hartman." Bill Sr. was the advisor of the Mid-Nite Timers club, and the Hartman family's influence was key in the club's success. They had a garage where they worked on their own cars and welcomed others to share in the work of car maintenance. Bill Hartman and his son of the same name got into organized drag racing on a track and the club really took off.
Phil tells me that he raced his '63 Tempest, stock class, at the Bremerton track, but the real racer of the club was a guy named Pink Plamondon. Pink's trophies are now displayed on a shelf at the Mayers' place for all to enjoy.
The Mid-Nite Timers took club membership very seriously. "We had initiation," says Phil. "Rich did you mention that?"
"Well, I don't know if I should go into that," laughs Rich. "It was kinda weird. I just remember something about a blindfold and dumping grease all over somebody. And then we gave them insulation to wipe the grease off with."
Cringes spread around the table and I make a bad joke about a modern-day tar and feather. In addition to being initiated, I learned that the Mid-Nite Timers had also developed a set of bylaws, had a constitution and elected a board. New members had to be voted in, have a car and pay the $5 joining fee in addition to the $2.50 monthly dues.
"We had fines," Rich says. If someone was not living up to the upstanding image that the Mid-Timers were working hard to portray, they were fined. If a member was caught street racing, it'd cost them. Monetarily and socially.
The Mid-Timers even had their own calling card. In the 50s and 60s, a stranded automobile on the roadside was not an uncommon occurrence and the Mid-Timers all carried their card to distribute each time they offered an assist. The card read:
You have been assisted by a member of the

MID-NITE TIMERS

A group of Street Rod enthusiasts interested

In promoting safety on the highway.

PLEASE DRIVE RESPONSIBLY!

PAY IT FORWARD
The front of the card had a logo drawn by club member, Bob Brech, and that same logo was used to make the metal placards that club members displayed proudly on their vehicles. The Mid-Nite Timers were about comradery, safety and – ultimately – their cars.
Mid-Timers of Today
The revived club was able to locate the maker of the original metal placards. Amazingly, the craftsman still had the template. They've also reprinted the calling cards of the original club, and fortunate drivers of our area may one day receive one, as the Mid-Timers are perpetuating the original philosophies.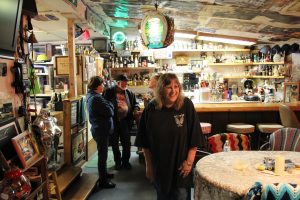 But it not just that. Today's Mid-Timers are taking it a step further. Comradery, yes. There's plenty of it, but now there's philanthropy too. In a club that numbers perhaps 50 members, they've managed to raise at least $10,000 for charities over the years. They've chosen Kitten Rescue of Mason County as one of their pledges, and also collect thousands of pounds of food for the Montesano Food Bank. When asked why they choose to donate to these outlying areas and not more locally, the answer is a simple, "These organizations don't have a lot. They are rural areas with low populations, and our donations make an enormous impact."
The Mid-Timers don't formally hold any of their own car shows that are open to the public, but they do help out at others year-round. Recently, Ray and Cindy Kivela, Mid-Timer members, held their second annual car show at Old Highway 99 Bar and Grill. The event had 115 cars on display, and raised approximately $5,000 for Washington State Council of Firefighters Burn Foundation, with the proceeds being used toward a Burn-Injured Youth Camp.
The club has two other internal events, a No-Turkey-Allowed potluck the day after Thanksgiving where they amass the literal truckloads (and likely vintage ones at that) of food donations, and there's also an event they refer to as Pile-Up-on-the-Hill where club members show off their cars to one another, in addition to filling up "the kitty" for the cats in Mason County.
Bob Brech, a Mid-Nite Timer, surmised the sentiments of both the original and modern club members. In a Lakefair program from the early 1960s, he wrote, "[Cars] are to their owners, what a baby is to his mother. They are cared for, thought about, and worked upon 24 hours a day, 365 days a year, and perhaps throughout their owner's lives, is the thing that they created, they control and they respect."