Choosing a banking partner can be a daunting task. With so many options out there, potential members must ask themselves some important questions. Will this institution benefit me or my business? Is it a good fit? What does the institution do (if anything) to make the community a better place than it was? Luckily for Thurston County residents and business owners, TwinStar Credit Union makes banking choices easy ones through their dedicated business experts ready to answer those hard questions and help members make the best financial decisions available to them.
Two of TwinStar's business experts are Jose Galvan, Senior Community Engagement Manager, and Alexis Alverson, Business Services Manager/Small Business Lender. When Jose and Alexis collaborate, both members and the community at large benefit. To Galvan, this kind of team cooperation is the secret sauce to what makes TwinStar a cut above the competition. "The credit union model is to work cooperatively with other credit unions," he explains. "This same philosophy works internally as well. Working with internal partners allows us to deliver an exceptional member experience, which is our ultimate goal. Alexis and I each have unique specialties that can help serve our business members and community partners. When we partner, we have the opportunity to provide maximum benefits for our members and partners."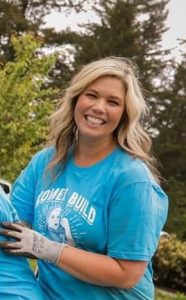 "In an effort to bring a more holistic type of business banking, TwinStar realized we could much more than just support the owner in his business banking," adds Alexis. "We heard from a wide variety of our members that their employees banked with us and they wanted to learn more about credit unions. That's where Jose comes in. He adds value and a personal touch in speaking to them, and sharing the credit union philosophy, and how we can benefit their personal banking."
Alexis and Jose's symbiotic relationship does more than just help members of the credit union. "We also serve as a resource for many other connections," explains Jose. "An example is our sponsorship of the Thurston Economic Development Council Scale Up Program. This is an educational program to help local businesses learn best practices and business skills to help lead to significant revenue increase."
Their work in community education goes beyond businesses. Since its inception, TwinStar has always been about furthering public education, as well as supporting the educators. "School districts, individual schools and higher education institutions represent another very large and important group of community partners," Jose adds. "Founded as an educator's credit union, the education sector is still very important to us. We support them in many different ways from classroom cash grants, financial education presentations, sponsoring meals for trainings and events, and WorkPerk coupon benefits for the employees. We fund scholarships for our local higher education institutions and in 2019, our Foundation paid off the school lunch debt for the school districts in this community."
If that wasn't enough, TwinStar helped bring back funding for the City of Lacey's Fireworks Spectacular. "It was so meaningful to us that the City of Lacey and the Lacey South Sound Chamber approached us first the year they lost their funding for the July 3 Fireworks Spectacular," says Jose. "What a privilege to support both community partners and the greater Lacey community!"
"We work with a lot of community partners," adds Alexis. "It's just part of our mission and personal drive."
When pressed, Alexis and Jose explain their business success and effective synergy stem from their mutual respect for one another. "Jose is one of the most interesting people I know," says Alexis. "Don't let his low-key demeanor fool you. He is definitely calm, cool and collected, but he has some of the most amazing and hilarious stories from growing up. He is truly an asset to this organization. He is very well rounded in his strengths and continues to surprise me in his willingness to share his knowledge and make life/work better for everyone."
"It's like working with your best friend," adds Jose. "I love working with Alexis. She makes working together fun and exciting, while bringing a high level of service and knowledge. She's honest, inspiring, creative and is your biggest advocate. I'm honored to not only work with her, but to be able to call her a family friend."
Yet even without having the opportunity to work with their besties, Jose and Alexis wouldn't change their work for anything. "It has been such a privilege working for TwinStar in my capacity," says Jose. "I have the opportunity to see firsthand the results of the community impact culture."
"Why TwinStar?" adds Alexis. "It's the people that work here and the service you will get at every step of the way. We offer a full suite of business services and commercial lending, with a knowledgeable, local team of professionals."
For more information about TwinStar's financial services, click here.
Sponsored